NFL Power Rankings Week 2
by Robert Ferringo - 9/10/2014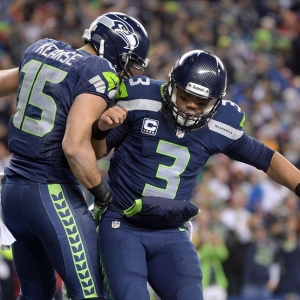 The Ray Rice debacle has muted what is usually one of the most entertaining weeks on the football calendar: Overreaction Week.
There is an almost comically large build up and anticipation for the open to the NFL season. And the results of the first games invariably lead to an irrational overreaction by fans and gamblers alike on the following Monday and Tuesday after Week 1. The sportsbooks know this, and they generally use the rush to judgment against desperate bettors in Week 2.
This week the most obvious example is the five-point line shift in the Arizona-New York game. The Giants were embarrassed on national television while the Cardinals won a thriller at home. Ipso facto, the Giants suck and are headed for an 0-16 season, while the Cardinals are a juggernaut set to challenge Seattle for supremacy in the NFC West. That kind of sums up the general feeling about that game, right?
Or how about the Titans and Cowboys? When Cantor Gaming released spreads on the regular season games from Week 1 to 16 several months ago the Cowboys were set as 2.5-point favorites in Tennessee. But now after a Titans blowout win at Kansas City and a Dallas blowout loss at home the spread has swung six full points.
I know it doesn't seem like it, but we haven't even scratched the surface of this season. There are still dozens of twists and turns and months of action left on the board. So everyone take a deep breath and try to ignore what you saw last week. Come October that Week 1 game will be part of a bigger picture for these teams. But right now it is The Picture and that lack of context can lead to more mistakes.
Here is Doc's Sports NFL Power Rankings for Week 2:
1. Seattle Seahawks (1-0) - Russell Wilson can be unstoppable at times for the Seahawks. He is never going to put up huge pass numbers. But he is so difficult to sack or even pressure, and his decision-making is on point at all times. Wilson's accuracy has really improved over the past three seasons, and his ability to extend plays with his feet - without exposing the ball to turnovers - is a really unique characteristic. As if Seattle needed an extra edge this week, they had extra time to prepare while San Diego is coming off a short week and a road trip. Seattle is now 36-15 ATS in its last 51 games.
2. Denver Broncos (1-0) - Just a brutal backdoor beat for Broncos bettors last week. Denver got up 24-0 against the Colts, and I wanted to see some killer instinct from this year's Broncos. But they just don't have it. It's just not there. I know I want to avoid joining the overreaction crowd. But, honestly, Denver looked like they had a little nasty to them this preseason, and I thought maybe their mentality had changed. But it hasn't. It is the curse of Peyton Manning teams: there is just no nasty. Their two-touchdown spread this week against a division opponent seems a bit thick. But Denver has covered four straight after failing against the spread.
3. San Francisco 49ers (1-0) - Nothing can turn around a team's bad karma and disarray like a date with Tony Romo. San Francisco actually didn't play as well as the final score may have indicated. Yes, they forced and capitalized on turnovers. (Again: Romo.) But they allowed 127 rushing yards and 5.5 yards per carry and had a slew of penalties. Maybe they closed the playbook in the second half. Or maybe the offense reverted back to the stuttering mess we saw in the preseason. We can't be sure. The 49ers should get a boost from playing in their new stadium, and it will be interesting to see if they were able to fix the turf that caused so much trouble in the preseason.
4. New Orleans Saints (0-1) - I said going into the season that I expected the Saints defense to take a huge step back this year. They were historically bad in 2012 and then made a shocking leap into the Top 5 in 2013. Their actual ability is somewhere in the middle. Also, Rob Ryan has proven incapable of sustaining success as a defensive coordinator throughout his career. The Saints are 6-2 ATS following a loss. But they were terrible on the road last season, going just 1-7 ATS away from home, and they are just 2-10 ATS in their last 12 outside the Superdome.
5. Philadelphia Eagles (1-0) - I also said going into this season that it was obvious Nick Foles was going to regress this season. A 27-to-2 touchdown-to-interception ratio is completely unsustainable (see: Griffin, Robert). And that was the case through the first 30 minutes of the season. However, a 34-0 run is a rarity in the NFL, and you have to appreciate Philadelphia's relentless approach. They did lose two of their best offensive linemen this week as stud guard Evan Mathis and starting right tackle Allen Barbre are both out. They are scrambling to fill those spots, but because of their fast-paced system they can't exactly pull people off the street.
6. Cincinnati Bengals (1-0) - Cincinnati's secondary was not sharp against the Ravens as drops and missed throws did more to stop Baltimore drives than the Bengals corners did. They better step their game up quickly as Matt Ryan, Julio Jones and Roddy White come to town. Cincinnati is 9-1 ATS in its last 10 home games, and they are 5-1 ATS in their last six games against teams with winning records.
7. Green Bay Packers (0-1) - It's never too early for a must-win situation, eh? The Packers can't afford to give a way a home game to a weak AFC opponent. But will they lay the wood and cover the second-largest spread on the board this week? Green Bay has actually been money in this role, going 17-7 ATS in their last 24 home games as a favorite of a touchdown or more. They are 7-2 ATS the last nine times they have been in that situation off a loss. We'll see if they can take their frustrations out on the Jets this week in Lambeau.
8. New England Patriots (0-1) - I know a lot of people are giving the Patriots a pass for last week's effort. "The heat wore them down!" "It was a tough division game!" But I think there are real issues with this team. They just aren't very good. This roster is stacked with mediocrity. Honestly, outside of Tom Brady, whom on this team can't you do without? Regardless, no one in football has been better bouncing back after a defeat. The Patriots are 25-9 ATS in their last 34 games after a loss and 32-13 ATS in their last 45 games following a loss. They are 16-3 ATS after a loss when facing a team above .500.
9. Indianapolis Colts (0-1) - Andrew Luck is now 23-11 ATS in regular season games in his career. He is also a perfect 10-0 ATS off a loss. Last year they lost to Miami in Week 2 as a small favorite. But they also beat both Seattle and Denver in Lucas Oil Stadium, and Indianapolis should be primed for a bounce-back effort on both sides of the ball this week on "Monday Night Football".
10. Arizona Cardinals (1-0) - That was an incredibly impressive comeback by the Cardinals on Monday night. That game was one of the few played at a high level for 60 minutes in Week 1. Arizona looks leaps and bounds ahead of the Giants this week, and the line has shifted from the Cards +2.5 to -2.5. Two things do concern me, though. First there is the obvious angle of a PST team playing in a 10 a.m. start in the Eastern Time Zone. Second is the fact that nearly 80 percent of all action in this game is coming down on the Cardinals. Arizona is 8-1 ATS against teams with a losing record and has covered in four straight road games.
11. Chicago Bears (0-1) - Defensive coordinator Mel Tucker is a total incompetent. And if the Bears stick with him all season - which I'm certain they will, because tanking their season is obviously more important than admitting a mistake - they won't crack .500. Tucker failed to bring any pressure against a Bills quarterback that has proven that he'll crumble under the slightest rush. And after spending all offseason trying to beef up the defense the Bears surrendered nearly 200 rush yards. If the Bills can run for nearly 200, what will the 49ers do? Chicago is down two starting offensive linemen, but that was an area of depth and strength. The bigger blow could be Alshon Jeffery's hamstring issue.
12. San Diego Chargers (0-1) - It's impossible not to be impressed with how San Diego played on Monday night. I felt they were the better team for three quarters of that game. But now you have to worry about the emotional toll that losing a game in the final seconds like that can take on a team. The Chargers were manhandled by the Seahawks 41-14 this preseason in a game Seattle physically dominated. San Diego is 3-9 ATS against NFC opponents, and they are just 1-4 ATS in their last five games against the Seahawks.
13. Detroit Lions (1-0) - That was an outstanding effort on Monday. However, there were still way too many penalties and mental errors from this lapse-prone Lions club. They are also going to be facing a much stronger defense this week in Carolina, and Matt Stafford is always a turnover waiting to happen. Detroit did not run the ball well at all against the Giants (76 yards on 30 carries), and it won't get any easier this week. Detroit is 11-23 ATS in its last 34 conference games, and they are just 3-8 ATS on the road. The Lions don't win too many blowouts. But they are 0-5 ATS following a win by 14 points or more.
14. Baltimore Ravens (0-1) - That was a completely dumbfounding mistake by Joe Flacco at the end of the first half, allowing the clock to run out with the Ravens in field goal range. Forget about "elite" quarterbacks - rookie quarterbacks shouldn't make mistakes like that. It was completely inexcusable. Totals bettors (like myself) took an awful beat in Baltimore's opener. There were 800 total yards in the Ravens-Bengals game and just 39 points. Baltimore's banged up secondary held its own for the first 55 minutes before allowing a bit of a fluke touchdown to A.J. Green. The home team in the Steelers-Ravens series is just 1-3-1 ATS.
15. Tennessee Titans (1-0) - I know that Jake Locker's Week 1 numbers looked great - 266 yards, two TDs, no INTs, a 111.4 rating - but when you break down the tape he didn't look sharp at all. Locker got a lot of help from his receivers. He wasn't accurate, and he should've had at least two turnovers in the first half. As expected, the rest of the Titans looked really good. The offensive line held up against a very solid K.C. rush, the defense was aggressive and played with confidence, and the skill players made plays. But Locker is still by far the weakest link on this roster, and we'll see if he's capable of winning a likely shootout with Romo and Dallas this week.
16. Pittsburgh Steelers (1-0) - The Steelers have a short turnaround this week for their Thursday night game at Baltimore. One benefit that they facing the same offensive scheme that they just saw from Cleveland. The Browns and Ravens both use that Shanahan/Kubiak system. In what is a bit of a statistical anomaly, five straight Steelers-Ravens games have been decided by three points or less, and eight of the last 10 meetings have been determined by a single field goal. Pittsburgh is 3-0-1 ATS in the last four meetings and 5-1 ATS in their last six trips to Baltimore.
17. Carolina Panthers (1-0) - In a few weeks I may regret starting the Panthers this low in my Power Rankings. I thought that Cam Newton would play last week, but it turned out to be a smart move to sit and rest. He is 50-50 for this week's home opener. Carolina is just 5-14 ATS in its first home game of the season, and the rebuilt secondary will actually be tested by Detroit this week. Carolina's front seven should short-circuit Detroit's weak running game. Then it comes down to just one thing: if Matt Stafford turns the ball over then Carolina wins. If they can't force mistakes I don't see them slowing down the Lions attack.
18. Minnesota Vikings (1-0) - The Vikings offense had a rocky game, but they still managed to hang 27 points on the road against a solid Rams defense. Remember: the Vikings are playing outdoors this year, and this week's game is their first in TCF Bank Stadium at the University of Minnesota. Get used to seeing Cordarrelle Patterson used in a variety of roles. The guy is an absolute animal, and the Vikings will effort to get him around 10 touches per game. This is going to be a dangerous team all season, and we'll see if they can build off last week's effort against a vulnerable Patriots team.
19. Miami Dolphins (1-0) - Linebacker Dannell Ellerbe was lost for the season to a hip injury. Fellow starters Koa Misi (ankle) and Philip Wheeler (thumb) are also questionable for this week's trip to Orchard Park, meaning the Fins could be down to rookies and scrubs at linebacker. Miami is obviously in a letdown situation. However, they have revenge after getting swept last year in this series, and the favorite is 5-1 ATS in the last six meetings. Miami is just 3-7 ATS in their last 10 games in Buffalo. But they have a new offensive scheme that the Bills haven't seen yet, while Buffalo is running familiar sets on both sides of the ball. That gives a prep advantage to the roadie.
20. Atlanta Falcons (1-0) - No one doubted whether or not Atlanta could score. But their defense was awful, as expected, and they can't rely on fluke turnovers like end zone interceptions and OT fumbles to bail them out each week. This week is a massive letdown situation for Atlanta after their rivalry win over the Saints and before a Thursday night home game against Tampa Bay. The public actually loves the Falcons this week, with 73 percent of the early betting going their way. It is tough to give so many points to a Ryan-Smith brain trust that has been excellent away from home in their time together.
21. Kansas City Chiefs (0-1) - After years of underutilizing stellar backs like Brian Westbrook and LeSean McCoy, Andy Reid once again fell victim to his fatal flaw. Reid was all apologies for only giving Jamaal Charles seven rushes and 11 total touches against the Titans. Charles' lack of involvement is a big reason why Kansas City lost the time of possession battle a whopping 37:44 to 22:16. Including the preseason - which, I know, is "meaningless" - the Chiefs have been outscored 118-52 the last four times they've taken the field. Their secondary looked awful, and the loss of two more defensive starters (Derrick Johnson and Mike DeVito) doesn't help.
22. Houston Texans (1-0) - The Texans are a bit of a surprise as a road favorite this week, laying a field goal to the Raiders in Oakland. Houston has revenge for a 28-23 loss to the Raiders last November. Shockingly, that game's quarterback matchup of Matt McGloin vs. Case Keenum still may be better than this week's Ryan Fitzpatrick vs. Derek Carr showdown. I know Houston won last week. But that was not exactly an encouraging performance against a Washington team that did everything it could to lose. The Texans have lost 10 of 11 road games, and there is no way that I'm laying points with this group until they show me something.
23. Washington Redskins (0-1) - I have no idea how the Redskins special teams could be this terrible for this long. They had two more kicks blocked by Houston, and Washington is completely incompetent in this one-third of the game. Like their Maryland brethren in Baltimore, the Redskins are just drenched with bad karma, and I can't see them getting much of a boost from their home opener. The Redskins are 5-15 ATS as a favorite against nondivisional opponents and a woeful 5-19 ATS at home against below-.500 opponents. However, Chad Henne is one of the few quarterbacks that Bob Griffin might be better than.
24. New York Giants (0-1) - This team is pathetic. They are lost on offense, and every time they cut over to Ben McAdoo on the sideline he looked completely befuddled. I didn't think the Giants offensive line played too poorly. But Detroit also didn't bring a lot of blitz pressure (they didn't have to), and I have no idea how the G-Men are going to handle Arizona's all-out, jailbreak pressure scheme this Sunday. The Giants are just 16-17 SU since the start of the 2012 season, and Monday night's games forced the Giants from small favorite to a short underdog.
25. New York Jets (1-0) - I don't think it was encouraging that the Jets outgained the Raiders by 244 yards and won by just five points. New York had 11 penalties and two turnovers and just looked like the same old mediocre, undisciplined team we've seen the past several years. The Jets are just 4-10 ATS in their last 14 games off surface and they are just 3-10 ATS as a nondivisional away underdog. Last year the Jets lost road games by 10, 16, 23, 40 and 25 points. But they also went 4-0 ATS against elite quarterbacks Matt Ryan, Tom Brady and Drew Brees.
26. Dallas Cowboys (0-1) - When the schedule was released I circled this Cowboys-Titans game as a potentially fantastic situation to bet against Dallas. But the Boys are four-point underdogs heading into this weekend, and we appear to be on a path where four weeks from now all the value with this team will be betting ON them rather than against them. It has been years since Dallas carried less respect in the marketplace. They are 9-0 ATS as an interconference underdog, although they did lose both AFC road games last year (at San Diego and at Kansas City).
27. Jacksonville Jaguars (0-1) - Everyone in the bobblehead media that was predicting a Jacksonville resurgence had to have been patting themselves on the back when the Jags took a 17-0 lead into halftime. Then reality set in. You could say that Jaguars backers suffered a terrible beat with Philadelphia's defense covering the spread thanks to a 17-yard fumble recovery in the final minutes. But it's Chad Henne we're talking about here. Yes, he is that big of a loser, and now the Jaguars have lost four straight games dating back to the preseason. So much for a Jacksonville Renaissance. The Jaguars are 0-7 ATS in Week 2 and 9-22 ATS against teams outside their division.
28. Oakland Raiders (0-1) - That was a pretty pathetic showing by the Raiders run defense. Even if you discount Chris Ivory's 71-yard touchdown run, they still gave up 4.3 yards per carry and were pushed around. Oakland posted one of the most misleading final scores of the opening week, and it is going to be another long season for the Silver and Black. The home team is just 2-5 ATS in the Houston series but the underdog has covered six of eight. Oakland's outright win as an 11-point underdog last year was one of the bigger upsets of the season. In my opinion this week's Raiders-Texans game is the equivalent of last week's Texans-Redskins game: completely unplayable.
29. Tampa Bay Buccaneers (0-1) - I said it last week: even with Logan Mankins in the fold the Bucs offensive line is the worst in football. Josh McCown will be running for his life all season long, and there is just no way their offense will find any level of consistency or rhythm. It is going to be more of the same this week against a St. Louis front seven that is every bit as good as Carolina's. Tampa Bay is now 13-30 ATS in its last 43 home games, yet they are a 5.5-point favorite this week. If they couldn't beat Derek Anderson, why are people assuming they'll just brush aside the Austin Davis-led Rams?
30. Buffalo Bills (1-0) - The Bills have to be feeling pretty good about themselves after stealing a road win at Chicago. Now they return home where they are 10-4 ATS in their last 14 contests and 7-3 ATS in their last 10 games against division-rival Miami. But let's not get ahead of ourselves here. This team is still a joke, and one win won't wash off that loser stench that pervades this third-rate organization. The Bills have consistently given off false hope early in the season. They are now 9-2 ATS in their last 11 Week 1 games, and they are 13-5 ATS in their last 18 games in Week 2. However, the Bills are just 7-23 ATS in their last 30 games following a win.
31. Cleveland Browns (0-1) - Justin Gilbert is once again proving my long-standing and oft-justified sports theory: rookies SUCK. Gilbert, like most of the Browns defense, was completely overmatched on Sunday. Fans are idiots. They think just because a team drafts someone in the first round they have solved a problem area on the roster. No. When you start a rookie all you've done is create an even worse problem because now you have a player on the field with no idea what they are doing.
32. St. Louis Rams (0-1) - Shaun Hill is "a long shot" to play this week at Tampa Bay. He has a strained quad, and that means that Austin Davis should get some more run. Davis wasn't awful in his relief stint Sunday. But he had an ugly pick-six, and things probably won't get easier playing on the road. Now if Davis gets hurt or is just completely ineffective the Rams will be turning to new pickup Case Keenum. St. Louis is now 18-42-2 ATS in its last 62 games in September and they are 4-10 ATS in their last 10 games in Week 2.
Robert Ferringo is a lead writer for Doc's Sport and he is off to a brilliant start to the college football season, earning $3,280 in profit already this year in college football with back-to-back killer weekends. Robert's KING System has gone 3-0, +$1,100 so far this season (60% the L3Y, 87-58) with more coming this week. In 2013 Robert hit 62.1 percent of his NFL selections (95-58) and over the last two years Robert has hit over 60 percent of his last 166 football plays (101-65). He has banked $18,000 in profit the last 21 months he's had selections and has posted 31 of 45 winning football months (68.8 percent). He is one of the best in the business and will be back with more this week.
Read more articles by Robert Ferringo