NFL Power Rankings Week 3
by Robert Ferringo - 9/16/2014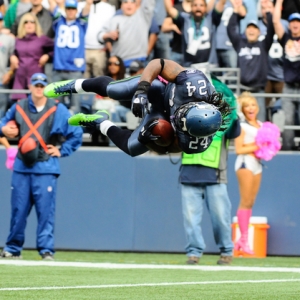 Since we last spoke the NFL has provided us all with a hellacious week of self-realization. You don't need me to recap it for you. But I didn't feel right starting off this week's Power Rankings with some snappy intro or witty, humorous analysis.
Instead I will say this: It should come as absolutely zero surprise that detestable human beings populate the NFL. The owners are complete and total sociopaths. The coaches are miserable, self-important control freaks. The players are crazed animals with hyperactive pituitary glands and blood lust. There are a lot of just awful people embedded in this sport, and we're forced to deal with them.
The NFL is using you. It is using me. They don't care about us at all. They just care about our money. Our attention. Our devotion. The NFL is counting on a mix of apathy and omnipresent business and entertainment entanglements to keep us in line. And they confuse our money and attention with tacit approval of their practices.
Well, I don't approve of Ray Rice. Or Adrian Peterson. Or Roger Goodell. Or Jerry Richardson. Or Jim Haslem. Or any number of other horrific individuals throughout pro football.
The NFL does not have my loyalty. I don't care about the aforementioned individuals. I don't care about their long-term health or financial wellbeing. If the league folded tomorrow I would be upset for about six hours, and then I'd move onto the next sport to handicap.
The NFL is using me. But I am using the NFL right back. That's not rationalization or justification. I use it to make a living and I use it as a minor form of entertainment. (Believe me, Sundays aren't as fun as they used to be before I was a professional gambler. Now it is a workday!) And I don't think that we, as fans, gamblers, or interested passers-by, should feel guilty about using pro football for these things. It doesn't mean we approve. Just as living in the United States doesn't mean that we approve of political corruption, war mongering or climate devastation.
Change comes from within a given system. Not outside it. So we don't approve. We absorb. And we evolve. We overthrow. And we hope that we work to a place where damage that these criminals and characters can inflict is mitigated. And we move on.
Here is Doc's Sports NFL Power Rankings for Week 3:
1. Seattle Seahawks (1-1) - I'm not going to overreact to one tight road loss against a solid opponent. Seattle just got outplayed on Sunday, pure and simple. But they are 13-3 ATS in the game following an ATS loss and 11-4 ATS after a straight up loss. The Seahawks are also 16-5 ATS against a team with a winning record, and you know they are going to bounce right back this week. San Diego had to make some incredible individual plays to beat Seattle, and that's not going to happen that often this year. Seattle, though, has been vulnerable on the road and on grass, but that won't be an issue this week. Over the last three years the Seahawks have been the single best bet in football, going 36-16 ATS in their last 52 contests, and they are still an automatic play at home thanks to their 39-18 ATS mark as a host.
2. Denver Broncos (2-0) - Yes, this week offers the Broncos the biggest revenge situation of the 2014 season. But can we really expect them to roll into Seattle and come out with a win? Honestly, I think it would be an accomplishment for the Broncos to simply shave off about four touchdowns from their 35-point deficit in the Super Bowl. The road team is 7-3 ATS in this series, and the Broncos are 5-2 ATS in their last seven trips to the Emerald City. Peyton Manning is 11-7 ATS as an underdog dating back to 2006. However, the Broncos are just 1-4 ATS as a dog with Manning under center.
3. Philadelphia Eagles (2-0) - It shouldn't be all that surprising that the Eagles are a solid second-half team. Their system and scheme just wears opponents down. And by the end of the third quarter the Eagles are usually so far into the playbook they can pretty much do what they want. Last year, according to some wannabe advanced football metric sites, Nick Foles led the NFL in deep completions (20 yards or longer). But watching the Eagles play it seems like they are scared to let him take shots down the field. The favorite is 6-1 ATS in the last seven in the Redskins series, and Philadelphia has gone 5-2 ATS in those contests.
4. Cincinnati Bengals (2-0) - Despite the presence of a shaky rookie center, Cincinnati hasn't allowed a sack yet this year. The Bengals are also becoming Seattle East, going 10-1 ATS in their last 11 home games and covering nine straight regular season home contests. That said, there was a shocking line movement in that Titans game as the books have come off the 7.0 down to 6.5 despite over 75 percent of the action coming in on the Bengals. That is mainly in response to losing A.J. Green but still shows a lack of respect for what Cincinnati has done at the window the past two years.
5. Green Bay Packers (1-1) - The Packers have revenge for a 40-10 beat down that they took in Detroit last year. However, that game didn't involve Aaron Rodgers, and the Packers are 12-3-1 ATS in their last 16 games against the Lions overall. The Packers have said that Eddie Lacy is 100 percent after his preseason concussion issues, but he doesn't look like he's running with the same decisiveness. Granted, the Packers have played against two very good front sevens. And they will face another this week in Detroit. But Green Bay needs to establish that running game after mustering just 160 yards rushing through two games.
6. New England Patriots (1-1) - I definitely lost some respect for Tom Brady this week based on his weak-willed stance on social issues. Concerning on-field issues, the Patriots offense has been trash the first two weeks of the season. However, they have a ridiculous 12.1 yards per point average (No. 2 in the NFL), and their scoring average (25 points per game) doesn't reflect the fact that they are No. 27 in the NFL in total yards. That lack of punch makes me a little worried about laying big points this week, even to the hapless Raiders. The Patriots are just 5-13 ATS as a double-digit favorite.
7. San Francisco 49ers (1-1) - The 49ers are not just degenerate felons off the field; they are also rambunctious thugs on it as well. San Francisco has been penalized 27 times in two games for nearly 200 total yards. I also hinted at it last week, and I just want to go firmly on the record: I'm not 100 percent convinced that Colin Kaepernick is a good pro quarterback. He certainly hasn't been through two games this year and is coming off a season where he completed just 58.4 percent of his passes. The situation bears watching. San Francisco has gone 9-2 ATS in its last 11 games against the Cardinals.
8. New Orleans Saints (0-2) - It was only a matter of time. I've been saying it all offseason: Rob Ryan is a proven loser, and this Saints defense is going to have a horrible season. Sean Payton had seen enough on Sunday as well, getting in Ryan's face as his defense melted down for the second straight game. Also, can someone explain to me why the Saints let Darren Sproles go this offseason? I said in my NFC South preview that I knew this team would miss him, and I think it is clear that they do.
9. Arizona Cardinals (2-0) - Bruce Arians just continues to dazzle. The Cardinals had absolutely everything working against them last week - a cross-country flight for an early start, a short week, a letdown after a comeback win on Monday Night Football, and a last-second starting quarterback scratch - yet he still navigated his team to an easy win. Now the Cards have a chance to take a two-game lead on San Francisco in the West. But the 49ers have had Arizona's number, and the Cardinals are just 1-7 ATS when hosting San Francisco. Arizona lost both meetings last year despite outgaining the 49ers in each game. San Fran has won nine of 11 meetings outright.
10. Chicago Bears (1-1) - That was a potentially season-saving comeback last week in San Francisco and should give the Bears a lot of confidence going into this week's Monday night trip to New York. If you don't know who Willie Young is, you better look him up. Young has three sacks in two weeks and is wreaking havoc on the Bears front four. The loss of Charles Tillman is monumental for this group, as "Peanut" is one of the most underrated players of the last 15 years. The Bears are just 7-18 ATS in their last 25 games, but they are 7-3 ATS in their last 10 MNF games.
11. San Diego Chargers (1-1) - There is a heavy reverse line movement in the Chargers-Bills game. Nearly 70 percent of the betting is down on the Chargers, but the spread has moved from an open of -1.0 for the home team to Buffalo favored by 2.5 at the moment. The Chargers will be without Ryan Matthews, but Danny Woodhead has proven himself as more than a capable replacement. San Diego is another West Coast team playing the dreaded 10 a.m. PST start time this week. Also, the past two years teams have struggled the week after facing the physical Seahawks, so we'll have to see what the Chargers have left in the tank this week.
12. Carolina Panthers (2-0) - I know it is still early, but I guess I was wrong to doubt this team. The Panthers are coolly efficient, and their strength is in their strict adherence to that tried-and-true NFL maxim: be more physical and make fewer mistakes than your opponent and you'll win games. Carolina is running for only 3.1 yards per carry and converting only 33 percent of third downs. But they are plus-6.0 with their turnover differential and physically dominated both Tampa Bay and Detroit. I think they should be a larger favorite against the Steelers this Sunday night because I see Carolina pushing Pitt around as well.
13. Indianapolis Colts (0-2) - Dating back to last year's postseason the Colts defense has surrendered 37 points per game in its last four games. Also, Andrew Luck has not been sharp in either of Indianapolis' games, and the Colts continue to be a team that can beat up on bottom feeders but get outclassed against the top teams in the NFL. Luck continues to airmail throws and already has three interceptions. Fear not: the Colts head to Jacksonville where they are 5-2 ATS in their last seven trips. Indy has won the last three meetings by a combined 94-23 score, including a 37-3 win at Jacksonville last September.
14. Detroit Lions (1-1) - Where have you gone, Jason Hanson? Detroit had 21 years of stability with Hanson handling the kicking details. After a lackluster season of David Akers and now a grotesque start with Nate Freese (2-for-5), the Lions have to be pining for the Hanson days again. The home team in the Packers series has won six of eight outright and is 4-1 ATS in the last five meetings. The line continues to swing between +1 and -1 , and it will be interesting to see who is favored at kickoff. The favorite has covered four straight and eight of 11 in this series.
15. Baltimore Ravens (1-1) - The Ravens totals have been killing me these past two weeks, and both their offensive and defensive yards per point have been way out of whack. Their defensive YPP is at 23.5, while offensively they are at 18.1. There have been nearly 1,500 total yards in their first two games, yet both have gone 'under' the total with a whopping 13 made field goals. It is only a matter of time before the dam breaks and we start to see some 'over' games coming out of Baltimore's improved offense and weakened defense.
16. Tennessee Titans (1-1) - Last week was the perfect example of what I've been talking about with Jake Locker. Everyone else on that Titans team was making individual plays. But he was so bad, so inaccurate, and so lacking in any kind of presence, that Tennessee really never had a chance. Tennessee's defense was awful against Dallas, and their 3-4 conversion is still very much a work in progress. Some of it is scheme. But some of it is just toughness. Their linebackers have to get tougher against the run.
17. Pittsburgh Steelers (1-1) - Over the last six quarters the Steelers have been outscored 50-6. I think that's more indicative of the talent (or lack thereof) on this team rather than their hot 27-3 start against Cleveland in the opener. This is not a good team right now. Todd Haley insists on calling for wide receiver screens and quick passes. But Big Ben is at his best when they can max protect, send out three receivers running deeper routes, let Ben extend plays with his legs, and let him make plays down the field. Pittsburgh's short passing game will likely result in squat against Carolina's Cover-2 this Sunday night.
18. Minnesota Vikings (1-1) - Just so we're all on the same page here: no, it is not OK to beat your children with sticks. Glad we have that settled. Adrian Peterson is going to be a significant distraction for this team. And after two lackluster offensive performances from a group that I had poised for a breakout unit, this team needs to keep its focus where it belongs. I think Minnesota is delaying the inevitable by sticking with noodle-armed loser Matt Cassel. The guy is awful. This team isn't going to the playoffs this year. So the sooner they can get Ted Bridgewater in there - and I am very anti-rookie - the better off they will be.
19. Miami Dolphins (1-1) - I mentioned last week that the Dolphins were going to be without three of their four starting linebackers, and their absence was obvious against Buffalo. They better hope that Andy Reid goes pass-wacky against them this week when the Chiefs come to town. Knowshon Moreno is hurt again, which should be a surprise to no one. But Lamar Miller was also banged up Sunday, and if Miami is down its top two running backs their offense could get lopsided in a hurry.
20. Atlanta Falcons (1-1) - The Falcons are a perfect 4-0 ATS in their last four Thursday games. And their offense matches up well with Tampa Bay's soft Cover-2 scheme. Atlanta's offensive line has massively overachieved early this season, allowing just three sacks in 90 dropbacks by Matt Ryan. If they continue that this week against a shaky Tampa front four then this game should be over quickly. The favorite has covered six of seven in this series, and this is a critical home game for Atlanta, which will play in the Georgia Dome just once more between now and mid-November.
21. Houston Texans (2-0) - Let's not get too carried away with Houston's 2-0 start. After all, they beat weak Washington and the hapless Raiders. Bill O'Brien did an incredible job with an undermanned team in his first season at Penn State, so a total turnaround isn't beyond the realm of possibility. The Texans are just 1-8 ATS following an ATS win and, like Chicago, they are playing on their second coast in two weeks when they travel to New Jersey. Houston has the most rushing attempts in football through two weeks (80), and we'll see if they continue to ground and pound if they fall behind in some of these games.
22. Washington Redskins (1-1) - Bob Griffin's ankle injury is the best thing that could've happened to this team. There is absolutely no doubt that Kirk Cousins is the better signal caller, and I think the Redskins will rally around him. Washington was pretty game against the Eagles last season, losing by just six and eight points. They are getting back Brandon Meriwether this week, and boy does that secondary need it. DeAngelo Hall cannot cover anyone. However, I do like what I've seen from young David Amerson. His technique can get shaky, but he's aggressive and active on the outside.
23. Kansas City Chiefs (0-2) - The focus of the fantasy football crowd will be on Jamal Charles' ankle injury. But the Chiefs seem to have at least a capable replacement in Knile Davis. The more consequential injury last week was safety Eric Berry. K.C.'s shaky secondary is hanging by a thread. If Berry is forced to miss extended time then there will be some nice value betting 'over' with this team, which is already 0-2 against the total.
24. New York Jets (1-1) - The public loves the Bears this week, with over two-thirds of the betting in Monday night's game on the visitors. But the line keeps moving toward the Jets and could hit 3.0 by kickoff. New York is just 19-27 all-time on Monday Night Football, but they pulled a significant upset at Atlanta last season in their most recent MNF offering.
25. Dallas Cowboys (1-1) - The Cowboys are 8-18 ATS in their last 26 games following a win. But I don't know that even they could lose to the Rams right now. St. Louis is allowing 5.5 yards per carry, and the Cowboys are running for 5.3 yards per attempt. If Dallas features DeMarco Murray again this week it will be a long day for a sagging, overrated Rams front seven that is trying to carry the load without leader Chris Long.
26. Buffalo Bills (2-0) - That was an incredibly emotional win for the Bills last week, and it could be difficult for them to get that hyped up again this week, even with a chance to start the season a perfect 3-0. Buffalo has followed a very predictable pattern the last several years, going 8-2 ATS in Week 1 and 14-5 ATS in Week 2. But they are just 5-12 ATS in their last 17 games in Week 3, and this usually marks the beginning of the end of their season. The Bills are 3-10 ATS after a win by two touchdowns or more and 8-22 ATS following any win.
27. Cleveland Browns (1-1) - I think that the Kubiak-Shanahan offensive coordinator matchup this week is one or the more fascinating subplots of the weekend. Both the Browns and Ravens offenses run the same systems, so the defenses should have no problem scheming. But who of Kubiak and Shanahan knows the offense well enough and has enough wrinkles to throw the opponent off?
28. New York Giants (0-2) - If you can't be Drew Stanton then you can't beat anyone. This may be the worst Giants team we've seen in 10 years, and I don't see this group turning around at all. They had four more turnovers on Sunday, and Eli Manning looks like a buffoon in this new offense. The G-Men are a solid 10-4 ATS following a double-digit loss at home. But I don't know that this group has nearly the sand of past Coughlin groups.
29. St. Louis Rams (1-1) - This is St. Louis' fifth meeting with the Rams since 2007, and the last four have all been blowouts. That includes a 31-7 Dallas win last September. The Rams are now 15-34 ATS in their last 49 games in September, and if they allow over five yards per carry again this week, as they did to Tampa Bay, then they'll lose by at least three touchdowns this time around as well.
30. Tampa Bay Buccaneers (0-2) - Injuries and a painfully thin roster already have Tampa's season swirling the drain. Their first road trip is a short one, on a short week, and the Bucs are just 1-7 ATS as a divisional road underdog. But the Atlanta series has treated the Bucs well, as they are 9-4-1 ATS in their last 14 games against the Falcons and 10-4 ATS in their last 14 games in the Georgia Dome. Tampa Bay is 0-6 ATS in their last six conference games.
31. Jacksonville Jaguars (0-2) - I'm still laughing at every prognosticator that I heard singing the praises of the Jaguars this preseason. Is it too early to start clocking the race for next year's No. 1 overall pick?
32. Oakland Raiders (0-2) - This team is embarrassing, and I don't see any way that Dennis Allen makes it through this season. Reggie McKenzie should be gone as well as this team just squandered three years of rebuilding. Oakland is on an eight-game losing streak, but they are a solid 8-0 ATS as a double-digit underdog against AFC opponents. This is Oakland's second cross-country flight for an early start in three weeks, and they have lost 11 straight 1 p.m. EST games. If I were a West Coast team I would be complaining, loudly, to the league office that these West-to-East games should be played at 4 p.m. EST to level the playing field.
Throughout the season I will have my NFL Power Rankings every Tuesday. My next one will be released on Tuesday, Sept. 23.
Robert Ferringo is a lead writer for Doc's Sport and he is off to a brilliant start to the college football season, earning $2,340 in profit already this year in college football with two of three winning weekends. Robert's KING System has gone 4-2 so far this season (60% the L3Y, 88-60) with more coming this week. In 2013 Robert hit 62.1 percent of his NFL selections (95-58) and over the last two years Robert has hit nearly 60 percent of his last 200 football plays. He has banked $18,000 in profit the last 21 months he's had selections and has posted 31 of 45 winning football months (68.8 percent). He is one of the best in the business and will be back with more this week.
Read more articles by Robert Ferringo