NFL Preseason Picks: Sunday Odds and Predictions
by CarbonSports - 8/15/2014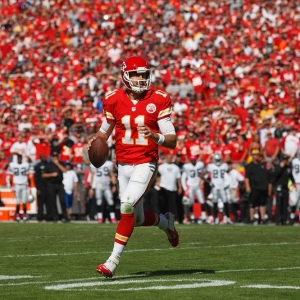 Game: Kansas City @ Carolina (-3); Total set at 39
KC managed to win a wild one in Week 1 last week (41-39) against a Bengals team that they'll likely be battling with for a wildcard spot this year. We've got a long way to go until then, but the Chiefs looked offensively adept in their first action of 2014. They'll need it this week against a Carolina team that's eyeing a return to the playoffs themselves.
The Panthers fell to the 49ers during Divisional Weekend last year but it was a huge step for this organization during QB Cam Netwon's tenure. Carolina is looking to go a few steps further this season but they've made some major moves this off-season and will face a much tougher schedule this year so they'll be a team to watch all year.
When it comes to this preseason game though, the Panthers are anxious to play much better than they did against Buffalo last week. That was a 20-18 loss for the Panthers but Newton didn't even play a snap in that game. Newton is still recovering from ankle surgery this spring, but he's been medically cleared to play. How long we see Newton on the field is a different story though, but you know the dynamic signal caller will want to make an impact when he's out there.
The spot for Carolina couldn't be much better either as the Chiefs defense clearly has some major issues to work out before Week 1 gets here. KC is also 0-11 ATS in Week 2 of the preseason the last 11 years so history is clearly on the Panthers side in this one.
The spread reflects that as it's up to -115 on that -3 spread for the Panthers and I'd suggest jumping on that number before that key 0.5 hook pushes the number up to -3.5 Carolina will put forth a strong effort at home and with the Chiefs history in this week of action I can't pass up making a play on the Panthers.
Take Carolina -3.
(You must Make a deposit of $25 or more and enter the promotion code: FREE100 in the promotion code field, 50% bonus value of your deposit up to $100). Click here to take advantage of this offer!