NFL Teasers Betting: Four Best Basic Strategy Options for Week 1
by George Monroy - 9/3/2014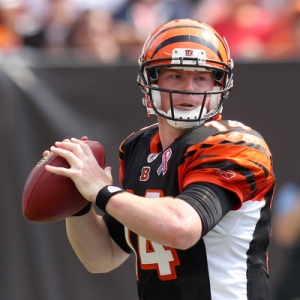 The NFL season can be a long and difficult grind-sometimes the best thing for bettors is to break up the monotony by trying new betting techniques or wagering in a new way. Every week throughout the NFL season Doc's Sports will analyze basic strategy teasers, provide betting advice, and teach bettors the ins and outs of the strategy. Basic strategy teasers are two-team, six-point wager that move favorites of 7.5 to 8.5 points down by six points and underdogs of 1.5 to 2.5 points up by six points.
The 2014 NFL season is set to open up with four Week 1 basic strategy teaser games. The wager is a play designed to take advantage of NFL key numbers in order to create positive-value situations based on math. The two most common margins of victory in the NFL are three and seven points, and if bettors can use those numbers to anchor their spreads they are more likely win certain games. Let's take a closer look at the four Week 1 teasers.
Cincinnati Bengals at Baltimore Ravens
Spread : Cincinnati +1.5
Six-point Teaser : Cincinnati +8.5
Cincinnati will be entering the 2014 season as the favorite to win the AFC North and a Top 10 favorite to win the 2015 Super Bowl. The Bengals are set to return Andy Dalton and much of the same offensive core as least season's 11-5 squad. This should be an excellent team throughout the year. In 2013 Cincinnati produced a 3-1-1 record as an underdog and lost only two games by more than eight points. Teasing the Bengals up to 8.5 points against the typically low-scoring Ravens feels like a solid play.
Carolina Panthers at Tampa Bay Buccaneers
Spread : Panthers +1.5
Six-point Teaser : Panthers +7.5
Carolina seems to have fallen off the radar after being the darlings of the league last season. Quarterback Cam Newton is injured and will start the year with a fractured rib, while the team lost a couple of key contributors over the offseason. Carolina, however, will be facing a bad Tampa Bay squad that is coming off a 4-12 season in 2013 and will probably be looking at a similar record in 2014. The Panthers have the potential to be a solid team throughout the year, and it will be difficult for the Buccaneers to win this game by more than a touchdown.
Washington Redskins at Houston Texans
Spread : Redskins +2.5
Six-point Teaser : Redskins +8.5
Houston will almost-certainly improve on last years horrid 2-14 record. The team still has JJ Watt on the defensive end and will be adding potential game-changer Jadeveon Clowney. Houston's problems will be on the offensive end where it still does not have a solid option at quarterback or an offensive line to provide stability. Expecting the Texans to beat any team by more than a touchdown may be asking too much. Washington will have its issues, but the team should be capable of keeping the game close, if not win it outright.
New Orleans Saints at Atlanta Falcons
Spread : Atlanta +2.5
Six-point Teaser : Atlanta +8.5
Most NFL experts are expecting the Falcons to have a bounce-back year (of sorts) after 2013's four-win season. The team is expected to creep into the six- to eight-win range this season and has historically played New Orleans tough every year. Last year Atlanta lost both of its matchups against the Saints by an average of five points and kept their division opponent to an average of only 20 points per matchup. New Orleans has never been a powerhouse on the road, and the team did not win a single game away from its home stadium by more than eight points last year. Atlanta has every chance to cover this spread.
Betting Options: Remember that a basic strategy teaser is a two-team teaser and in order to place one a bettor must choose between two of these options. It would not be wise to wager each team in a four-team teaser because the payouts do not justify the actual odds of all four plays winning. The best play to make is combining a couple of the strongest basic strategy teasers into two or three separate bets.
Also if a spread does not fall exactly into the basic strategy teaser range and is a half-point off, it would be better to wager on that spread straight up than putting it into a teaser. If a line is already at three points, there is not need to throw it into a teaser because you already have the strength of that key number built into the spread.
Doc's Sports has been successfully handicapping the NFL for years - more than four decades in the business - and wants to give new clients a chance to try our service for free. Click here for the hassle-free sign up and get $60 in free NFL picks today . Also, get three handicappers for the price of one when you sign up for a full-season football package! Click Here for details.
Read more articles by George Monroy