Handicapping the 2015 NFC South Schedule with Important Games and Predictions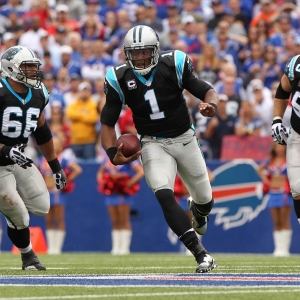 The NFC South may be the worst division in football. The situation was so bleak in 2014 that the division had fans and media experts questioning the rules and wondering if an under-.500 team should even be allowed to make the playoffs. No changes were made during the offseason, of course, since sub-.500 teams making the playoffs is a rare occurrence. If the division does not improve, however, and the same situation repeats itself, the NFL rules committee will undoubtedly take a deeper look at reassessing the division structure in 2016.
Free $60 in Member NFL Picks No Obligation Click Here
What was lost in the division controversy was that the NFC South has a slew of talented players and decent teams with potential. Fans and bettors should expect improvement across the board and maybe even a little bit of excitement as the No. 1 pick in the NFL draft is now a part of the fold. Let's take a closer look at the schedule, important games and make a few predictions. Odds come from Bovada.
Carolina Panthers
Super Bowl Odds: +4000
Division Odds: +200
Games of Consequence :Week 3 against New Orleans; Week 6 at Seattle; Week 7, 8 and 9 against Philadelphia, Indianapolis and Green Bay; Week 12 and 13 against Dallas and New Orleans
At this point in his career, quarterback Cam Newton is still largely a mystery. He takes huge leaps forwards then regresses. But he still has huge potential. The other quarterbacks around his draft class have already defined themselves, with Russell Wilson and Andrew Luck being the stars. Newton is good, yet not consistently great, and fans continue to wait on his "break-out year".
The Panthers' schedule is manageable as the team will face many sub-.500 squads from last season, but they will enter a brutal four-week period where they play Seattle, Philadelphia, Indianapolis and Green Bay from Weeks 6 to 9. Expect all four of those matchups to be a loss.
Prediction : 8-8, division champions
New Orleans Saints
Super Bowl Odds: +4000
Division Odds: +225
Games of Consequence : Week 1 at Arizona; Week 3 at Carolina; Week 4 against Dallas; Week 5 at Philadelphia; Week 7 at Indianapolis; Week 12 at Houston; Week 17 at Atlanta
New Orleans has fallen off of the NFL map over the last two seasons, going from Super Bowl contender to a sub-.500 squad. There are questions surrounding Drew Brees and whether he has anything left in the tank-the team even drafted a quarterback in the third round, creating a mini controversy. The Saints had a busy offseason, essentially replacing its offense core by trading Jimmy Graham and not re-signing its receivers. Most NFL experts believe the team did a solid job of signing players during free agency and draft, yet whether or not they can incorporate them into Brees' offensive system remains to be seen.
Schedule-wise, New Orleans has four high-profile matchups against Arizona, Dallas, Philadelphia and Indianapolis, which could all end in a loss, and the team's only hope for a playoff berth will come from winning the division rather than the wild card.
Prediction : 7-9
Atlanta Falcons
Super Bowl Odds: +4000
Division Odds: +300
Games of Consequence : Week 1 against Philadelphia; Week 3 at Dallas; Week 6 at New Orleans; Week 9 at San Francisco; Week 11 against Indianapolis; Week 13 and 14 at Tampa Bay and Carolina; Week 16 and 17 against Carolina and New Orleans
Atlanta improved on the defensive end, according to most experts, yet those additions may not be enough to make an impact on the season. The schedule seems to be manageable for the Falcons, but expecting anything more than an 8-8 record is tough for the team, who will start the year with matchups against Philadelphia, New York (Giants) and Dallas. The schedule will not be overwhelming, yet there are still few spots where the Falcons can overachieve.
Prediction : 6-10
Super Bowl Odds: +10000
Division Odds: +750
Games of Consequence : Week 1 against Tennessee; Week 2 at New Orleans; Week 4 against Carolina; Week 8 at Atlanta; Week 10 against Dallas; Week 11 and 12 at Philadelphia and Indianapolis; Week 17 at Carolina
Tampa Bay has a huge matchup against Tennessee on the docket for Week 1 of the 2015 season. The matchup will be must-see TV not because of the teams involved, but because of the quarterbacks playing-the No. 1 and No. 2 picks in the draft. Jameis Winston will play the first game of his career by going head-to-head against Marcus Mariota, and the matchup could be the beginning of the next great NFL rivalry. Even if it's not, the game will probably draw massive media interest. Outside of that matchup, Tampa Bay will not have many marquee moments on the schedule and will probably skate under the radar with another sub-.500 season.
Prediction : 5-11
Get free picks from any of Doc's Sports Advisory Board of expert handicappers - and with no obligation or credit card. You can use these free picks for any sport, and you will never deal with a salesman. Click here for your free Doc's Sports picks.
Read more articles by George Monroy