NFC West Division Odds: Arizona Cardinals Undervalued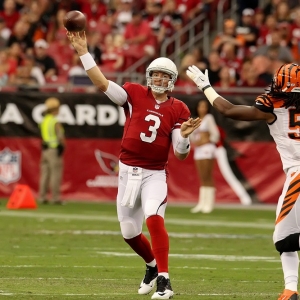 The Arizona Cardinals are quietly becoming the best team in football. Quarterback Carson Palmer seems to be fully recovered from last season's ACL injury, Bruce Arians' defense is elite, Larry Fitzgerald is as good as ever, and rookie running back David Johnson is slowly turning into a reliable option carrying the ball. The Cardinals were Super Bowl contenders last season, but injuries and bad breaks put those hopes to rest late in the year.
In 2015, however, Arizona could become an unstoppable force and run away with the NFC West, a division that Seattle was and is still expected to rule. Let's take a closer look at Arizona and figure out if they are in the driver's seat in the division.
NFC West Odds
Seattle: -120
Arizona: +200
St. Louis: +550
San Francisco: +1200
Seattle is sitting on a 0-2 record and has essentially spotted the Cardinals a two-game lead, yet the oddmakers still have the defending NFC champions as a favorite to win the division. The Seahawks are expecting Pro-Bowl safety Kam Chancellor to return from a contract holdout this week and bring a much-needed sense of energy and emotional leadership into the locker room. The question is, will the addition be enough to turn things around? Seattle's schedule was deceptively difficult to open the year, but a Week 3 meeting against the hapless Chicago Bears should be enough to get that first victory in the books.
Arizona, however, is primed to start off the year on another hot streak and could rattle off a 9-0 record before its Week 10 showdown against the Seahawks. Even if the team underachieves, it will probably be staring at a 6-3 or 7-2 mark heading into the last seven weeks of the season. The team has upcoming matchups against San Francisco, St. Louis, Pittsburgh, Baltimore and Cleveland-all games that are very winnable. Here is a quick look at Arizona's upcoming schedule:
Week 3: San Francisco
Week 4: St. Louis
Week 5: At Detroit
Week 6: at Pittsburgh
Week 7: Baltimore
Week 8: at Cleveland
Week 9: Bye
Week: 10: at Seattle
Arizona Cardinals ATS Record
2015 : 2-0 ATS
2014 : 11-6 ATS; 8-2 ATS before the Carson Palmer injury
The truth is Arizona isn't a "sexy" team like New England, Seattle or Green Bay, and most NFL fans won't notice anything the Cardinals do until the trends become obvious. Most people won't notice how good the team really is until late in the year when Arizona is sitting on a gaudy 10-1 or 9-2 record. The team is currently ranked first in points scored and 11th in points allowed while covering their spreads by an average of 16 points.
Yes, those stats only include two games, but the Cardinals did managed to cover 66 percent of their spreads in 2014, while producing an excellent 8-2 mark before the Palmer ACL tear. Arizona is showing nothing but value at +200 to win the NFC West. Seattle will probably end the year with four or five losses, while the Cardinals could be on course to grab the No. 1 seed in the NFC with a two- or three-loss season. The big matchups for the division will take place between both teams during Week 10 and 17. If you are looking for value, wager on Arizona now because they odds probably won't get much better than this
Read more articles by George Monroy