NFL Handicapping: Betting on or Against Double-Digit Favorites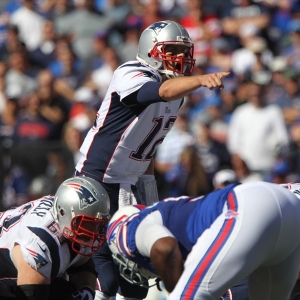 Betting on large spreads in the NFL can be tricky. One the one hand, giving up double-digit points is a lot to overcome. However, on the other hand, those large underdogs are large underdogs for a reason-because they are typically horrendous football teams. Surprisingly, however, the 2015 NFL season has seen only 11 double-digit spreads through the first 11 weeks of the season, and there have already been four weekends without a single large spread on the board. But the real question is which way should bettors lean when faced with a double-digit line?
Let's take a closer look at 2015's large spreads and go over the stats and trends to figure out where the value lies when taking a large line.
2015 NFL Large Spreads
Week 1: 0-0, No spreads
Week 2: 0-1, New Orleans -10 vs Tamp Bay (no cover)
Week 3: 2-1, New England -13.5 vs Jacksonville (cover), Seattle -15 vs Chicago (cover)
Week 4: 2-2, Seattle -10 vs Detroit (no cover)
Week 5: 2-2, No spreads
Week 6: 2-4, Green Bay -10.5 vs San Diego (no cover), New England -10 @ Indianapolis (no cover)
Week 7: 2-4, No spreads
Week 8: 2-4, No spreads
Week 9: 4-4, New England -14 vs Washington (cover), Cincinnati -13 vs Cleveland (cover)
Week 10: 4-6, Green Bay -12 vs Detroit (no cover), Cincinnati -10.5 vs Houston (no cover)
Week 11: 5-6, Seattle -14 vs San Francisco (cover)
Week 12: Arizona -11 at San Francisco
Large spreads have essentially been a 50/50 proposition this season with a 5-6 record through the first 11 weeks. New England, Seattle and Cincinnati have owned the majority of those spreads. The Packers are 0-2 in those spots, while the Patriots and Seahawks are both 2-1. At first glance none of this is game-changing information-large spreads this season are pretty much a coin flip-but there is still something to be learned.
Bettors typically have an aversion toward wagering on underdogs and lean toward favorites no matter what the spread. Jumping on a double-digit favorite almost gives you a sense that a blowout could happen in any game, but according to these 2015 stats, bad teams stay close all the time. In fact, 10 teams have been a double-digit underdog this season. Those teams have a combined 37-63 record for a 37-percent win rate, which is bad by any measure, but they were still good enough cover those games at a 55-percent rate. The point of all this is that double-digit spreads in 2015 may have more to do with how overvalued the favorites are as opposed to how weak the underdog teams seem.
Betting advice : there is quite a bit of football left in the 2015 season, and the best way to proceed with large spreads is to embrace them and look for spots to wager on a live underdog. However, just because large spreads are currently leaning toward the dogs, don't go out and wager on every double-digit line on the board. Do your homework and if you find a solid spot then do not be afraid to bet on it.
Doc's Sports has been successfully handicapping the NFL for years - more than four decades in the business - and wants to give new clients a chance to try our service for free. Click here for the hassle-free sign up and get $60 in free NFL picks today . Also, get three handicappers for the price of one when you sign up for a full-season football package! Click Here for details.
Read more articles by George Monroy