NFL Season Win Total Sucker Bets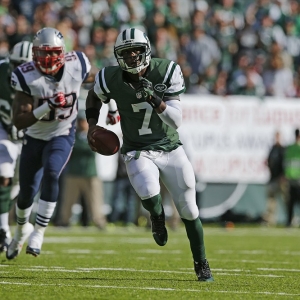 There are some NFL season win total bets that make sense. They fit with how you see things turning out during the season. They could be worth a bet. Then there are those that just seem like a really, really bad idea. Like convenience store sushi. You can't be certain that they are losing bets, but there is enough uncertainty and cause for concern that you just can't possibly justify betting on them. What's crazy, though, is that sometimes the odds suggest that while you wouldn't touch those bets no matter what, the public is enthusiastically backing them.
Here are four win total this year that just don't compute for me:
Denver Broncos (10 wins): The "over" is the solid favorite here. The public has been in love with Peyton Manning for a long time, and in the regular season, at least, he has mostly justified that support.
Being enthusiastic about this team after what we last saw from them just isn't a good way to invest your money. In the last several games we saw Manning play, he looked nothing like we have grown used to. Actually, he looked old. Now, injuries had something to do with that, and he should be healthier going into this season. He's not getting any younger, though, and with all he has gone through physically it's far from certain that he is going to return to form this year. More significantly, it's bordering on unlikely that he can perform at a high level through the grueling 16-game season.
The team did not have a super offseason, and they have an entirely new coaching staff to adjust to. Can this team win more than 10 games? Sure. Would I consider betting that they will - especially at this price? Not on your life.
Chicago Bears (7 wins): The "under" is the heavy favorite here. I wouldn't buy into it. It has become popular to be negative about this team, but books are almost daring you to bet the under, and it is far from the sure thing the price suggests.
John Fox is taking over, so we know the team will be well-coached. Jay Cutler is easy not to like, but he is not the unbearably terrible quarterback that many suggest that he is. Getting rid of Brandon Marshall and drafting Kevin White upgrades the receiver position - at least in effort and attitude if not in sheer performance. The draft class was small but more than solid.
The schedule probably isn't ideal, but it rarely is in the NFL. This team isn't going to be a contender, but Marc Trestman went 8-8 in his first season, and the team John Fox takes over isn't dramatically worse than that one.
New Orleans (8.5 wins): The over is the strong favorite here (-130 currently). I don't see any value in that at all. Not even close. The team was just not good last year. Pretty lousy, actually. The standard wisdom seems to be that they will bounce back. They could, but it's far from certain.
Drew Brees isn't getting any younger, and now he has to adjust to life without all-world tight end Jimmy Graham. The draft class was not particularly inspiring. The offseason was mixed in its results. The division around them should be somewhat better.
Could they be better? Sure. Is there a strong likelihood that they are at least two games better than they were last year - which they need to be to go over? I don't see it. Make it +130 and then we could talk, but at this price I'm certainly looking elsewhere.
New York Jets (7.5 wins): The team was certainly active this offseason. You have to give them that. New coaching staff. New secondary. New receivers. It goes on and on.
They were an absolute tire fire last year, though, so despite the fact that the over is at -150 here I am far from optimistic that they can truly turn the corner and double their four-win total of last year.
There are a few reasons for my skepticism. First, with the addition of guys like Darrelle Revis and Brandon Marshall they have no shortage of egos around, and there is no certainty that they can work together. They have a first-time head coach, and Todd Bowles has done two things to make me question if he is ready. First, he named Chan Gailey as offensive coordinator. At some point people are going to realize that continuing to hire Gailey is not a good idea. Next, he decided in May to announce that Geno Smith was his starter. Smith has certainly not done enough to deserve that honor - not now, at least.
They have made a whole lot of changes, and addressed some issues, but I just can't be optimistic enough to jump aboard the bandwagon that people are clearly fighting to get onto judging by the price.
Doc's Sports has had a winning tradition for more than four decades. Don't believe us? Try us out for free, and we are convinced you will be a believer. Get $60 worth of free sports picks - members' picks just like our paying clients get - here .
Read more articles by Trevor Whenham