2016 Arizona Cardinals Home Schedule Odds and Picks with Win Total Predictions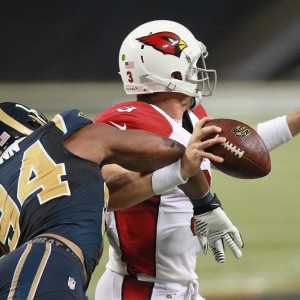 The Arizona Cardinals didn't have to do much this offseason coming off a 13-3 regular-season record and spot in the NFC Championship Game, which unfortunately ended in an ugly loss and again brought up questions about whether Carson Palmer is a big-game quarterback. The answer right now is: no.
And let me preface this preview in saying that I will be shocked if Palmer plays all 16 games. He did last year and at an MVP level. But Palmer has played in every game just three times this decade. So he's due to miss a few. But since I can't project which games he will, I'll just assume he's healthy.
I do question why the Cardinals didn't draft a quarterback this year to start to learn as Palmer's apprentice, but apparently the team thinks backup Drew Stanton can be that guy for a while post-Palmer. Not sure I agree. I believe the Cards might have jumped on Memphis' Paxton Lynch with its 29th overall pick had Lynch been there, but the Denver Broncos traded up to No. 26 to get him. That's fine, things worked out well at 29 as Ole Miss defensive tackle Robert Nkemdiche slid there. Guy's a Top 5 talent but has some off-the-field concerns. Then again, so did Tyrann Mathieu at LSU and he has become one of the NFL's best defensive backs with Arizona (when healthy). Nkemdiche is good enough to win NFL Defensive Rookie of the year.
I loved that Nkemdiche pick, and the Cardinals' trade for Patriots defensive end Chandler Jones also deserves an A. They gave up first-round bust offensive lineman Jonathan Cooper and a second-round pick for him. Jones had a career-high 12.5 sacks last season and will bolster a Cardinals' pass rush that ranked 20th in the NFL with 36 sacks. The only negative with Jones is he's a free agent after this season. The Cards were also able to re-sign rejuvenated running back Chris Johnson, so they had a great offseason.
Arizona was 6-2 at home last season, 3-5 against the spread and 4-4 "over/under." The Cardinals face three 2015 playoff teams at home this season. I think the road schedule is tougher, partly because of Week 1 (see below). I project a 6-2 home record if Palmer plays all of them. Overall, Arizona's strength of schedule ranks as tied for the seventh-toughest in the NFL with an opponents' combined 2015 winning percentage of .531. It has a wins total of 10 for the season, with the over a -150 favorite. And I'd lean over (although project a push). The Cards are +150 to repeat as NFC West champions, but I believe they come in second to Seattle. Odds listed below for the home team.
Sept. 11 vs. Patriots (-4.5, 49): Sunday night game. This line has moved all over the place -- some books still have it off the board -- because of Tom Brady's appeal of the NFL's successful appeal of his four-game Deflategate suspension. On Wednesday, Brady officially lost his appeal so it should be finally a done deal. That's a huge break for the Cardinals in what could be a Super Bowl preview. Think Jones will be fired up to have a big game against his former teammates? Key trend: Cards 2-8 ATS in past 10 September games as a home favorite of 4.5 points or fewer.
Sept. 18 vs. Buccaneers (-9): This has the potential of a big letdown game for the Cards as the Patriots are still the Patriots even without Brady. Tampa is off a Week 1 trip to Atlanta. New Bucs head coach Dirk Koetter knows the state of Arizona well as he coached six years at ASU. This series is tied 9-9, with the last meeting in 2013. Key trend: Cards 6-4 ATS in past 10 at home vs. NFC South teams.
Oct. 2 vs. Rams (-7): Arizona is off a trip to Buffalo. Los Angeles is at Tampa Bay in Week 3. The Cardinals are probably unbeaten when they play this game, and they were 3-0 last year when hosting the Rams in Week 4 and lost 24-22. Arizona had a third-and-2 at the Rams 43 in the final minutes, but Palmer overthrew receivers on consecutive plays to turn the ball over on downs. He threw for 352 yards with a TD and a pick. Arizona had 447 yards but three turnovers. Key trend: Cards 6-4 ATS in past 10 as a home favorite in series.
Oct. 17 vs. Jets (-4): Monday night game. Arizona will practically be off its bye week as it is in San Francisco on a Thursday in Week 5. It's the conclusion of an incredibly tough four-game stretch for the Jets and they are in Pittsburgh the previous Sunday. It's the return of former Cards defensive coordinator Todd Bowles to Arizona. Of course he's in his second year as Jets head coach. This game might have more blitzing than any other in 2016. Key trend: Cards 2-8 ATS in past 10 at home vs. AFC East teams.
Oct. 23 vs. Seahawks (-1): Sunday night game. Arizona plays its third prime-time game in a row. Seattle is off a home game vs. Atlanta in Week 6. The Cards were crushed 36-6 at home in Week 17 last year by Seattle, but Arizona essentially punted on that one with nothing to play for. Palmer didn't play in the second half. Seattle improved to 3-0 at Arizona since Bruce Arians became the Cardinals' coach. Key trend: Cards 4-3 ATS all time as home favorite in series.
Nov. 13 vs. 49ers (-10.5): This follows Arizona's bye week. San Francisco is off a home game vs. New Orleans in Week 9. The Cardinals slaughtered the visiting 49ers 47-7 in Week 3 last year. Palmer threw for 311 yards and two scores, and Chris Johnson rushed 22 times for 110 yards and two touchdowns. Arizona picked off four passes and returned two for touchdowns in the first quarter. Key trend: Cards 2-8 ATS in past 10 vs. any team as a double-digit favorite.
Dec. 4 vs. Redskins (-6.5): Arizona is in Atlanta the previous Sunday. Washington is on extra rest as it's in Dallas on Thanksgiving. The Cardinals ended an eight-game losing streak in the series with a 30-20 home victory on Oct. 12, 2014. They forced four fourth-quarter Redskins turnovers. Key trend: Cards 7-3 ATS in past 10 at home vs. NFC East teams.
Dec. 18 vs. Saints (-9): Arizona off a trip to Miami in Week 14 and ahead of a likely huge visit to Seattle. New Orleans is in Tampa the previous Sunday. The Cardinals hosted the Saints in Week 1 last year and won 31-19. Palmer, in his first game back from a torn ACL that ended his 2014 season early, threw for 307 yards and three touchdowns. Key trend: Cards 5-5 ATS in past 10 at home in series.
Read more articles by Alan Matthews