NFL Betting and Handicapping: are Dallas Cowboys a Legit Super Bowl Contender?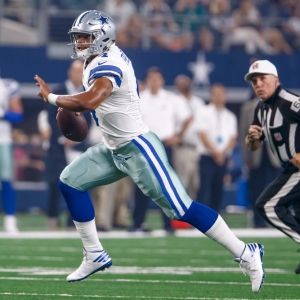 The Dallas Cowboys are rolling. On Thursday night they won their 11th straight game, and though the Giants are feisty they have a stranglehold on the NFC East and have all but clinched a first round bye and home-field advantage. Everything has come up roses for the Cowboys so far. The big question is obvious - is this team legitimately a top Super Bowl contender or are they vulnerable and less than they seem? Here are five factors to ponder when considering that question:
Dak Prescott: We know that young guys can have massive success as rookies. Just one example is Ben Roethlisberger, who took over in the third game of the 2004 season after the Steelers had opened 1-1. He won 14-straight regular-season games and the playoff opener before losing to the Patriots in the AFC Championship Game. We also know that Prescott has been spectacular - far better than anyone could ever have imagined.
What is tougher to know, though, is whether he can keep it up. On Thursday night against the Vikings he faced the most pressure he has faced since at least Week 2, and he was sacked three times. He also had his least productive passing night of the season. He was still reasonably efficient, competing two-thirds of his passes, and he didn't throw a pick, but he netted only 139 passing yards and fumbled twice, losing one. It was obviously still good enough to win, but it laid down a blueprint for teams to follow to disrupt him.
I like the story and am impressed by his play, but I think we need to work hard to avoid being swept away by the hype. He's still a rookie fourth-round pick, and we need to evaluate him as such and not as the second coming of football god. Cautious optimism is totally fine. Blind optimism isn't.
Road play: At 6-0 away from home the Cowboys are one of just three teams without a road loss year (6-0 New England and 5-0 Oakland are the others). It goes deeper than that, though - the team has now won 17-straight regular-season road games in which their starting quarterback plays. Very impressive. It's an important stat if it continues, too - eight teams in NFL history have won every road game in a season, and six of them have played in the Super Bowl.
There are several factors that contribute - confidence, an offense that can produce when they can't hear because of their methodical nature, coaching, and so on. If the Cowboys can keep this up, though, then they are much easier to trust.
Schedule: Any win in the NFL counts. The fact, though, is that there are teams that have played tougher schedules. Dallas opponents have a combined record of just 48-73-1. Skewing that record are three truly horrible teams that Dallas has beaten - Cleveland, San Francisco and Chicago. They also beat a really struggling Cincinnati team and a confused Green Bay squad. The only team with more than six wins that they have faced is the Giants, and they lost to them.
Given that nine teams other than Dallas have seven or more wins, they have really had some scheduling luck. This all doesn't mean that they can't beat good teams - just that they haven't had to so far. That will obviously change in the playoffs and it changes down the road in the regular season starting with the Giants next week and then the Lions.
Motivation: If the Cowboys beat the Giants next week they will have all but clinched the NFC East and will have locked down the top seed in the NFC through the playoffs - the Giants are the biggest threat to that as well. That will leave them with three reasonably meaningless games and then a bye week before the playoffs get rolling.
This team has found ways to win and has maintained a high level of sharpness throughout. You have to wonder, especially given their reliance on youth, if they can remain sharp and motivated - not to mention healthy - through a stretch of nothing games. It's not ideal.
Betting performance: Not surprisingly given the wins, the Cowboys have been a pleasure to bet on this year - they are 9-3 ATS on the season. They have failed to cover their last two games, though, and are only 5-3 ATS as favorites, so it's not all rosy. They are unlikely to be an underdog again outside perhaps of next week at the Giants, so this is something to watch.
They are the top betting team in the league right now, but my guess would be that they won't stay that way as public attention gets even more intense. The total has been less useful for bettors. They have gone "under" in seven games and "over" in five, so slight profits have been made on the under. Lately, though, you could go crazy trying to figure them out - they have alternated going under and over in the last seven games.
At Doc's Sports our handicappers are obsessed with football and passionate about finding you winners. Want proof? We'll show you what we mean by giving you $60 worth of our member's picks absolutely free. No obligation. No strings. Click here to get started right now.
Read more articles by Trevor Whenham