NFL Betting and Handicapping: Can Arizona Cardinals Bounce Back?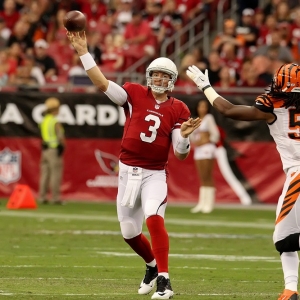 Last year the Arizona Cardinals went a very solid 13-3 during the season. This year is a different story - they would have to win their final 11 games just to match that record. Losing to the Patriots at home when New England was starting a first-timer at QB wasn't at all ideal. Losing at Buffalo was worse, though, and losing at home to the Rams was worst of all - both because the Rams are not very good and because it was a divisional game. It's not time for the Cardinals to launch into full-fledged panic mode yet, but you should at least make sure you know where the panic room is in case you need it. Will these Cardinals figure things out and get into contention again? Or is all lost already?
Here are five factors to consider when pondering those questions:
Quarterback play: Drew Stanton was terrible in relief of Carson Palmer despite getting a win against the lowly 49ers. He completed less than 40 percent of his passes, averaged just 4.43 yards per attempt (7.0 is the bare minimum for respectability), and passed for just 124 yards. He is not good. Palmer has cleared the concussion protocol and should be back for the next game. That may not be a great thing, either, though, because he has looked far from stellar. Last year he completed 63.7 percent of his passes. So far this year he is at 58.8. A drop of nearly five percentage points is wildly concerning. His yards per attempt is down by nearly 1.2 as well, and he has six touchdowns with five interceptions - way down from his 35-11 ratio last year. He was embarrassing in the playoffs last year and doesn't seem to have regained his mojo yet this year. At 36 and given how banged up he has been, this is a real concern. The Cardinals have enjoyed more than passable QB play for the most part through their recent success. They can't necessarily count on that happening this year.
Running game: If there has been a true bright spot this year despite the struggles it has been the emergence of running back David Johnson. As a rookie last year he found his stride late in the season, and he has really grabbed the ball and run with it (pun intended) this year. He has been a true featured back, running for 457 yards in five games, including 157 last time out. He also has 238 yards receiving, five yards per carry, and 14 yards per catch - those are serious offensive numbers. He's a very versatile player who could hold down the running back position for the Cardinals for the next several years. In a season when not much has gone right, this is a welcome development. The offensive line has gone through several injury issues and could have two starters out next week, but the continued success of Johnson is a sign that the issues aren't entirely fatal.
Defense: Defense was a strong suit for the team last year. Given the struggles this year you might assume that the defense has struggled. That's mostly not the case. For the sake of simplicity we will look at simple stats - not perfect, but you get the point. Last year the Cardinals were fifth in yards per game allowed with 321.7. This year they are down to eighth, but with a better 308 yards. Last year they were eighth in passing yards at 230 per game. This year they are fourth in a much better 189.8 yards. Patrick Peterson and the Honey Badger are still forces back there. The one place where the story isn't nearly as impressive, though, is against the run. This year they are 23rd, allowing 118.2 rushing yards per game. Last year they were sixth, at 91.3 yards. That's a big difference. Add it all up, though, and the impact isn't that significant -- they allowed 19.6 points per game last year and are at 20.2 this year. In short, there are real issues with this team, but the defense isn't really to blame.
Schedule and standings: A record of 2-3 is far from a dream for this team. The truth, though, is that it isn't that bad. Yet. The trend can't continue, but they are not out of anything right now. Seattle leads the division at 3-1, with the Rams at 3-2. Seattle could continue to be strong, but the Rams probably can't. The division could be a tough win, but it's not impossible. How about the wild card? Right now the Packers and Eagles are at 3-1, with two more teams at 3-2. The two 3-2 teams are the Rams and Redskins, neither of which are truly intimidating. So, the Cardinals are still in striking distance in the division and the wild-card hunt if they get back on track. But can they? Three of their next four games are against the Jets, Cardinals and Niners. Those could easily be wins at this point. Even if they lose the other game to Seattle they could move to 5-4. That's getting better. The rest of the way they have four very winnable games and three tougher ones. If they win the four and one of the three they would wind up 10-6. That should be enough to at least get them in the playoff discussion, and at their best they are capable of winning more than one of those games. All is not lost yet, but it could be in the next couple of weeks.
Betting performance: Predictably, the Cards have not been a joy to bet on this year. Their 2-3 record has led to a 2-3 ATS mark. Last year they were a stellar 13-3 straight up but just 9-7 ATS. That's still profitable, but not enough to get you rich by any means. This isn't an elite betting squad.
Doc's Sports has been successfully handicapping the NFL for years - more than four decades in the business - and wants to give new clients a chance to try our service for free. Click here for the hassle-free sign up and get $60 in free NFL picks today . Also, get three handicappers for the price of one when you sign up for a full-season football package! Click Here for details.
Read more articles by Trevor Whenham