NFL Division Predictions and Picks for all 32 Teams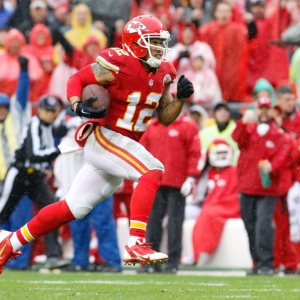 They don't need to play the NFL season this year. Or if they do, you don't need to watch it. You see, I'm about to tell you how it all turns out. I'm going to reveal the final standings in all eight divisions, and I'm not even going to give a spoiler alert before I do so. So, you have a choice - stop reading now, or peer into my crystal ball and see the final order of finish in each of the eight NFL divisions. Don't be afraid, though - I only use my magic powers for good.
AFC North
1. Pittsburgh Steelers: I picked them to win the Super Bowl, so they have to be the pick to win the division. I hope the defense can hold up, but they will score points in bulk.
2. Cincinnati Bengals: I don't like that Marvin Lewis was brought back, and I don't think they improved enough in the offseason. They'll be solid, though - at least until the playoffs.
3. Baltimore Ravens: Joe Flacco is healthy again, and this should be a much better team than they were last year. They had a solid offseason and should be ready to roll. They are in the wild card mix.
4. Cleveland Browns: I am going to give them a little credit and assume that the total dismantling of this team is part of a grand plan. They'll have a No. 1 overall pick to add to the mix next year.
AFC South
1. Indianapolis Colts: This makes me a little uneasy. The team should be dramatically better than last year with Andrew Luck healthy. They were a massive disappointment last year, though, so they have to prove they care enough.
2. Jacksonville Jaguars: I'm high on this team. They will be able to score plenty of points, and they have invested heavily in improving the defense. They will test the Colts.
3. Houston Texans: I will be a skeptic about Brock Osweiler until he proves me wrong, and that makes it tough to have too much faith in this team. They'll win more than they lose in all likelihood, though.
4. Tennessee Titans: I like what they are doing here, and the future is reasonably bright, but there is still a long way to go before we can truly fear them.
AFC East
1. New England Patriots: Easiest pick on the board. I don't care if Tom Brady is out for four weeks. I would likely pick them if he was out for four months in this division.
2. Miami Dolphins: This team isn't getting enough credit this year. Decent talent, a quarterback who can do some work, and the best coaching situation they have had in far too long. They will be tougher than expected.
3. New York Jets: I like a team that has a good QB situation. That's why I really don't like this team.
4. Buffalo Bills: The Ryan-Ryan show is just a circus. Everything that could go wrong has so far, and it's only just begun. It will be an ugly year.
AFC West
1. Kansas City Chiefs: I like this team quite a bit. They aren't flashy, but they are built well, have good QB depth right now, and are coached well. This is a real contender.
2. Oakland Raiders: I'll only truly believe that the Raiders can contend when I see it after the depths they have sunk to recently, but there sure is a lot to like.
3. Denver Broncos: I am down on the Broncos. The defense will be a step behind expectations this year because the hunger won't be as intense, and the quarterback situation is going to be a mess.
4. San Diego Chargers: Great quarterback. A couple of decent defensive players. What you just read is the entire list of assets this team has. It's going to be a long year.
NFC North
1. Green Bay Packers: They were likely going to win the division anyway, but they got a bit of breathing room with the Bridgewater injury. The class of the group - and perhaps the conference.
2. Minnesota Vikings: I like the Sam Bradford trade better than many and think that they are still a real wild card threat.
3. Detroit Lions: A wasted year for a franchise that has mastered the art of wasting years.
4. Chicago Bears: What a mess. You could soak this team in Lake Michigan for a week and it wouldn't rinse the stink off of them.
NFC South
1. Carolina Panthers: Can they build on their great year last year? Sort of. They will be a better overall team but won't win as many games - you can't expect that luck they had last year to happen every year.
2. Tampa Bay Buccaneers: This is a team moving in the right direction. The coaching situation needs to prove itself to me, but they are talented and going to take a step forward.
3. Atlanta Falcons: I long ago gave up having any faith in Matt Ryan and the Falcons. No shortage of talent, but there's a lack of mental fortitude that really limits their achievements. They need to show they care about winning before I care about them.
4. New Orleans Saints: Drew Brees will pass for a million yards, and it will amount to nothing. Get used to that storyline in New Orleans.
NFC East
1. New York Giants: This is totally by default. I have fewer issues - narrowly - with the Giants than anyone else in this underwhelming division.
2. Washington Redskins: Decent team. I guess. Totally uninspiring. Will be in the mix, but won't intimidate anyone.
3. Dallas Cowboys: Dak Prescott was fun to watch in college. He was great in the preseason. He's a rookie, though, and will play like one.
4. Philadelphia Eagles: Trading Sam Bradford and starting Carson Wentz was the clearest possible signal that winning isn't the priority this year.
NFC West
1. Arizona Cardinals: This is a very good team that just quietly goes about their business. Strong coaching is the key.
2. Seattle Seahawks: I respect this team immensely, but I expect them to take a slight step back this year as the effects of competing at this level for so long weighs on them.
3. Los Angeles Rams: The crowd will have fun, but this season is more about building for the future than competing now.
4. San Francisco 49ers: Sometime sooner or later the Niners will wonder why they ever thought it was a good idea to give Chip Kelly so much money? You can run a franchise into the ground for much less.
Doc's NFL handicapping team is confident that a great year is ahead of them. How confident? So much that they are giving away their picks. New clients can claim $60 worth of free picks just by clicking here. No hassle. No obligation. Just great picks. Also, get three handicappers for the price of one when you sign up for a full-season football package! Click Here for details.
Read more articles by Trevor Whenham