NFL Handicapping: Best Games First Two Weeks of 2016 Schedule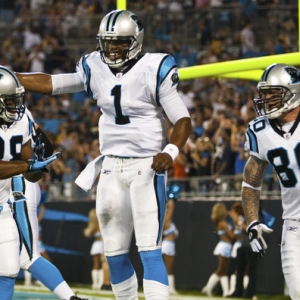 The NFL schedule has just been released. I'm not going to do anything insane like look for value in the odds that have been posted for some of the games already - the draft hasn't even happened yet, so there are far too many unknowns to make an even remotely rational bet. It is never too early, though, to look at the schedule and circle the games early on that are the most interesting - and potentially present the most interesting puzzles for bettors in the opening weeks of the season.
Here are 10 games in the first two weeks that have a chance to really confound bettors and potentially offer some interesting value:
Carolina at Denver, Thursday, September 8: The Super Bowl rematch always holds special appeal to fans and bettors alike. This one is different than most, though - Carolina should look much the same, but Denver has massive questions at quarterback. Of course, they had questions heading into the Super Bowl, too, but these seem worse at this point.
Cleveland at Philadelphia, Sunday, September 11: The Browns just traded their No. 2 pick to this same Eagles team, so that signals that they have faith in RGIII - at least in the short term. Can a new regime and yet another new QB make a difference, or will this be the same messy Browns? We know that no one will have faith in them. It's not like faith will be pointed at the Eagles in bulk, though - not after their coaching change and their own QB issues.
Miami at Seattle, Sunday, September 11: The buzz seems to be gathering - people are determined to believe that the Seahawks are in decline. This will be a good first test of where they are at - decent opponent in a home game. This is the kind of game that the Seahawks just haven't lost lately. A season-opening loss could really shake the faith of bettors on this team.
Chicago at Houston, Sunday, September 11: Houston just cut last year's starting quarterback, but they did so despite having anyone else that inspires a lot of faith. This has to be the end of the O'Brien era if things don't start well. The pressure is no less intense for the Bears, who were decidedly underwhelming in the first year of the John Fox era. Their fans won't tolerate much more of this. There are a lot of backs against the wall in this one.
New England at Arizona, Sunday, September 11: Both of these teams seem to be at crossroads. They have had success lately but fell short last year of where they wanted to be. They both are talented and very well coached, but they have aging quarterbacks and some holes in the roster. Can they keep things chugging along, or is this the year the decline starts?
Cincinnati at New York Jets, Sunday, September 11: Marvin Lewis again managed the impossible - keeping his job in the face of an endless list of reasons for him not to. The guy is made of teflon. Now he is without his best assistant, though, and has to be fighting for his job - though why start now, I guess. The Jets were a surprising 10-6 last year but are yet another team with questions at quarterback. Neither team can afford to lose, but one will start the season on the wrong foot.
Detroit at Indianapolis, Sunday, September 11: I think that people are willing to give Andrew Luck a mulligan for last year. He was injured and nothing went right for him and his team. He needs to start producing at superhuman levels, though, or people are going to start to really question the narrative that he is superman in disguise. The Lions are the Lions, so this is the chance for Luck and company to really make a statement out of the gate - or to really question where this team and their leadership is at.
L.A. at San Francisco, Monday, September 12: All eyes will be on the Rams and their new top overall draft pick quarterback here - either how he will play or why he isn't playing. Eyes will also be on Chip Kelly and whether he can do much better here than he ultimately did in Philadelphia. There is no shortage of intrigue here in this battle for the heart of California.
Seattle at L.A., Sunday, September 18: This is two weeks in a row we'll be watching the Rams - and it is hard to argue that they will be good enough to warrant that attention. They get it here, though, because they are at home for the first time. How will the Coliseum work now as an NFL venue? Will the fans show up in huge numbers? Will they cheer for their home team this time around? The great and ridiculous experiment starts here.
Jacksonville at San Diego, Sunday, September 18: The fans of the Chargers said goodbye to their team at the end of last season, got hung out to dry throughout the relocation process, and are now at a tentative truce with an ownership group that they clearly don't trust. What does that mean for the home-field advantage for this team? And is the team going to get over their soul crushing underperforming ways of the last few years and make it a team worth cheering for?
Want free sports betting picks? Doc's Sports has you covered - get $60 worth of picks free from any of Doc's Sports expert handicappers. Click here for free picks (new clients only).
Read more articles by Trevor Whenham