NFL Handicapping and Betting: Luck just can't be Handicapped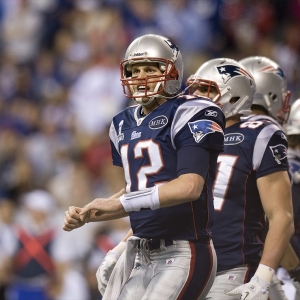 Luck is a huge challenge to handicappers - it is the one thing handicappers can't account for when analyzing games. Teams need luck to win in the NFL, and the absence of luck can cost teams - and bettors - immensely. We can't possibly predict which teams will get lucky next week or which ones won't. All we can do is look at which teams have had strong luck so far, which haven't, and hope the trends continue. Here are two very lucky teams and two others that have had plenty of luck but all of it has been bad:
Lucky
New England Patriots: The rich just keep getting richer. This one almost isn't fair. The Patriots are good enough that they don't need luck, yet this year they are getting it anyway. They got a win in their opener under a raw backup QB when the Cardinals missed a late field goal at home and lost by two. They got to play the Texans with a lame J.J. Watt, and were able to get a win with a third-string, really-raw QB. That left them at 3-1 when Tom Brady was suspended - pretty much as good as they could have hoped. Then they got luck from the schedule makers. Their first two games with Brady back were against the Ohio squads - one really struggling and the other just really lousy. Now they face the Steelers in what is much less of a battle for AFC supremacy now that Big Ben's knee went boom. As the saying goes, you have to be good to be lucky and lucky to be good. The Patriots this year fit that on both fronts.
Minnesota Vikings: It's hard to believe that you can make the case that a team that lost their franchise QB and star running back is actually very lucky. It's how they have dealt with those setbacks that is so remarkable. When Teddy Bridgewater went down, they made a trade that has, so far, worked out as well as possible - and they got a pretty decent performance from Shaun Hill while Sam Bradford was getting ready. With Adrian Peterson down they have had the luck to have a committee that could fill in effectively enough. When top receiver Stefon Diggs, who has had strong chemistry with Bradford, was out last week, Adam Thielen stepped up and offered a career game. The luck doesn't end there. They have been lucky enough for their potent defense to stay healthy. They got lucky with the schedule - playing the Packers and Panthers in consecutive weeks could have been brutal, but they faced both teams when the squads were struggling.
Unlucky
San Diego Chargers: The Chargers are just 2-4, but they made a solid statement by beating the Broncos last weekend. With a bit more luck - and a bit more late-game competence - they would be in a much better position. They have lost by an average of 3.5 points and have been within six points in all four losses. They lost by one to the Saints and a field goal to the Raiders. A break here and there and they would be fine. A far less insane approach to contract negotiation by Joey Bosa's agent and they would be above .500. The Chargers are probably heading towards another lost season and a new coach next year. With a bit of luck things could be so much different. The AFC West presents all sorts of opportunities this year, yet the Chargers haven't had the luck to take advantage of the situation. They are 4-2 ATS, so they are better than the betting public gives them credit for - and with a bit of luck they could show it.
Baltimore Ravens: For Baltimore the luck has been on the health front, and it's all bad. Terrell Suggs, the leader of the defense, tore his bicep on Sunday and will be out for at least a while. He joins a very long list of walking wounded. In the linebacking corps alone there has been carnage - Suggs joins both Elvis Dumervil and C.J. Mosley on the sidelines. Offensive linemen Ronnie Stanley and Marshal Yanda are banged up. Steve Smith is out. Jimmy Smith was hurt on Sunday. That's a whole lot of starters and key players who are in health trouble. Lousy luck for a team that needed to be at full strength to make a run at a playoff spot. If there is one positive in it all, though, it is that they finally had a bit of the right kind of luck - next week they get to play the Jets when New York is coming off a short week and a truly horrible Monday night performance. If they can get their minds right and find enough healthy bodies to field a full lineup they could get a very significant win here.
Hungry for a winning NFL season? Doc's Sports can help, and they will do it absolutely free. New clients can access $60 worth of NFL member's picks absolutely free. No obligation. No salesmen to deal with. Get started today by clicking here.
Read more articles by Trevor Whenham