NFL Odds: Analyzing Jacksonville Jaguars' 2016 Road Schedule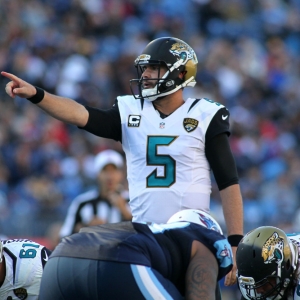 If I had $1.6 billion lying around or whatever, I think I might make an offer on the Jacksonville Jaguars because this is a franchise I believe is definitely on the rise. It's going to finally be a contender in the AFC South again in 2016 and eventually this will be the team that moves to London, which will only add value. I've been to Jacksonville several times, and there's no need for an NFL franchise there (or another Super Bowl). The Tampa Bay Bucs and Atlanta Falcons both aren't that far away.
Last year, the Jaguars finished at 5-11 and third in the South, the franchise's eighth straight non-winning season and fifth in row winning five games or fewer. But there were positive signs. The offense looked explosive at times as quarterback Black Bortles took a huge step forward in Year 2. Bortles has one of the best and perhaps underappreciated receiving duos in the NFL in Allen Robinson, who had a massive year, and Allen Hurns. They combined for nearly 2,500 yards receiving and 24 touchdowns.
The defense was a problem, and the Jags were dealt a huge blow last spring when 2015 first-round pick Dante Fowler Jr., a defensive end/linebacker out of Florida, blew out his knee to end his season. Jacksonville entered its Week 12 matchup against San Diego only a game out of first in the AFC South and possibly thinking playoffs. But the Jaguars' defense allowed quarterback Philip Rivers to throw four touchdowns as the Chargers snapped a six-game losing streak. The Jags would lose four of their next five, largely because of the defense, to close the season.
There's no question that Coach Gus Bradley is on the hot seat this season because there's no shortage of young talent on this club -- it has the most overall talent in the division in my opinion. I'd guess that anything less than 8-8 gets Bradley canned.
Jacksonville was 1-7 on the road last season, 3-4-1 against the spread and 5-3 "over/under." The Jaguars play only two away teams this season that were in the playoffs last year. The home slate, which again includes a London game, is significantly tougher. So to win the South, the Jags better go at least 4-4 away from home. And I think that's possible but would probably project 3-5. The Jaguars have a wins total of 7.5, with the over a -130 favorite. Odds listed below for the home team.
Sept. 18 at Chargers (-2.5): Jacksonville likely will be 0-1 after losing Week 1 at home to Green Bay. San Diego also likely 0-1 after visiting Kansas City in the opener. As noted above, the Jags lost at home to the Chargers 31-25 in Week 12 last year. The Jags scored only one TD in four red-zone trips. Bortles completed 30 of 49 passes for 329 yards with two touchdowns and an interception. The Jaguars are 0-3 all-time in San Diego, meanwhile, and have been outscored 105-48 in those games. Key trend: Jaguars 5-5 ATS in past 10 at AFC West teams.
Oct. 16 at Bears (-3.5): Jacksonville is off its bye week. Chicago is off a Week 5 game at Indianapolis. The Jaguars have lost two straight to the Bears, last 41-3 at home in October 2012. They are 1-2 all-time in Chicago. Key trend: Jags 6-4 ATS in past 10 after bye week (any location).
Oct. 27 at Titans (pick'em): Thursday night game. Jags are home to Oakland the previous Sunday. Tennessee hosts Indy in Week 7. These two teams played on Thursday the past two years and it was dreadful to watch. No longer. Bradley is undefeated on Thursday (3-0) with Jacksonville. The Jags won in Nashville on a Thursday in Week 11 last year, 19-13. Rashad Greene returned a punt 63 yards, setting up Bortles' 5-yard touchdown pass to Julius Thomas with 3:30 remaining for the winning score. Key trend: Jags 5-4-1 ATS in past 10 at Titans.
Nov. 6 at Chiefs (-7): This is the only non-division playoff team the Jags see on the road. Kansas City is off a trip to Indianapolis in Week 8. Lot of teams face the Colts before the Jaguars! Jacksonville has lost two straight in series, most recently by the odd score of 28-2 at home in Week 1 of 2013. Blaine Gabbert was still the Jags' QB then, so that score makes sense. Key trend: Jags 4-5-1 ATS in past 10 as a dog anywhere of at least 7 points.
Nov. 20 at Lions (-3.5): Jacksonville off a Week 10 home game vs. Houston. Detroit comes off its bye week. It's only the Jaguars' third visit to Motown. They lost there 44-0 in 1995 and won 38-14 in 2008. Key trend: Jags 4-2 ATS all-time at NFC North teams.
Nov. 27 at Bills (-5): This should be the only potential really cold-weather game the Jags play. I don't need to tell you that Florida NFL teams generally lose in those games. Buffalo is off a trip to Cincinnati in Week 11. Jacksonville beat Buffalo 34-31 last year in crazy Week 7 game in London. The Jags led 27-3 midway through the second quarter, fell behind 31-27 with about five minutes left, and Bortles then hit Hurns with on a 31-yard TD pass with 2:16 to play. The Jaguars' defense had a fumble return and interception return for touchdowns. That game made NFL history as it was streamed live on Yahoo!, the first game to be live streamed like that. Key trend: Jags 5-5 ATS in past 10 at AFC East teams.
Dec. 18 at Texans (-4.5): Jags off a Week 14 home game vs. Minnesota. Houston is off, naturally, a trip to Indianapolis the previous Sunday. Jacksonville closed last season with a 30-6 loss in Houston, and I honestly thought that would be Bradley's last game. Bortles threw two picks and was sacked eight times. J.J. Watt usually terrorizes the Jags. Key trend: Jags 3-4 ATS at Houston as a dog of at least 4.5 points.
Jan. 1 at Colts (TBA): Again, no Week 17 lines with too many intangibles on the final Sunday. Jacksonville is off a Christmas Eve home game vs. Tennessee. Indianapolis is in Oakland in Week 16. Wouldn't shock me if this is a de facto AFC South title game. Jacksonville lost in Indy 16-13 in OT in Week 4 last year. Jacksonville kicker Jason Myers was to blame for that loss. He missed a 53-yarder wide right with 6 seconds left then got another shot because the Colts had called timeout right before the kick. Myers sailed that one right as well. Myers' next chance came with 8:13 left in overtime and he missed left. Key trend: Jags 6-4 ATS in past 10 at Indy.
Get free picks from any Doc's Sports handicapper - there is no obligation for this offer and no credit card required. Just sign up for an account, and you can use the $60 in free picks for any Doc's Sports Advisory Board handicapper and any sport. Click here to get started now.
Read more articles by Alan Matthews