NFL Odds: Week 17 Line Movements & Last-Minute News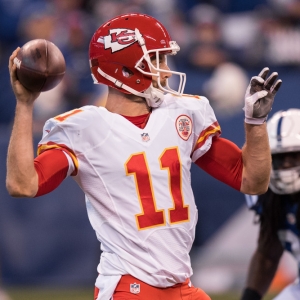 While on "Black Monday" we are likely to see a handful of coaches fired, joining Jeff Fisher, Gus Bradley and Rex Ryan as those currently unemployed, let's take a look at which coaches did a fantastic job this year and could be looking at nice extensions or a raise -- not to mention the AP Coach of the Year Award.
Your favorite at Bovada for Coach of the Year is the Cowboys' Jason Garrett at -300, and it's tough to argue with a guy who has ridden a rookie quarterback and running back to the NFC's best record and top seed. To think, Garrett was considered on the hot seat entering this season once Tony Romo went down in the preseason. Atlanta's Dan Quinn is second at +475. The Falcons are NFC South champions and should be the NFC's second seed. But that's mostly due to the league's best offense and thus offensive coordinator Kyle Shanahan likely steals much of the credit as Quinn is a defensive guy. Your other candidates are: Kansas City's Andy Reid (+800), Oakland's Jack Del Rio (+800), New England's Bill Belichick (+800) and Miami's Adam Gase (+2000). I probably would give it to Del Rio considering the Raiders are in the playoffs for the first time since 2002 and might be the AFC's No. 1 despite losing Derek Carr to a broken leg in Week 16.
Week 17 is also likely the last time we see players in certain uniforms. Ravens receiver Steve Smith, a future Hall of Famer, says he's almost positive he's retiring. Smith was going to after 2015 until that season was cut short by injury. At 37, Smith was still productive in 2016 with 67 catches for 765 yards and five scores. He is seventh all-time with 14,697 receiving yards and 12th with 1,028 catches. Will this be it for Cards receiver Larry Fitzgerald? While Smith might not be a first-ballot entry to Canton, Fitz will be. He's still only 33 and has 102 catches for 980 yards and five scores this year. Fitz is No. 3 all-time in catches (1,120), eighth in TDs (103) and ninth in yards (14.346).
There will be plenty of quarterbacks on the move as well. Ryan Fitzpatrick is certainly playing his final game as a Jet on Sunday as is Colin Kaepernick with the 49ers. Jay Cutler is hurt so not playing in Week 17, but he won't be a Bear the next time Chicago takes the field. Carson Palmer might not be back in Arizona. Romo, who now reportedly will play a bit Sunday, is surely gone from Dallas.
Here are some line moves or potential game-changing injury notes for Week 17.
Bills at Jets (+3.5, 42): Fitzpatrick will make the start for the Jets as the team put Bryce Petty on injured reserve earlier this week. I don't understand why New York doesn't go to second-round rookie Christian Hackenberg. I get that he's raw, but this game means less than nothing and it's actually better if the Jets lose for their draft position. Why start a guy you aren't bringing back? It sounds like the Jets are inclined to bring head coach Todd Bowles back for a third season, but that might change with a 40-0 type loss here. Meanwhile, Buffalo fired Ryan on Monday as well as his brother and defensive coordinator Rob. Not unexpected but thought it would happen next Monday. Offensive coordinator Anthony Lynn is the interim coach, and many reports out of Buffalo are that he's the leading candidate for the full-time job. The Bills are benching starting QB Tyrod Taylor for this game. That's because he would be guaranteed around $30 million next season if he were seriously injured. The Bills are likely to walk away from Taylor this offseason. I could see Cutler landing in Buffalo. EJ Manuel starts for Buffalo on Sunday.
Browns at Steelers (-6, 43): This line opened as high as -11 last Sunday night but is plummeting because Pittsburgh already has announced it will rest its Big 3 of Ben Roethlisberger, Le'Veon Bell and Antonio Brown, which will cost Brown the NFL receptions title. I highly doubt those are the only starters getting this game off as the Steelers are resting up for their wild-card game against most likely Miami next week. On Monday, it seemed unlikely Robert Griffin III would start for Cleveland as he was in the concussion protocol. But RGIII is now on track to start barring a setback (probably his last game in a Browns uniform). Bovada offers a prop on the Browns' starting QB Week 1 next year. Griffin, Josh McCown and Cody Kessler are all +500. Any other QB is -200. I actually think Kessler has a shot to be the guy as whichever rookie the team drafts could sit and learn in the first month or two of the 2017 season.
Chiefs at Chargers (+5.5, 45): It's the final NFL game in San Diego as the Chargers will announce by Jan. 15, barring a miracle, that they are moving to Los Angeles for next season. That's actually a prop at Bovada on that as well: they do is -350 and don't +225. It sounds like the Chargers will get back running back Melvin Gordon this week as he has returned to practice after missing two games. But Gordon is far from 100 percent and the team likely wants to help him get 1,000 yards. He's at 997. This apparently won't be the final game in a Chargers uniform for future Hall of Fame tight end Antonio Gates. He plans to play one more year in 2017. Gates has 110 TD catches, one behind Tony Gonzalez for the most by a tight end in league history. I wonder if Gates changes his mind on next year if he gets two TDs Sunday. Kansas City gets the AFC West title and No. 2 seed with a victory and Oakland loss in Denver -- those two games kickoff simultaneously. If K.C. and Oakland win, the Chiefs are the No. 5 seed and head to Houston next week. If the Chiefs lose this and Miami beats New England, then Kansas City is the No. 6 and goes to Pittsburgh on wild-card weekend.
Bears at Vikings (-6.5, 42.5): Really the only interesting thing here is whether Minnesota QB Sam Bradford sets the NFL single-season record in completion percentage, which is 71.2 by Drew Brees in 2011. Bradford is at 71.3 and you can bet whether he does get the record: both options are -120 at Bovada. When the Vikings lost in Chicago on Halloween, Bradford completed 62.2 percent of his 37 throws. It seems like Adrian Peterson will sit out again for Minnesota and it's doubtful he's back next year. If the Vikings cut Peterson, 31, they would free up $18 million in cap space. Not looking good for Minnesota top receiver Stefon Diggs as he's dealing with a hip injury. He is 97 yards shy of 1,000.
Are you ready for some winners? Doc's Sports can help you out. We are giving any new clients $60 worth of free picks. These aren't throwaway picks. They are actual member's picks from our expert handicappers. Click here to sign up now on a simple, painless form.
Read more articles by Alan Matthews