NFL Props Odds with Expert Betting Picks and Predictions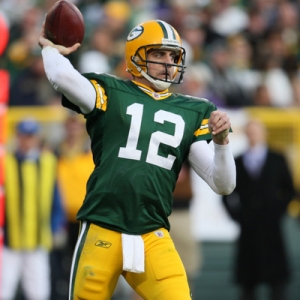 This season's NFL Playoffs move on to the Divisional Round this weekend with all four Wild-Card teams advancing with victories as road favorites in last week's games. While I cashed in on Bovada's special NFL team prop for how many Wild-Card teams would win last week with a play on "over 2" at -150 betting odds, one of the most popular sportsbooks for releasing special prop bets is back at it this week with betting odds for how many Wild-Card teams will win this time around.
Another special betting opportunity for the Divisional Round is a three-way prop for the most rushing yards between the three most mobile quarterbacks in this weekend's games. I will weigh in with my thoughts on both of these special NFL props as far as where to find the best value in the posted odds.
How Many Wild Card Teams will Win Straight up?
Last week, Bovada simply set the betting moneyline for an "over/under" prop at two teams, but for the Divisional Round it has released odds for the exact number of winning Wild-Card teams.
The best odds on the board at +140 are for one Wild-Card team to win. The odds that two Wild-Card teams win this weekend are set at +200. The moneyline on three Wild-Card teams winning again are set at +900, and the longest odds are +3300 that they pull off another four-game sweep. The odds for a home team sweep by the four other division winners this time around have been listed at +350.
The Kansas City Chiefs bring a straight up 11-game winning streak into Saturday's AFC Divisional Round matchup against New England. And while we all know just how dominating the Patriots have been in the postseason, riding the hot hand in the playoffs has also paid off over the years. All things considered, I would probably still go with New England in a SU pick given it is a 5.5-point home favorite in this game.
The next game on Saturday is a NFC clash between Green Bay and Arizona, with the Cardinals favored by seven points at home. The Packers returned to form last Sunday against Washington in a comfortable 35-18 victory in the Wild-Card Round, but that was against the Redskins and not the dominating Cardinals. Just three weeks ago, Arizona completely crushed these same Packers in a 38-8 rout. Aaron Rodgers was sacked eight times, and two of his fumbles were returned for scores. This time around should be a much more competitive game, but the end result will be the same.
Sunday's playoff opener is another rematch from the regular season, with Seattle going on the road this time around to face the Carolina Panthers. These two met in Week 6, with the Panthers erasing a fourth-quarter deficit to pull out a 27-23 victory as seven-point road underdogs. This time around they are favored by three points at home. Seattle is another team that has had its fair share of success in the postseason the past few years, but the only reason that it is even in this game is a missed chip-shot field goal. There is a reason why Carolina has only lost one game this season, and that will play itself out at Bank of America Stadium on Sunday afternoon.
The final matchup in the Divisional Round pits Pittsburgh on the road against Denver, The game is still "off the board" at Bovada due to injury situations to both Ben Roethlisberger and Antonio Brown, who just so happen to be the Steelers' two best players on offense. Both are listed as probable, but neither one will be 100 percent.This is another rematch with Pittsburgh holding the edge after beating the Broncos 34-27 in Week 15 as a seven-point home favorite. Beating the Broncos again on their home field is a formidable task on its own, but the reason I like Denver in this game is Peyton Manning at quarterback. This is his first shot at redemption following a disappointing regular season, and I believe he will rise to the occasion as one of the best to play this game.
When you add it all up, I am banking on another sweep in this round of the playoffs, but this time around it will be all four home teams for a solid return of +350 on a $100 bet.
Most Rushing Yards- Cam Newton, Russell Wilson or Alex Smith
Bovada has listed Carolina quarterback Cam Newton as an even-money +100 favorite to have the most rushing yards this weekend between Seattle's Russell Wilson at +175 betting odds and Kansas City's Alex Smith at +300.
Wilson ended the regular season with 553 rushing yards on 103 carries, and in last week's win over the Vikings on the frozen tundra in Minnesota he added 21 yards on five attempts. He should be much more mobile this Sunday against a very aggressive Carolina defense, so the attempts and total rushing yards should be significantly higher.
When it comes to Smith's rushing yards this season, he ran the ball 84 times for 498 yards. In last week's 30-0 romp over Houston, he ran with the ball five times for 27 yards. Things will be a bit tougher in New England this Saturday and that should actually lead to even more rushing yards with Smith doing whatever it takes to keep moving the ball downfield.
Even with my prediction that both Russell and Smith will gain more rushing yards in this weekend's games, I have to go with Newton as my top value pick in this prop. He was the leading rusher of the three in the regular season with 636 yards on 132 attempts, and many of those yards were gained on designed runs. In the first game against Seattle this season, Newton took off seven times for 30 yards.
Looking back at all 16 of his starts this season, he posted double-digit carries in six games and with everything on the line in this Sunday's winner-take-all showdown, I fully expect Newton to take off running whenever the opportunity presents itself.
Read more articles by Dave Schwab