2016 Pittsburgh Steelers Home Schedule Odds and Picks with Win Total Predictions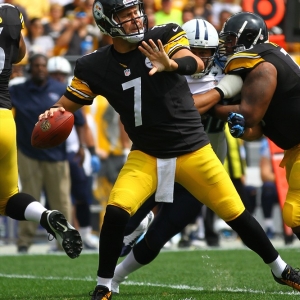 If the NFL would just make marijuana legal like a few states have, then the Pittsburgh Steelers could have an all-time offense in the 2016 season. Alas, that's not the case.
OK, I don't really know what No. 2 receiver Martavis Bryant was suspended for -- although I do know that weed is prevalent in the NFL (and NBA). He had to miss the first four games of last season due to suspension yet still had 50 catches for 765 yards and six touchdowns. Apparently Bryant didn't learn his lesson as he will miss the entire 2016 season for violating the NFL's substance abuse policy again. I actually think the Steelers will be OK there as they have superstar Antonio Brown, and Markus Wheaton can slot into that No. 2 role. Pittsburgh is pretty deep at receiver.
And then last week came news that maybe the best all-around running back in the NFL, Le'Veon Bell, is suspended the first four games of this season. He was suspended the first two games last year following an arrest for marijuana possession and DUI in August 2014. This time, Bell apparently missed a drug test. He claims he will not miss a game and will win on appeal. Reports are Bell will claim he changed his cell phone number and was never notified by the drug tester. I really doubt that flies. Even if that's true, I'm sure Bell is obligated as a previous offender subject to testing that he has to give notification of any number change. This ain't the 1950s; you can get a hold of people in numerous ways. Bell's appeal should be decided by Week 1, but for these purposes, I'll assume he's out. The Steelers do have perhaps the NFL's best No. 2 running back in DeAngelo Williams but absolutely nothing behind him.
The Steelers rarely make a big foray into free agency and didn't this offseason. The biggest signing was probably Chargers tight end Ladarius Green, and he'll step right in and start for the retired Heath Miller, one of the most popular Steelers ever. Miller was still productive in 2015 with 60 catches. This should still be one of the NFL's top offenses, led by Ben Roethlisberger and Brown, but the depth has taken a bit of a hit. Whether it's a Super Bowl team will be decided by the defense.
Pittsburgh was 6-2 at home last season, 4-3-1 against the spread and 4-4 "over/under." The Steelers host three 2015 playoff teams this season. I project a 6-2 record again. Pittsburgh has a wins total of 10.5, with the over a slight favorite. I see a 12-4 record. Overall, the team is tied for the eighth-easiest schedule in the NFL with an opponents' combined 2015 winning percentage of .473. Odds listed below for the home team.
Sept. 18 vs. Bengals (-4): Pittsburgh on a short week, visiting Washington Monday in Week 1. Cincinnati is at the Jets in Week 1. The Bengals will be without top linebacker Vontaze Burfict still due to suspension in this game and also may not have injured Pro Bowl tight end Tyler Eifert yet. Pittsburgh was 2-0 in Cincinnati last year, including a wild-card round win, but lost 16-10 at home to the Bengals in Week 8. Bell was lost to a season-ending knee injury in that one. The Steelers were better statistically but Big Ben had three picks. Key trend: Steelers are 5-5 ATS in past 10 as home favorite in series.
Oct. 2 vs. Chiefs (-4): Sunday night game. Steelers off a visit to Philadelphia in Week 3. Kansas City is off a home game vs. the Jets the previous Sunday and has a good shot at being 3-0. Pittsburgh lost in K.C. 23-13 in Week 7 last year without an injured Roethlisberger. Landry Jones started and wasn't very good. Bell had 121 yards rushing and Brown 124 receiving but neither found the end zone. Key trend: Steelers 4-5-1 ATS in past 10 at home vs. AFC West teams.
Oct. 9 vs. Jets (-6): This would be Bell's season debut if the suspension stands. New York comes off a home game vs. Seattle in Week 4 and could be 0-4. Terrific individual matchup here between Brown and Jets star cornerback Darrelle Revis, who somehow hasn't played a game against Pittsburgh since the 2010 postseason. Steelers lost last meeting with Jets, 20-13 in New Jersey in November 2014. Key trend: Steelers 4-1 ATS in past five at home vs. Jets.
Oct. 23 vs. Patriots (-1.5): Pittsburgh off a trip to Miami in Week 6 and ahead of its bye week. New England is home to Cincinnati the previous Sunday. Needless to say, the winner here could have the upper hand for the top seed in the AFC. Of course, these teams opened the 2015 NFL season in New England and the Pats won 28-21. Big Ben threw for 351 yards and a TD, Brown caught nine for 133 and a score and Williams rushed for 127 yards. Key trend: Steelers 4-6 ATS in past 10 as home favorite vs. anyone of 2 points or fewer.
Nov. 13 vs. Cowboys (-6): Steelers off a game at rival Baltimore the previous Sunday. Dallas is off a trip to Cleveland in Week 9. This series will always remind me of 1970s Super Bowl matchups. Pittsburgh lost the last regular-season matchup, 27-24 in Dallas in December 2012. Key trend: Steelers 4-6 ATS in past 10 at home vs. NFC East teams.
Dec. 4 vs. Giants (-7.5): Pittsburgh on extra rest as it's in Indianapolis on a Thursday in Week 12. New York is off a trip to Cleveland the previous Sunday. Brown and the Giants' Odell Beckham Jr. might be the NFL's top two receivers (Atlanta's Julio Jones has an argument). Steelers won last meeting in 2012 at Giants. Key trend: Steelers 7-2-1 ATS in past 10 as December home favorite of at least 7 points.
Dec. 25 vs. Baltimore (-8): Steelers off a trip to Cincinnati on Sunday night in Week 15. This is one of two games on Christmas. Baltimore hosts Philadelphia the previous Sunday. I highly doubt this spread is 8 points by the time the game rolls around. Ravens will be much better this year. Pittsburgh lost 23-20 in overtime at home to Baltimore on a Thursday in Week 4 last year. Big Ben missed that game and Michael Vick struggled in his spot. Pittsburgh kicker Josh Scobee missed two crucial field goals and then was promptly released. Key trend: Steelers 4-5-1 ATS in past 10 as home favorite in series.
Jan. 1 vs. Browns (TBA): Again, no Week 17 lines, but surely the Steelers will be big favorites if this game matters for them. Pittsburgh couldn't ask for a better closing scenario than Cleveland, while the Ravens and Bengals will be mauling each other. Cleveland comes off what might be a rare win in 2016 as it hosts San Diego in Week 16. The Steelers beat the visiting Browns 30-9 in Week 10 last year. Roethlisberger passed for 379 yards and three touchdowns off the bench when Jones was hurt early. The yardage set an NFL record by a player who didn't start a game. Brown caught 10 passes for 139 yards and two scores. Key trend: Steelers 6-4 ATS in past 10 as home favorite in series.
Read more articles by Alan Matthews