2017 Seattle Seahawks Road Schedule Odds with Expert Picks and Predictions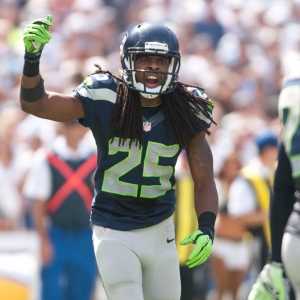 Has the championship window closed on the Seattle Seahawks? I believe it's still open for 2017 but then that might be it for a little while.
It's no secret that success is expensive in the NFL. Winners get paid, either by their own team or by another on the free-agent market. The Seahawks have made the playoffs and finished with at least 10 wins every season since they selected a quarterback out of Wisconsin in the third round of the 2012 draft named Russell Wilson. For his first three seasons, Wilson had arguably the best contract in the NFL - much like Cowboys second-year quarterback Dak Prescott might for the next couple of seasons.
The Seahawks were 11-5 in Wilson's rookie year, 13-3 in his second and won the franchise's first Super Bowl. They went 12-4 in 2014 and went back to the Super Bowl, only to gag it away in incredible fashion vs. New England. I'm not sure this franchise is still over losing that game in the final seconds at the Patriots' 2-yard-line. I'm not alone in thinking that, either. Here's what Hall of Fame quarterback Warren Moon, who works for the Seahawks Radio Network, said recently about that:
"They are still having a hangover, if you can believe it or not, about losing that Super Bowl in the last minute with the interception on the 1-yard line. And with a lot of guys, it just kind of rubbed them the wrong way and they just haven't gotten over it. This team will not be able to move on and really do what they want to do which is win another Super Bowl unless they can somehow put that behind them. There are certain guys on the team that just haven't been able to do that and until they are able to do that they are going to continue to keep having a very good football team but a team that is going to probably come up short of their goals because of not being able to let go of the past and letting those things become a hindrance to their success."
The past two seasons, the Seahawks have won "only" 10 regular-season games each and were dominated in losing in the divisional round of the playoffs. Coincidentally or not, Wilson got his mega-extension before the 2015 season, meaning salary cuts had to happen at other positions.
There has been talk of a schism on the team between the offense, which reportedly Pete Carroll favors, and the defense. Pro Bowl cornerback Richard Sherman said as much in a terrific ESPN story. Sherman is still ticked off about it about the offense blowing the Super Bowl, and that's why he requested a trade this offseason. The Seahawks made the unusual decision to make it public they were listening on the future Hall of Famer, but nothing transpired. It sure sounds like 2017 will be the last season for the Legion of Boom with Sherman likely to be traded or released and Kam Chancellor a free agent.
Seattle was 3-4-1 on the road in 2016, 3-5 against the spread and 4-4 "over/under." The Seahawks travel to three playoff teams in 2017: Green Bay, NY Giants and Dallas. The road slate appears a bit tougher than at home. Seattle doesn't play back-to-back weeks away from home, whic h is great because often no team travels more air miles than Seattle. The Rams moving to Los Angeles helps in that regard. I project a 4-4 record. Odds listed for the home team.
Sept. 10 at Packers ( -3, 51): This is a Top-5 matchup of the season - could have playoff home-field implications -- and Eddie Lacy's return to Green Bay, assuming the running back is in shape and on the active roster. Lambeau has been a house of horrors of late for Seattle, which has lost there in back-to-back years, including a 38-10 defeat in 2016. Wilson had perhaps the worst game of his career with five picks. Key trend: Seahawks have lost seven straight at Green Bay (1-6-1 ATS).
Sept. 24 at Titans (+2): I'm guessing Seattle will be 1-1 after beating visiting San Francisco in Week 2. Break here in that it's a 4:05 p.m. ET start instead of 1 p.m. ET. The Seahawks' first trip to Nashville since 2005 does give them two long road trips in their first three games. Key trend: Seahawks 5-5 ATS in past 10 as road favorite of 2 points or fewer.
Oct. 8 at Rams (+6): Seahawks off a Sunday night home game vs. Indianapolis. This is also ahead of their bye week. Remember how there was talk the Rams were going to pursue former USC coach Carroll this offseason? For some reason, the lousy Rams have given Seattle fits for the past few years. The Seahawks lost in L.A. in Week 2 last year, 9-3. That was one of the least interesting games of 2016. Key trend: Seahawks have failed to cover past six at Rams.
Oct. 22 at Giants (pick'em): Seattle out of its bye. Matchup of Super Bowl-winning QBs in Wilson and Eli Manning. In their past three trips to MetLife Stadium, the Seahawks have outscored their opponents 93-25. That's a bit of a trick statistic as they haven't faced the Giants there since 2013. Key trend: Seahawks 3-6-1 ATS in past 10 after bye (any location).
Nov. 9 at Cardinals (+1.5): Thursday night and Seattle's only road prime-time game. Seahawks host Redskins the previous Sunday. These two tied 6-6 in the desert last year, but that game was incredibly entertaining because of short missed kicks by each team in OT. Seattle was statistically dominated and lucky to get a tie. Key trend: Seahawks 2-0 SU & ATS in past two as road favorite in series.
Nov. 26 at 49ers (+7.5): Short week for Seahawks off home matchup on Monday vs. Atlanta. This screams letdown game in what should be an easy win. Seattle has won three straight in this series since the 49ers moved into Levi's Stadium. It was 25-23 in Week 17 last year in a game that essentially meant nothing for Seattle. Key trend: Seahawks 6-0 SU & 5-1 ATS in past six as road favorite anywhere of at least 7 points.
Dec. 10 at Jaguars (+4): Seattle off a Sunday night home game vs. Philly in Week 13. This is essentially the second-furthest the Seahawks could fly in the NFL (London not included) other than visiting the Dolphins. I'm sure you know that Pacific Time Zone teams don't fare well in those 1 p.m. ET starts. This is the only one on Seattle's schedule. Don't overlook how important that might be. Key trend: Seahawks 5-1 SU & ATS all-time at AFC South teams.
Dec. 24 at Cowboys (-3): Seahawks should be coming off a Week 15 home win over the Rams. One might think this would be a prime-time game, but the NFL didn't schedule any on Christmas Eve. Ah well, more time to watch "A Christmas Story." This could easily be a playoff preview and should be huge in terms of postseason positioning. Seattle won last meeting, 13-12 in Dallas in 2015. Key trend: Seahawks have covered past three as a December road dog anywhere.
Get free picks from any Doc's Sports handicapper - there is no obligation for this offer and no credit card required. Just sign up for an account, and you can use the $60 in free picks for any Doc's Sports expert handicapper and any sport. Click here to get started now .
Read more articles by Alan Matthews