Scott Spreitzer Week 6 NFL Handicapping Notes
by Scott Spreitzer - 10/15/2018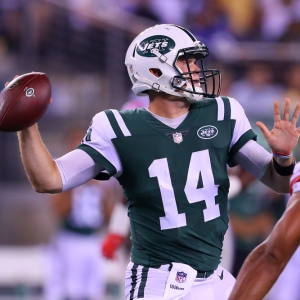 NFL WEEK-6 2018 RECAP:
SEAHAWKS 27-3 OAKLAND: Raiders 0 points 1st 7 possessions. Derek Carr 0 TDs and 2 Fumbles lost...his 4th game this season with at least 2 turnovers. OLT can't block...sacked 6 times. Allowing 29.3 ppg this season. Sea 3 straight games rushing for 150 yards or more.
CARDINALS 17-27 VIKINGS: Adam Thielen 58 rec in 6 games...most in 6 games in NFL history. 2nd player ever to have 100+ rec yards in each of the first 6 games. Pretty decent for a guy who wasn't invited to the combine and was given a courtesy tryout by the Vikings. Biggest take from the game itself: Latavius Murray 155 yards on 24 carries...Vikings running game had been dormant. Murray needs to keep it up until Dalvin Cook returns. Cards went 0-10 on 3rd down conversions.
COLTS 34-42 NY JETS: Colts have allowed 34.3 ppg during 4 game losing streak. Andrew Luck 9th career game with 3 or more INTs. NYJ 30+ points in consecutive games for the first time in 7 years. Darnold 24-30-280-2-1. Colts out-gained Jets in every part of the game...ran for 5.5 yards per carry...over 120 yards on the ground...Luck passed for 301 yards and 4 TDs, but threw those 3 picks.
BILLS 13-20 HOUSTON: Deshaun Watson has thrown at least 1 INT in each game this season. Threw one in the redzone with a chance to go up 17-0. Bills last in scoring averaging under 13 ppg. Bills QBs 3 TD passes, 9 INTs, sacked 24 times ...no offensive line. Peterman 2 INTs in the 4th qrtr, including the game winning pick-6. Bills = fewer than 300 total yards in every game this season. HOU 3 straight wins by a grand total of 13 points. All 6 HOU games decided by 1 possession. Pass protection - weak.
BUCCS 29-34 FALCONS: 2 horrible secondary's. Guys wide open on both offenses. Last play of the game...down 5...TBAY 3rd down at the ATL 21 and they call a QB draw?! Jameis Winston got to about the 10-yard line...they start fumbling the ball around...but Dave Casper rule. DUMB CALL OF THE SEASON by TBAY coaches.
PANTHERS 17-23 REDSKINS: Carolina had a chance to win it...final seconds of the game inside the Washington 20...but came up empty.Panthers 3 turnovers and no takeaways. Out-gained Wash 350-288...and 5.9 yards per play to 4.3. Carolina got Thomas Davis back from suspension...helps that defense get even stingier. Adrian Peterson 17 carries 97 yards...suffered a dislocated shoulder on Monday night.
RAMS 23-20 BRONCOS: Denver run defense is terrible ...gave up over 323 on 8.5 yards last week to the Jets...270 this week on 6.9 yards per carry. That's almost 600 yards rushing allowed and well over 7 yards per carry the last 2 games. Jared Goff 14-28-201-0-1. But who needs to pass against Denver. Case Keenum 25-41-322-2-1.
RAVENS 21-0 TITANS: 3 games out of 6 that Tenn hasn't scored a single offensive TD. Mariota 27th straight game throwing 2 or fewer TD passes. Offense with fewer than 300 total yards in all 6 games this season. Ravens Defense 11 sacks and allowed just 106 total yards. Titans 9 possessions...7 first downs in the game...and 9 punts. Balt 4 double digit wins this season.
BEARS 28-31 OT MIAMI: Ryan Tannehill was inactive (shoulder). Osweiler started....10-14-213-2-0...in 4th qrtr and OT combined. Albert Wilson with a huge game receiving. Crazy OT...Miami fumbles at the CHI 1 yard line - looking to end the game with a TD...before the rule change - they kick the FG. Bears then missed a potential game winning FG...Jason Sanders game winning FG from 47. NOTE: Chi HC Matt Nagy's play-calling was awful in OT...3 straight runs from around the Miami 40...for nothing. Then missed the 53-yard FG.
CHARGERS 38-14 BROWNS: Philip Rivers 15 TDs and 3 INTs on the season. Only QB with 2 or more TDs in every game this season. Chargers 246 yards rushing on 6.8 yards per carry. Mayfield 22-46-238-1-2 (injured early tripping on the down markers). But Baker with 7 turnovers and 4 TDs since taking over at QB. Browns 21 points or fewer in 5 of 6 games. Melvin Gordon 18 carries 132 yards...having a terrific season.
STEELERS 28-21 BENGALS: Pitt 7th straight win over Cincy and 6th straight win IN Cincy. James Conner 3rd game this season with a 100 yard rushing game and 2 TDs...most in the NFL. Pitt 31-yard game winning TD pass with 12-seconds to go. Final 30 yards was a run after catch by Antonio Brown...total miscommunication by Cincy defense...no safety in the middle of the field. Great play-call by Pittsburgh knowing Cincy was going to blitz and try to take Pitt out of FG position.

JAGUARS 7-40 DALLAS: Cowboys had 8 plays of 10 yards or more by 6 different players. What's up with the Jags on defense when Dallas was in the redzone in the 2nd qrtr? Jags dropped 9 in coverage and only rushed 2 guys...Dak had all day and waited for Cole Beasley to get open...TD. Dallas 3 TDs and 1 FG on 1st 4 possessions. Jags defense: 1st 4 games 259 yards per game...14 ppg, held opp's to 2/8 redzone TDs. Last 2 weeks...401 yards per game...35 ppg...6/9 TDs in redzone trips. Struggling on the road against mobile QBs. Dak 80+ rushing yards.