Expert NFL Handicapping: What Does Future Hold for Patriots?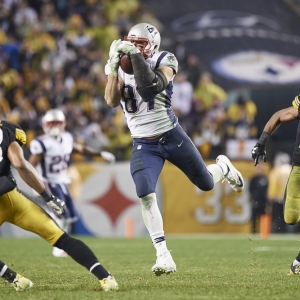 This could be the easiest assignment I ever have. What does the future hold for the New England Patriots? Well, they are probably going to play in the Super Bowl, and they are a good bet to win it. That's as true next year as it was this year. And it will be just as true in 19 years when Tom Brady becomes the first QB in his 60s to win a Super Bowl, and the first living athlete to win more than 20 Super Bowls, and Bill Belichick surpasses that IBM chess computer thingy to become the most successful robot in competitive history.
Sure, there are lots of reasons to question this team. Just like there were in September of this past season. Or November, for that matter. But they are the +650 favorites to win the Super Bowl in early futures action at Bovada , and I for one am not willing to argue against them. You can't apply logic when dealing with this team. The rules of nature don't apply to them like they do to anyone else.
But let's assume for a minute that they will inevitably find a way to win another title. Let's look at what they have to deal with between now and next year - like we would for a mortal team:
Defensive coordinator: The defense is going to have a different guy calling defensive plays for the third straight season. It's a prime position, as the last two guys to inhabit the role are head coaches now. As I write this, the word is that Greg Schiano is going to get the nod, and his first time as a head coach in the league was such a disaster that he might not be in massive demand as a head coach any time soon. I'm not thrilled with that hire, as he has been in charge of the Buckeyes defense the last couple of years and their efforts have been inconsistent. But he and Belichick have a relationship, and Schiano has no shortage of experience, so if he can put his ego aside and live the Patriot way then he should be fine. He has spent the last two years under Urban Meyer, so he knows what it's like to work for an obsessive genius coach. I am not as optimistic as I could be, but then I wasn't fully aboard Brian Flores as the de facto defensive coordinator, either, and all he did last time out was call an essentially perfect game.
Gronk: Rob Gronkowski is a shadow of what he was at his prime, and his last two years have been rocky. But in the AFC Championship Game and the Super Bowl he still showed what kind of a difference-maker he can be in the right spot. He's not near what he was, but he's still one of the most impactful forces in the league at the position. But though he could stay around for a while yet, it feels more than likely that he will call it quits after this season. And that will be a blow. Not only will Brady lose one of his favorite targets ever, but he has become a better and better blocker as he has aged, and that will be a hole as well. And the team won't be nearly as much fun without him. His decision is an important one.
Left tackle: The offensive line was a concern coming into the season, and an issue early on, but by the end of the season it had really found its stride, and in the playoffs they did a remarkable job of protecting their QB. But change is probably coming. They let Nate Solder go to the Giants instead of paying market price for the left tackle. And they brought in Trent Brown to replace him. He was cheap, and he was a massive bargain in the end. But he was so good that he is going to be expensive now. So, the team will have to decide whether they will be paying for him or going cheaper again. First-round pick Isaiah Wynn, a guard, could step over. Or they could go look for another bargain elsewhere.
Other older guys: Beyond Gronk, there are other decisions that loom. Brady has only one more year left on his deal, so there could be something to deal with there. Julian Edelman is at the end of a contract as well. And while he is wildly productive in the postseason, he also has a lot of wear on his tires. He is a decision waiting to be made - and by the least sentimental team there is. Devin McCourty might retire. And Stephen Gostkowski just turned 35 and wasn't at his best last year, so the team might be looking to go younger - Gostkowski is older than Adam Vinatieri was when the Patriots moved on from him. The team could use some more cap flexibility, and every team can always get younger, so we could see some more changes to this team. They certainly have never been afraid of changes.
Read more articles by Trevor Whenham