Which NFL Teams are in the Market for a New QB?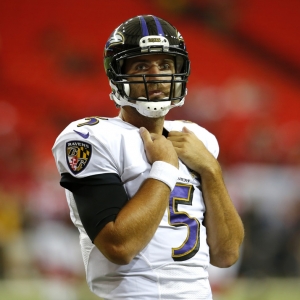 The Super Bowl is in the rearview mirror, so it's time for the NFL offseason. And in many ways that is just as interesting as the regular season. And far more interesting than that Super Bowl game was. This year's offseason promises to be an exciting one because there are plenty of teams that need quarterbacks, and quarterbacks mean fireworks. And there are lots of choices on the market - no great ones, but plenty of decent enough ones. Buckle up - this is going to be fun. Here's a quick primer on the market as it stands.
Teams definitely looking
Jacksonville: The Blake Bortles era has to end. It's over. It hasn't worked out. The team has shown that they can win with him if things go exactly right. But they can't rely on that, and they need more. He has only $6.5 million guaranteed, so the time is right to move on.
Washington: I still see that Alex Smith injury when I close my eyes. So bad. And he's not going to bounce back in a hurry. At the very least they need another 1B type of guy to work with Colt McCoy as a patchwork solution. More realistically, they have to know that Smith isn't coming back in a real way, and they need to figure out their future.
Miami: Ryan Tannehill just hasn't been good enough, and he makes too much money to be as average as he is. Actually, average is flattering for him. He's 31, he's not exactly durable, and the new coaching staff won't want to be saddled with him.
Teams not looking
New York Giants: The Giants absolutely should be looking for the replacement to Eli Manning. And they probably are. But they are in this category because they should have made the change last year and they didn't. I will only believe it when I see it.
Denver: They haven't had a good answer since Peyton Manning. They thought Case Keenum was the answer. Not so much. Keenum probably costs too much next year, but Denver can't afford to make a change unless they obviously have a better option - and there isn't an obviously better option at this point.
Teams probably not looking... but maybe
Cincinnati: Andy Dalton has been as frustratingly mediocre as the team around him was for the Marvin Lewis era. Fine, but never good enough. Now it's a new era for the Bengals, and young upstart coach Zac Taylor may not be too excited about Dalton. His contract is fairly good for the team, but his play could be better.
Detroit: Matthew Stafford is probably the guy going forward in Detroit. And if it was my team, I'd keep him for sure. But he counts for $27 million next year for a team that is seemingly going nowhere. He could be a fall guy for a team that needs to blame someone for their woes.
Top-tier quarterbacks available
You'll notice that this category is empty. That's not a mistake. There are decent answers, but no home runs.
The next best options
Nick Foles: I have no idea what to do with Foles, though I know that some team is going to overpay for him in a big way. He has had two periods of strength in Philly lately, and that Super Bowl win will get him paid. But can he really be the top guy? It hasn't worked out before. I am not a believer - not at the price.
Joe Flacco: Flacco doesn't fit into Baltimore's plans at his contract any more. And he could be an upgrade for several teams. He's not a superstar, but he has won a Super Bowl, and he probably still has some wear on his tires - and maybe the hunger to prove he was done wrong by Baltimore. He's the best of the group in my eyes.
Teddy Bridgewater: He was a hot commodity at the start of last season, but he only saw very limited action for the Saints - and looked lousy. He has had another year to heal his leg, though, and someone will give him a chance.
Tyrod Taylor: He was a disaster in Cleveland, but he was pretty solid in Buffalo. If you can get past the Cleveland problems - blame them on Hue Jackson - then you could probably convince yourself that he can help, and the price won't be awful.
Ryan Fitzpatrick: He's 36, and you have to accept a whole lot of interceptions, but he can pass, and you don't have to commit to him long term. He could be a bridge to Tua Tagovailoa or Trevor Lawrence, I guess.
Bortles and Tannehill: I put these two together because they are experienced enough as starters that they are better than some options. But they aren't good, so that's a problem.
If my team signed these guys I'd be so, so sad
Eli Manning: He's cooked. Done. Heck of a career. But it's over, and all he does is slow down your transition to your future.
Sam Bradford: It's an NFL rule - some team has to sign Bradford for way too much money, quickly tire of him, and staple him to the bench. It happens every year. And it will probably happen again.
The youngsters
After the emergence of Baker Mayfield in a big way, Lamar Jackson taking over the job ahead of schedule, the promise of Sam Darnold, and the potential for Josh Rosen and Josh Allen, that was a very strong draft year last year. This is not the same type of class. Dwayne Haskins from Ohio State will be a starter, though, and Heisman winner Kyler Murray has huge upside if he is committed to playing football instead of baseball. Daniel Jones of Duke, Will Grier of West Virginia, and Drew Lock of Missouri could get into the picture, too, but they feel like projects. It doesn't feel like we are going to see immediate help out of this class like we did last year.
Read more articles by Trevor Whenham