NFL Betting Predictions: Week 11 Opening Line Report and Picks
by Mike Pruitt - 11/15/2021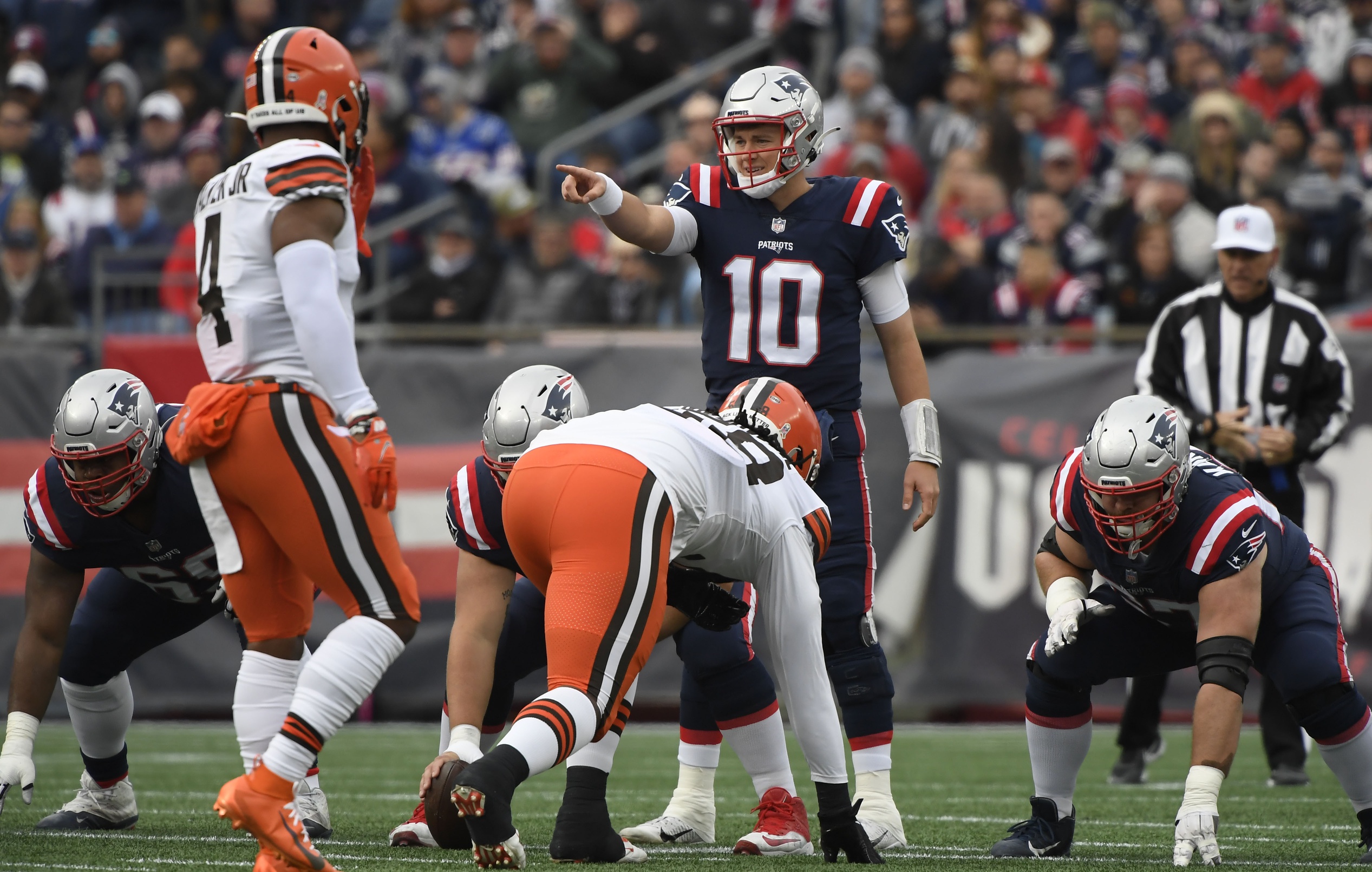 NFL Week 10 is now in the books and we split our picks for the second consecutive week. The New England Patriots are a force. We rode them to cover the point spread for two straight weeks and they did it.
Things didn't start off very well against the loaded, skillful Cleveland Browns team as the home team fell behind 7-0 right away. Cleveland's offensive line looked like they were just going to have a field day pushing around the Pats, but no.
The New England secondary came through and took some of the pressure off of their front 7. That put Baker Mayfield in a position to play from behind, and the Browns are a run-first team. If you make them pass instead of run, that is where you can beat them. And, shocker, Bill Belichick knew that too.
I am not going to lie, guys. I am tempted to ride the Patriots wave once more this week. They travel to Atlanta on a short week, which is a pretty quick flight and, of course, no change in time zones.
I am calling it right now. We will have a final of 28-3. I'm sorry. I shouldn't. There are some Atlanta Falcons fans out there. I have honestly only met a couple in my entire life, but I am a Braves fan, so I guess I should show some respect.
The Atlanta Falcons are a 4-5 team who are just 1-3 playing at home in the dome on their turf.
The Pats, conversely, are one of if not the hottest team in the NFL right now. Get this. They have out-scored their previous 4 opponents 150-50, and, yes, all of those games were wins for the best-coached team in the NFL.
The other game I wanted to talk about today is the Seattle Seahawks and the Arizona Cardinals. This, of course, is a divisional game, but it is hard to call this a showdown. At the beginning of the regular season, I think both teams and the networks had this one marked on their calendars as one of the biggest games of the year.
The Seahawks, though, have been quite disappointing at just 3-6 this year. They have only been outscored, though, by 5 points overall, so they aren't as bad as advertised. Russell Wilson is obviously an X-factor in any Seahawk game, and I really didn't like what I saw from him last week.
We can either take that as a warning that he is that hurt and probably had no business being out there and thus take that into account when capping this week's matchup, or we can say that one of the most highly skilled competitive perfectionists to ever play the position will have a renewed focus.
The spread isn't much, though. Let's look at the betting odds for these two games and make a couple of early NFL week 11 predictions.
Doc's Sports offers NFL expert picks for every game on our NFL predictions page.
New England Patriots vs Atlanta Falcons (-6, 47)
The New England Patriots are 4-0 on the road this year and Atlanta is 1-3 at home. That isn't a good start and on a short week with such a disparity in the coaching matchup, and I am really leaning towards the Pats.
Six points on the road is a lot, though, even against a team who hasn't been playing that great on their home turf. The travel isn't much, though, for the favorites here, and they have a young quarterback in Mac Jones that is showing more and more promise as the week's pass in the 2021 NFL regular season.
Atlanta has the 31st ranked scoring defense in the NFL, while the New England Patriots are 7th in the league in points scored per game and 1st over the last 4 ball games. Third down conversion rate on offense for the Pats is 4th in the NFL, while the Falcons are dead last once more when it comes to getting their opponent's respective offenses off the field.
Okay, how about the other side of the ball for each squad? Atlanta is 25th in both yards per play and points scored per game on offense, while the Pats rank 2nd in points allowed per game at just over 17 and 4th in yards per play allowed.
This game isn't close on paper. We have the better coach as well as momentum on our side, or Uncle Mo as I like to call it. That is enough for me to take the Pats to win by a touchdown.
Pick: Patriots
Arizona Cardinals vs Seattle Seahawks (-2.5, 50)
We have to, of course, begin with the myriad of injuries that are plaguing the first place Arizona Cardinals. Both quarterback Kyler Murray and star wideout DeAndre Hopkins are listed as questionable for Sunday's game.
It is hard to make a prediction here early in the week not knowing either guy's status for the game but the advantage we gain by doing so is the number. If both of them were certain to suit up, I think the betting line would be (-4.5) or more.
Seattle is not a bad team, and they really have their backs up against the wall here in week 11. I think head coach Pete Carroll will have his squad ready to go this weekend. Wilson, though, is hurt as well and looked like a shell of himself this past Sunday in a 17-0 shutout loss to the Green Bay Packers.
His stats were 20/40 for 161 yards and 2 interceptions. That is not a stat line we are accustomed to seeing from Russ. Green Bay does have the 3rd ranked pass defense in the league, but guess who is 2nd?
Yup, the Cardinals. I like Arizona to cover here on the road, giving us two road favorites to cover. Arizona and Seattle are coming off of embarrassing losses, but give me the team with the far better record and more talent overall to win by a field goal.
Pick: Arizona
Get NFL picks on every single game, or if you want our very best bet premium picks by the experts, sign up for your free $60 account with a guarantee.