NFL Betting Predictions: Week 6 Opening Line Report and Picks
by Mike Pruitt - 10/12/2021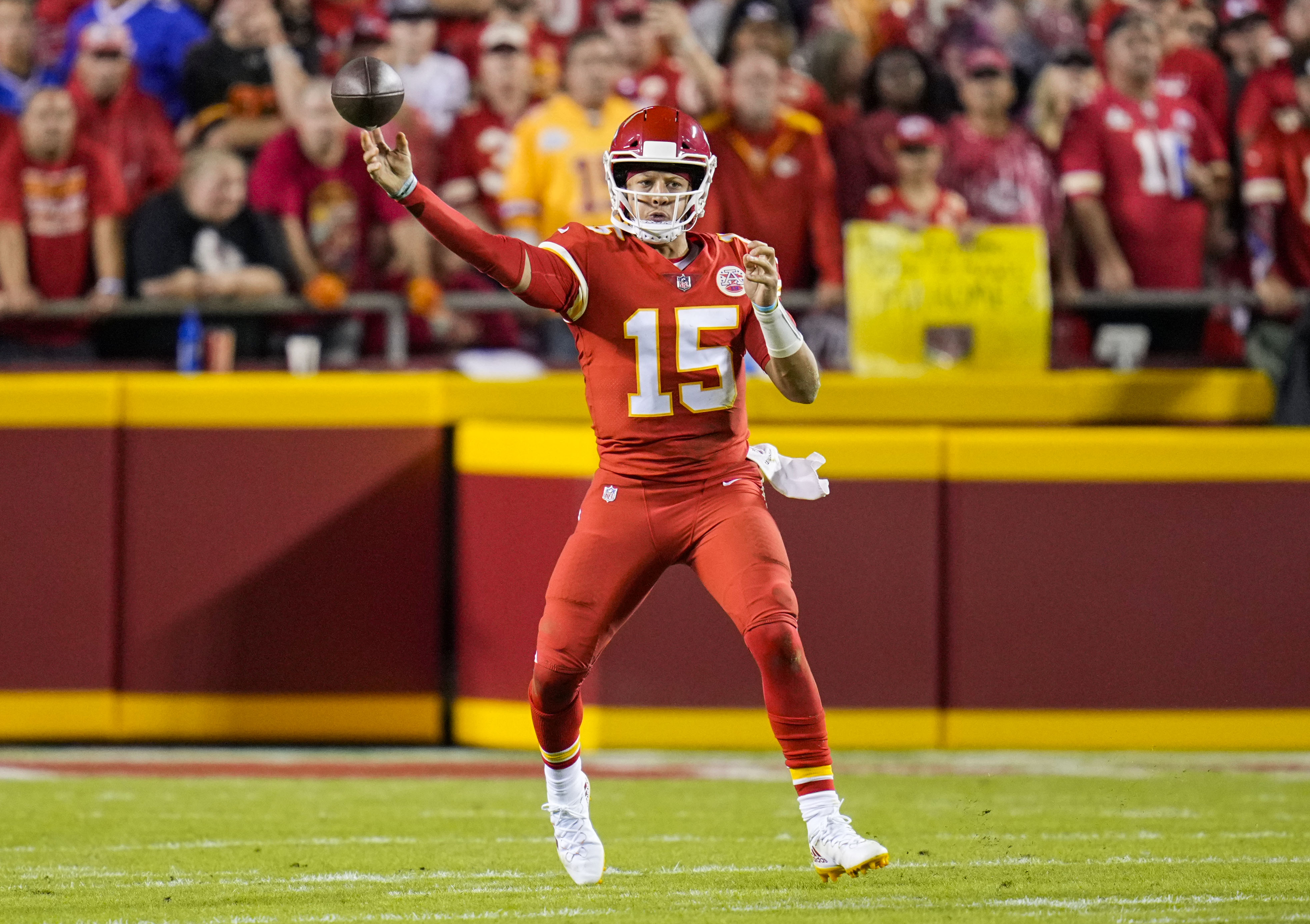 Week 5 was a fun one for NFL fans and one that potentially marked the beginning of a new era in the AFC. For what seems like too long now, the Kansas City Chiefs have been the most dominant team by far.
New England fell off, and now this year, it doesn't look like the Baltimore Ravens are on an elite level, either. Well, if these teams aren't some of the very best, then what squads are?
We have to, of course, start with what happened in Arrowhead Stadium on Sunday when the Buffalo Bills showed up and showed out against Andy and Pat's pack of mostly ring-bearing former Super Bowl Champions.
Josh Allen was my guy coming out of his quarterback draft class. I remember when everybody was on Josh Rosen or Baker Mayfield. And while neither are complete busts, it is Allen who has separated himself from that rest.
Only 6 teams have given up less than 100 points this year, and the Bills' D has been the best by far only allowing 64 over 5 games. Well, maybe they're average on offense and Allen is just doing his best Trent Dilfer here.
Ummm, no. Just 4 NFL teams have scored more than 150 so far in 2021. And guess who is leading the way with 176? The Bills Mafia, with an incredible general manager, has slowly brought the Buffalo Bills back.
The Dallas Cowboys are playing great too. What is this? 1994? I wish!
Maybe weirder than all of this is the only undefeated team left is the Arizona Cardinals. I will stop with my point there before my brain shuts down from shock.
Let's get to a couple of betting predictions for this upcoming Fall weekend of Football.
Doc's Sports offers NFL expert picks for every game on our NFL predictions page.
Kansas City Chiefs @ Washington Redskins (-6.5, 55.5)
Okay, we just got finished talking about how the Kansas City Chiefs got waxed at their beloved Arrowhead. I know the defending AFC West champions will be long in the tooth and ready to rip some Football Team to shreds.
They are visiting Washington DC, where the home team is just 1-2 this year, and the beltway boys are just 2-3 overall in 2021. The NFC East looks like it is the Dallas Cowboys' division to lose at this point.
This is a huge game for Washington, though, because if they fall to 2-4, a playoff berth is something that will be highly unlikely, and they don't want to be out of the race before the halfway mark.
Dan Snyder has ruined that team, and everybody knows it, especially him. The guy's ego is too big, though, because he continues to make horrible decisions while using more and more power and pull within the organization to speak louder than his GM and head coach on what is best for the team.
You have to pay a little bit more juice at (-116) to get the Kansas City Chiefs at (-6.5), but I don't mind. And guys, if you want the Chiefs here, which I recommend that you do, it is absolutely imperative to jump on this betting line before it ticks up to them being favored by a touchdown.
That means you need a touchdown and one more point to get paid. And if you play it today, just a 7-point lead from the Chiefs this week when the 4th quarter clock strikes zero will be enough to put some extra cash in your pocket.
Washington has been simply abysmal on defense this season. Only one team in the NFL has given up more points. So, why is KC less than a touchdown favorite? Well, that one team is them.
And they are just 2-3 this year! The Chargers are crushing the AFC West, while the Chiefs are sitting in the cellar at 2-3. I mentioned this is a big game for DC but also for KC. The AFC is more competitive, and 2-4 is a bad look if you want to be playing in December.
The books believe it will be hard for KC to keep a lead and run a lot of clock in the 4th because they are primarily a passing team. This isn't Andy Reid's first rodeo, though. I like KC to cover the (-6.5), and I will shut up about it so you can get to the window and make that play.
Pick: Kansas City (-6.5)
Arizona Cardinals @ Cleveland Browns (+2.5, 50)
The aforementioned sole undefeated football team takes their talented show to The Land for a marquee Week 6 NFL matchup.
The Cleveland Browns are only 3-2 this year but are 2-0 at home. There is no question, though, that this week's test for the Browns will be the toughest they will have to take thus far in the 2021 NFL regular season.
Cleveland has been very sharp on offense this year, just like the Arizona Cardinals, but the respective defenses, though, have performed quite differently. The Cards have a +62 point differential this season over their opponents through 5 games, while the Browns, who are in the positive, are just +26.
And we are getting (+2.5) on the only undefeated team whose point differential more than doubles the other team. Am I missing something here? I know Cleveland will be at home, but it isn't December, and the warm-weather Cards won't be having to play in the cold.
The LA Rams are pretty good, and Arizona smoked them 37-20 in Los Angeles! I know that the Cards are banged up, but this is a play I have to make and I recommend jumping on it early because the money is likely to come in on the undefeated Cardinals.
Pick: Arizona Cardinals
Get NFL picks on every single game, or if you want our very best bet premium picks by the experts, sign up for your free $60 account with a guarantee.