NFL Confidence Pool Picks Week 9
by Christopher Delgado - 11/2/2022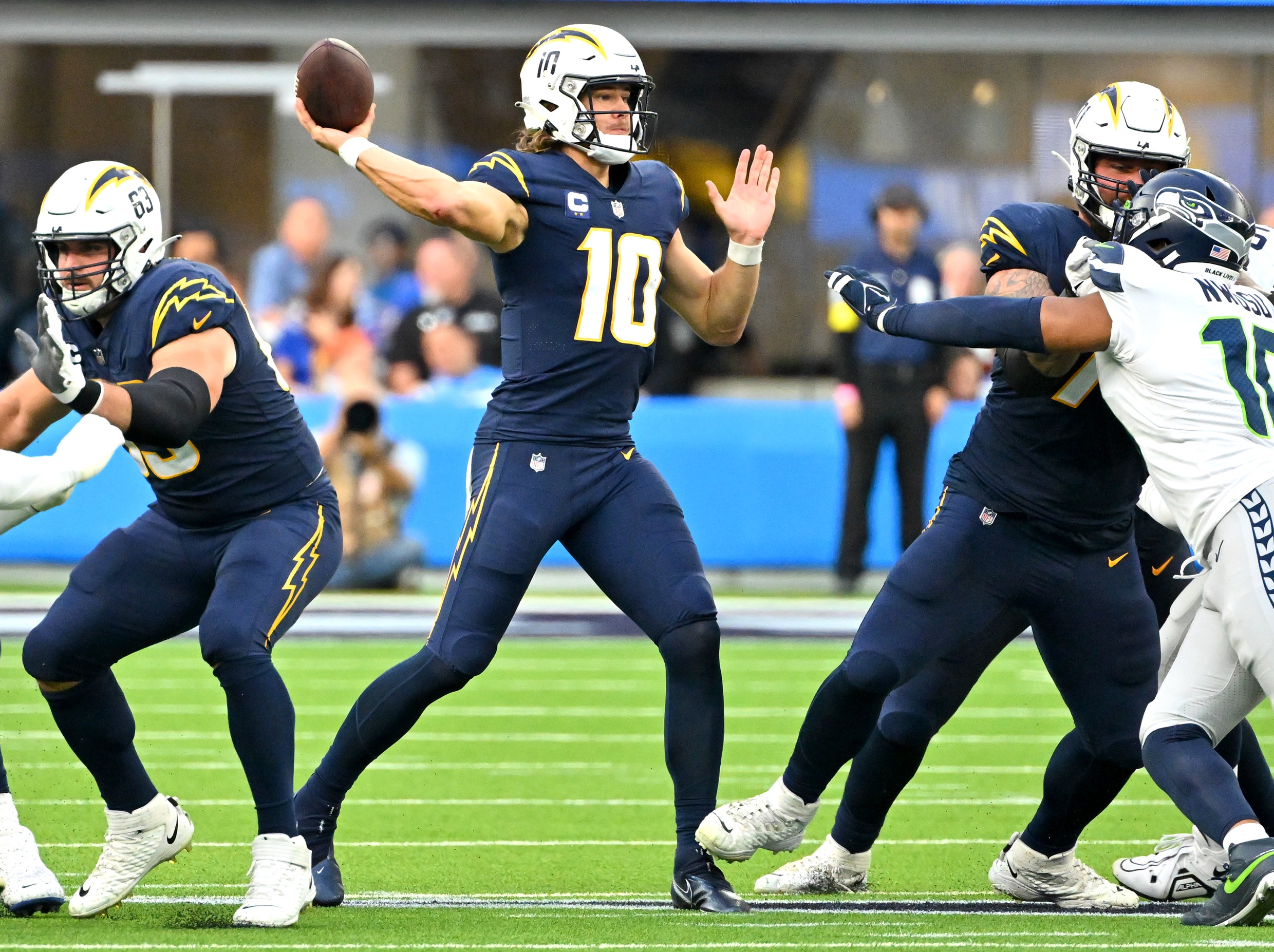 Week 8 was a good week, as many of our predictions came true. The biggest disappointment was the Giants, who failed to win at home against the visiting Seahawks. I was also a bit disappointed in the Panthers, who had a great defensive game against the Buccaneers the previous week but couldn't hold down the Falcons. If it wasn't for a Patrick Mahomes-like throw from PJ Walker, they wouldn't have forced overtime. However, they still ended up losing.
Doc's Sports offers NFL picks for every game on our NFL predictions page.
I look forward to this being an interesting week in the NFL. There were some big trades made this week as the trade deadline came around. We will need to keep a close eye on how those traded players blend with their new teams. I really like how the Dolphins ended up getting Bradley Chubb to strengthen their defense.
Furthermore, A new week of the NFL is in our near future. So, Without further hesitation, here are our Week 9 NFL confidence pool picks. As a reminder, these will be ranked from strongest to weakest. All picks are straight up and don't involve the point spread, so these picks can be valuable for NFL survivor pools and moneyline betting.
Los Angeles Chargers (-174) over Atlanta Falcons: 13 points
The Falcons have started to show the ability to compete. They have been one of the more interesting teams to watch in the NFL this season, as everyone thought they were hopeless. However, for them to come out on top of this game, they are going to need Justin Herbert to turn the ball over multiple times. Which doesn't happen very often. The Chargers walk away with this game even with a crippled receiving corps.
Philadelphia Eagles (-770) over Houston Texans: 12 Points
The Eagles will remain undefeated as they head to Houston to play the Texans. The Texans are one of the worst offensive teams in the league. They struggled severely against the Titans last week, and they will struggle even more against this action-packed Eagles team. There's no need to analyze any further here.
Miami Dolphins (-215) over Chicago Bears: 11 Points
The Bears have added Chase Claypool to their offense at the trade deadline. However, this will not be enough to keep up with the Dolphins. The Dolphins are exceptional on both sides of the ball. And with the addition of Bradley Chubb, they are only going to be more dominant. Look for the Bears to struggle in this matchup as they don't have the offensive firepower to keep up with this Dolphins team.
Buffalo Bills (-650) over New York Jets: 10 Points
The Jets had a plethora of turnovers last week against the Patriots. They could have pulled a win if they would have limited the amount of turnovers and a few penalty calls went their way. We can just say they were a little unlucky, and they will continue to remain so as they have to run into one of the best teams in the NFL. The Jets are not prepared to face Josh Allen now that he has gained a new weapon in Nyheim Hines to add to an already packed offense
Minnesota Vikings (-186) over Washington Commanders: 9 Points
This is the best football I have seen the Vikings play since Adrian Peterson's prime. They have an offense that can strike at any minute and a great secondary. The Commanders will struggle to move the ball through the air, as Taylor Heinicke is not a great quarterback. The Vikings lost only one game, and it was to the Eagles, currently the best team in the NFL. I don't expect the Vikings to drop a game to a messy Commanders team.
Kansas City Chiefs (-650) over Tennessee Titans: 8 points
The Chiefs have too strong of an offense for the Titans to keep up with. The Titans struggled heavily in the passing game against the Texans. If it wasn't for Derrick Henry rushing for more than 200 yards, they would have lost that game. The Chiefs have obtained Kadarius Toney, who is an underrated wide receiver to add to the surplus of talent they already have. The Chiefs will come out victorious in this game as they will dominate with offense
Seattle Seahawks (+114) over Arizona Cardinals: 7 points
The Seahawks are playing good football, being led by a confident Geno Smith. They have recorded three consecutive wins and are looking to keep the ball rolling against the Cardinals. The Cardinals have been an absolute joke, as they have been terrible on defense and on offense. They looked a little better with the return of DeAndre Hopkins, but they will need more than that just to slow down this steamrolling Seahawks team.
Carolina Panthers ( +290) over Cincinnati Bengals: 6 Points
The Bengals are coming off a week where they just got destroyed by the Browns. They managed to score two touchdowns, and one of them came off a tipped pass. With the absence of Ja'Marr Chase and a horrible O-line. This team will continue to struggle heavily as the Panthers have a good enough pass rush to keep pressure on Joe Burrow, and PJ Walker is a good enough quarterback to hit his open targets. With Eli Apple also being out due to injury, I could see some struggles in the secondary continue to happen.
Baltimore Ravens (-152) over New Orleans Saints: 5 points
The Ravens have problems on the offensive side of the ball, with Lamar Jackson having no weapons to throw to. The Saints have a good defense, which will make it difficult for Jackson to find these targets that are already struggling to make plays happen. However, I do feel like this is a great spot for Jackson to come up big. Jackson will dominate this game on his feet, and the Ravens defense will help keep the Saints offense in check.
Jacksonville Jaguars (+106) over Las Vegas Raiders: 4 Points
The Raiders are just horrible -- they just came off of getting shut out by the Saints. The Jaguars are a decent football team, as they continue to find their identity week by week. The Jaguars have lost their last five football games by a score or less. I look for them to take advantage of a horribly coached Raiders team and pull off their first win in over a month. We're going to go with the home team who also happens to have the better coaching staff.
Detroit Lions (+162) over Green Bay Packers: 3 Points
Aaron Rodgers has been playing like he just doesn't want to be on the football field anymore. He's a veteran on the last leg of his career, moving to a very young wide receiving corp. The Lions, on the other hand, are fired up and are looking to make a statement this week against the Packers. This game is going to be won by who has the most momentum. The Lions have regained some of their weapons from the injury list and will look to implement a more solid offensive game plan. If the Packers don't execute early on, the Lions are walking away with this game, and that's what I predict to happen as the Packers have gotten off to slow starts this season
New England Patriots (-250) over Indianapolis Colts: 2 Points
The Patriots have been playing exceptional defense and mediocre offense. When the Patriots get off to a good start early on, the defense can keep the pressure on opposing teams and they can run the ball down the throat of opposing defenses. The biggest asset that the Patriots have is the ability to control the clock. They make many short passes and run the ball behind Rhamondre Stevenson and Damien Harris. Look for the Patriots to play an efficient defensive game against the struggling Colts offense. They will get on top early and control the clock and the momentum.
Tampa Bay Buccaneers (-146) over Los Angeles Rams: 1 Point
Both teams are currently struggling this season. They have been a shadow of the playoff teams there were once a year ago. It is very difficult to pick a winner for this game, as the Bucs have struggled in consecutive games against inferior teams, and the Rams have been very inefficient all season. I will side with Tom Brady in this game as this is a perfect revenge spot over last year's NFC Championship Game. Brady is very good in revenge games throughout his career. So, it's only right that we back historical patterns and pick Brady to win this game.
Get NFL picks on every single game, or if you want our very best bet premium picks by the experts, sign up for your free $60 account with a guarantee.