2023 AFC West Predictions with Betting Odds and Expert Analysis
by Joey House - 7/22/2023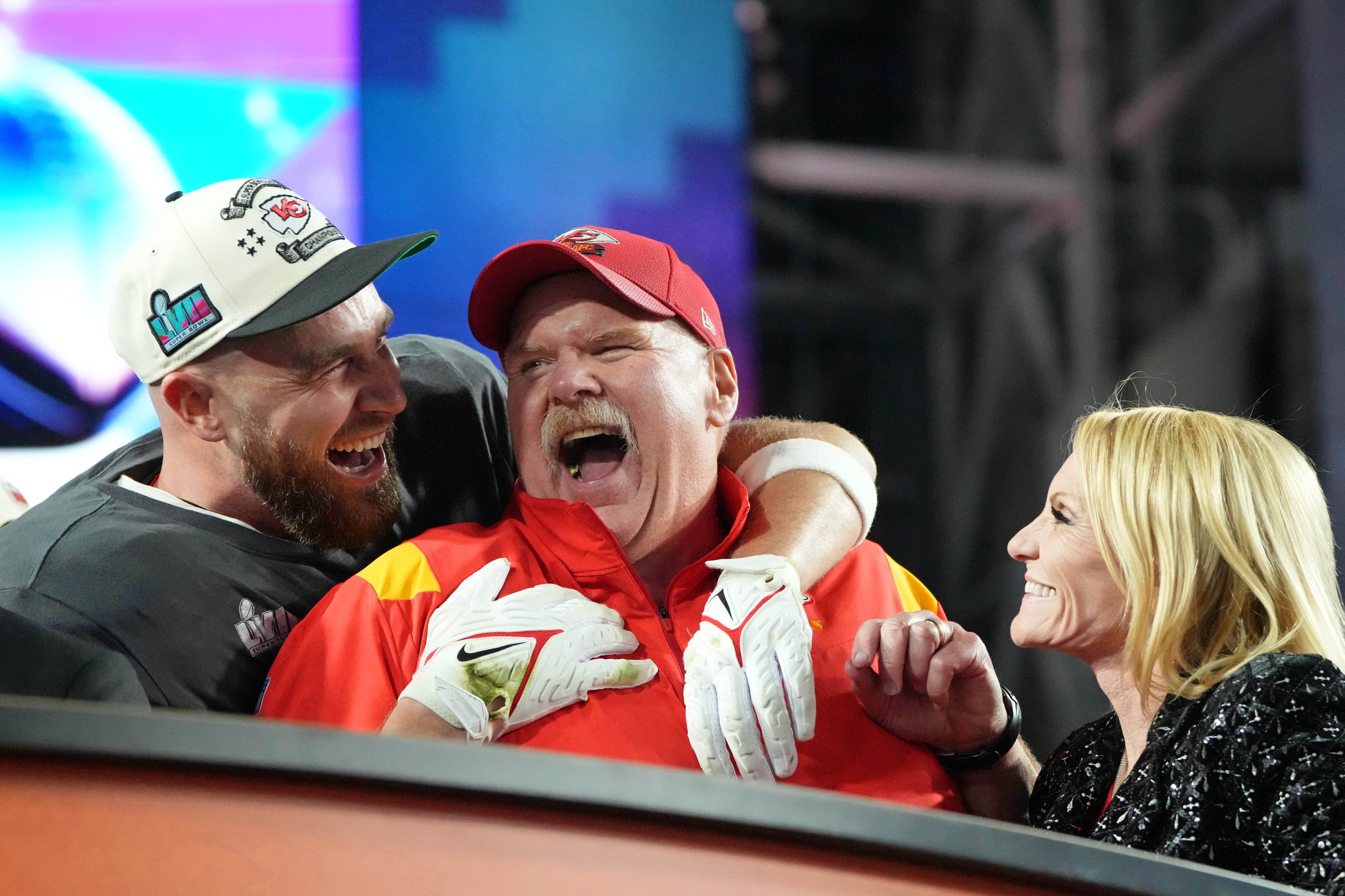 Football fans, rejoice!! With the start of the NFL Preseason less than a month away, Doc's Sports is beginning its research and analysis in earnest. It appears once again that the AFC West is Kansas City's to lose. You have to go all the way back to 2015 to find the last time a team other than the Chiefs wore the division crown (the Super Bowl-winning Denver Broncos).
Doc's Sports offers NFL expert picks for every game on our NFL predictions page.
Kansas City Chiefs: -160 (AFC West)/ +350 (AFC)/ +600 (SB)
Win Totals (O/U): 11.5 2022: 14-3 SU/ 6-10-1 ATS/ 8-9 O/U
The Kansas City Chiefs have not-so-quietly replaced the Patriots as the NFL's current dynasty. Since Andy Reid has become head coach in 2013, they have only missed the playoffs one time. Patrick Mahomes has never failed to make the conference championships and has three Super Bowl appearances and two championships. At +600, he's favored to win his third title at the age of 28 (by the time the Super Bowl is played). Slight turnover in coaching with offensive coordinator Eric Bieniemy going to Washington and former Reid protege Matt Nagy assuming the role. We'll eventually tire of talking about Mahomes' greatness, but not anytime soon. Last year he posted over 5,000 yards, 41 TDs, and a QB rating of 105.2. There's also a little turnover in the wide receiver room with JuJu Smith-Schuster and Mecole Hardman leaving, but it's doubtful that will slow down "Showtime". Their ATS record wasn't the best last season, but the time to target the Reid-coached Chiefs is in the first four weeks of the season when K.C. has gone 30-10 SU and 25-15 ATS. K.C. is very tough in the last two months of the season, going 9-1 ATS in the last 10 games of the regular season. Mahomes kryptonite seems to be Justin Herbert, going 1-5 ATS when facing the Herbert-led Los Angeles Chargers. Barring injuries, K.C. should just roll through the AFC West and probably play either Cincy or Buffalo in the AFC Conference championship. The Chiefs have posted 12 or more wins in five consecutive seasons and only injuries are going to prevent a sixth. Take the OVER 11.5 win totals for the season.
L.A. Chargers: +340 (AFC West)/ +1600 (AFC)/ +2800 (SB)
Win Totals (O/U): 9.5 2022: 10-7 SU/ 11-5-1 ATS/ 7-9-1 O/U
The L.A. Chargers were one of the most perplexing teams in the NFL last season. They lost to Kansas City twice by a field goal, but in true divisional chaos, lost to both Las Vegas AND Denver, the only teams that beat the Chargers without a winning record. Hopefully bringing in Kellen Moore as Offensive Coordinator and play caller will help with closing games out. One position group the Chargers don't need help with is QB, as they had a seamless transition from Phillip Rivers to Justin Herbert that didn't skip a beat. The 3-year starter has thrown for over 4300 yards each season, last year coming in at 4,739 yards. He posted his best completion percentage as well (68.2%). Their receiving corps added a pair of TCU receivers and didn't lose anyone significant. Unfortunately, the 30th-best rushing attack that led to the epic 2nd-half collapse in the AFC Divisional Round didn't receive an upgrade. A few interesting angles to take note of. Herbert is 12-6 ATS as a dog and 15-10 ATS away from the confines of SoFi stadium. With the addition of Moore calling the play, I think a potent offense gets stronger and the Chargers battle K.C. for the crown and go over the total 9.5 wins with ease.
Denver Broncos: +700 (AFC West)/ +3000 (AFC)/ +4000 (SB)
Win Totals (O/U): 8.5 2022: 5-12 SU/ 7-10 ATS/ 6-11 O/U
After a calamitous campaign that saw him throw for career lows in completion percentage (60.5%) and touchdowns (16), the pressing question in Denver is if Russell Wilson is over the hill. The Bronoco's believe the problem was with the coaching staff, so they went out and got a whole new one, highlighted by Super Bowl-winner Sean Payton. They then gave Russell some new weapons with WRs Marquez Callaway (free agent from New Orleans) and Marvin Mims Jr (draft from Oklahoma) and RB Samaje Perine (FA from Cincinnati). There was an interesting split last year as Denver was 6-3 ATS as dogs but an absymal 1-7 as chalk. They had the 5th-highest under percentage (64.7%) in the league which can be explained by a league-worst 16.9 PPG on offense and a defense that was a little better than average at 21/1 PPG (14th out of 32). With their 4th-place finish last season, their schedule is weaker. If Wilson really is washed up, even with a last-place schedule they are going to struggle to eclipse the total wins of 8.5. My bet would be to take the under.
Las Vegas Raiders: +1500 (AFC West)/ +5500 (AFC)/ +8000 (SB)
Win Totals (O/U): 7.5 2022: 6-11 SU/ 8-9 ATS/ 8-8-1 O/U
The Derek Carr era is over in Las Vegas. After nine seasons and zero playoff wins, the Raiders decided to part ways with their franchise QB and bring in former 49ers signal caller, Jimmy Garoppolo. While Carr has almost double the amount of snaps that Garoppolo has, their stats are comparable. Jimmy G has a better completetion percentage (67.6% to 64.6) but Carr has the better Interception percentage (4.4% to 5.0%). Garoppolo inherits a receiving corps that contains one of today's best in Davante Adams. He was 3rd in the league in yards (1,516) and first in TDs (14). Las Vegas averaged 23.2 PPG which was 12th in the league, while their defense allowed the 6th-most points in the league at 24.6 PPG. Last season was especially frustrating for Raiders backers, as they lost a league-high six games where they had a double-digit lead and five games where they had a lead in the 4th quarter. As home favorites, Raiders' games went over 4-1-1. However, since 2021, as a road team, Las Vegas games went under 12 out of 18 times (66.7%). I feel that Jimmy G and Derek Carr are interchangeable and one isn't an upgrade over the other. The Raiders had some EPIC collaspes last season and I don't feel that will happen on a yearly basis. I strongly feel they'll go over their win total easily and would even look at taking an alt total up to 9.5. They don't contend for the division but definitely shouldn't finish in the cellar.
Conclusion and Predictions
While the Chiefs look poised for an 8th-consecutive division title, the gap is shrinking between them and the Los Angeles Chargers. L.A. should fight them for the whole season and be right there should the Chiefs trip up and fall along the way and both should make the playoffs. Unfortunately for fans of football parity, the Raiders, and Broncos won't contend for the division crown, even though the Raiders should reach their win total.
Get NFL picks on every single game, or if you want our very best bet premium picks by the experts, sign up for your free $60 account with a guarantee.