2021 Indianapolis Colts Predictions with Odds to Win Super Bowl
by Chris Vasile - 8/4/2021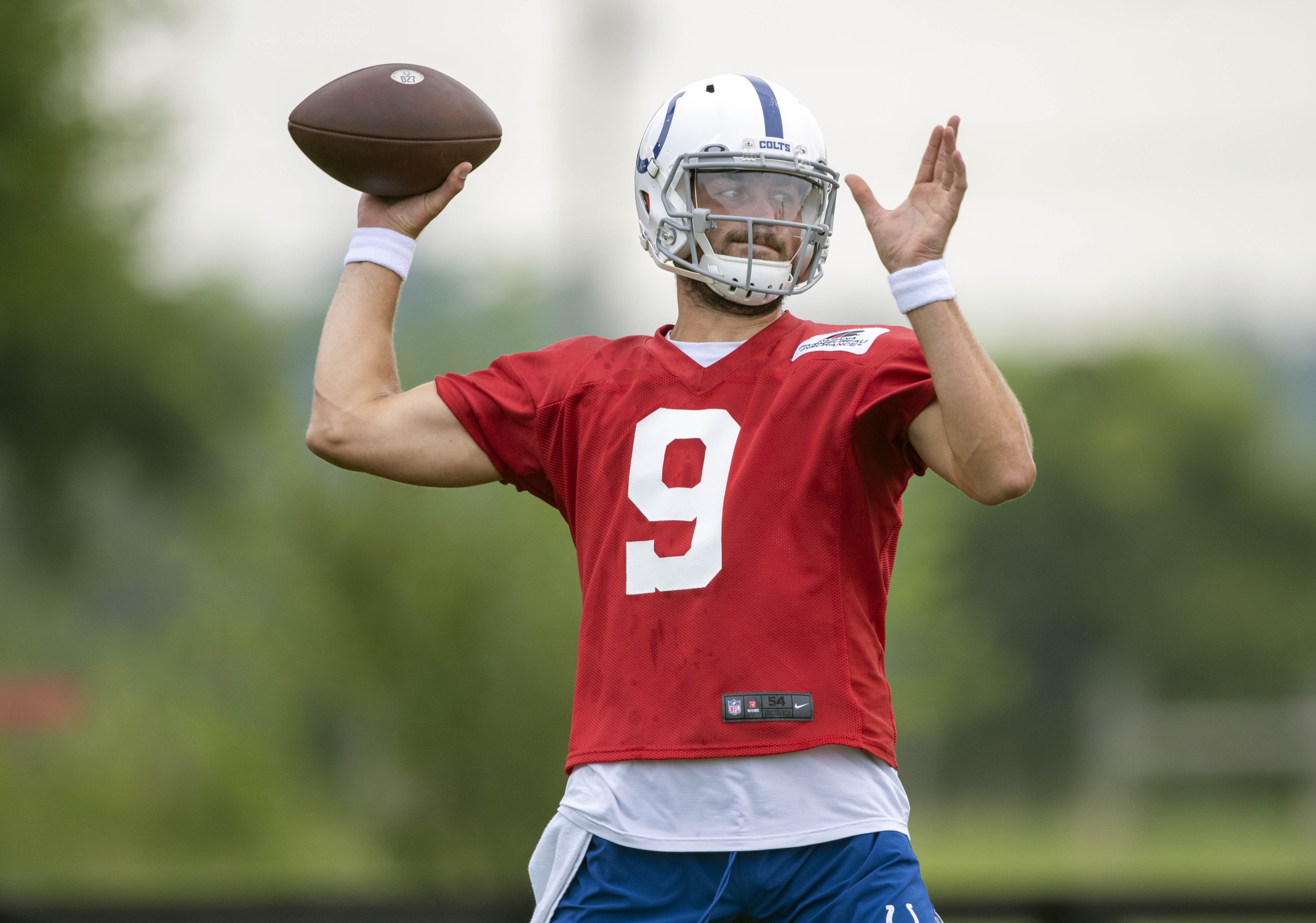 Between 2003 and 2014, the Indianapolis Colts won nine division titles, had two trips to the Super Bowl (winning one), and finished with no fewer than 10 wins in each of those seasons. Since 2015, the team has not won the division and has been to the playoffs twice, with just one win to show for it. They have not really had any good fortune in terms of injury-free seasons or quarterbacks retiring on them in the preseason. Philip Rivers did well to lead the team to a wild card spot last season. However, he's gone and the heir apparent, Carson Wentz, is now injured once again. Different year, same old Colts.
The Colts will open up their season with back-to-back home games against the Seattle Seahawks and Los Angeles Rams, respectively. From there, the Colts hit the road for three games with stops in Tennessee, Miami and Baltimore before returning home to host a division matchup with the Houston Texans. After going to San Francisco in Week 7, the Colts play three consecutive home games starting – Titans, Jets and Jaguars. They don't have a bye until Week 14, so that schedule is among the toughest in the league.
Doc's Sports offers free NFL picks for every game on our NFL predictions page.
As of writing this, the Colts are +2200 to win the Super Bowl, +1200 to win the AFC and +115 to win the AFC South.
Let's take a look at what to expect from each unit heading into this season.
Offense
Key Players: Carson Wentz, TY Hilton, Jonathan Taylor
I wrote about two paragraphs of words summarizing the Carson Wentz experience in Philadelphia before word broke that he will be out for several weeks with a foot injury. That's par for the course for Wentz, who just can't stay healthy. So, the Colts will turn to Jacob Eason or the product of Texas, Sam Ehlinger. Eason has the inside track to the starting job based on being in the league about three minutes longer than Ehlinger has. However, at this point, the Colts are likely staring down the barrel of a very poor season, so it wouldn't shock me to see both guys get in some game time with a team that's going to be below .500 for the entire season.
Without Wentz, and with a very raw QB under center, the onus will fall on the running game. Jonathan Taylor had a great college career at Wisconsin but was a bit of a late bloomer to start his NFL career. Taylor started out slow in a crowded backfield, but the rookie slowly took over the starting role and ended up rushing for 1,169 yards and 11 touchdowns when everything was done and dusted. He's going to be relied upon for more of the same in the absence of a good quarterback and with his talent, I believe he's capable of producing at a similar if not better clip.
From a team perspective, though, Taylor is going to need help from whichever quarterback starts as they'll need to complete their passes and keep the defenses from stacking the box against him. That's where TY Hilton comes into play.
Hilton, once a fantasy football must-have, has slipped into oblivion of late. Hilton has posted back-to-back seasons of sub 800 receiving yards after going over the 1,110-yard receiving mark five times in six years between 2013 and 2018. In 2019, he missed six games through injury. Although he did play 15 games last season, he was targeted less than 100 times. If the Colts are hoping to tread water this season, Hilton is going to have to provide a reliable target for the unproven QB's to rely on.
Defense & Special Teams
Key Players: Darius Leonard, Rock Ya-Sin
Defensively, the Colts were a very impressive unit last season as they ranked 10th in the league in points allowed per game, giving up just a shade over 22. In today's high-scoring league, that's a very reasonable place to be. The Colts were buoyed by a stout run defense, as the unit gave up just 90.5 rushing yards per game, which had them as the second-best unit in the league. Through the air is where the Colts ran into some problems. The team ranked 19th against the pass, allowing teams to gash them for 241.6 passing yards per game. If the Colts want to be taken seriously this year, the pass defense needs to improve, as the offense, under Wentz's guidance, when he is back from injury, just won't have the same up urgency that they did under Philip Rivers.
As for special teams, the Colts will rely on Rodrigo Blankenship to kick extra points and field goals. And in his rookie season, the former Georgia Bulldog provided excellent returns in the kicking game.
Outlook
If Carson Wentz was starting for the Colts, I'd be inclined to think this is a playoff-caliber team. They would have an oft-injured quarterback at the helm, but he's showed signs of brilliance at times. With Wentz out for awhile, and the team likely relying on Eason, the Colts are closer to a four- or five-win team than a four or five loss team. They might be able to get through the AFC South with poor QB play as they play the Texans and Jags twice, but the Titans will beat them, as will everyone else on the schedule. It's looking like a missed playoff year for the Colts.
Get NFL picks on every single game, or if you want our very best bet premium picks by the experts, sign up for your free $60 account with a guarantee.
Get all of this Weeks Free NFL picks
Get all of this Weeks Expert NFL Picks