NFL Playoff Predictions
by Trevor Whenham - 1/6/2010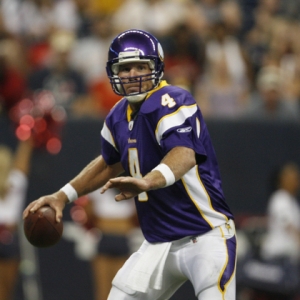 With the NFL Playoffs just around the corner, now is the time to make some fearless predictions. NFL Playoff predictions are incredibly difficult to make accurately. Though there are only 12 teams in the tournament it always seems like what happens is precisely what no one expects. Regardless, here are eight NFL Playoff predictions that I feel pretty good about. For now.

1. The Saints are in trouble - A month ago I would have picked the Saints to win the NFC without hesitation. Now I can't pick them to win a game. There's not a pile of shame in losing to the Cowboys to fall from the ranks of the unbeaten. The next two, though, are scary. They looked lousy in both subsequent losses, their defense is battered and can't be trusted, they don't have experience to fall back onto in this situation, and now suddenly they need to turn a switch and pretend the last month never happened. Tough task. Too tough.

2. Packers at Cardinals will be best wild card game - It's a pretty solid wild card playoff schedule from top to bottom (with the exception of the Bengals-Jets), but I have the most hope for the game in the desert. Green Bay is playing very well down the stretch, and has the talent to make an impact. Arizona has faltered at times, but they are at home, they have been here before, and they have the endlessly motivated Kurt Warner at the helm of a talented offense. This is going to be an old-fashioned war.

3. The Bengals aren't all that - I came into this season thinking that the Bengals were a bad joke. They've been far better than I thought, and I have had to listen to the experts saying how good they are. I'm still not buying it. Carson Palmer hasn't been proven in the playoffs, Marvin Lewis is still a lousy coach, and the team showed a stunning lack of pride in the last game of the season. They could win their first game, but they aren't going to be a factor beyond that.

4. Wes Welker's impact is overstated - Losing Welker to a knee injury is going to hurt. He's the most reliable receiver in the league. The public seems to be panicking and overreacting to that situation, though. The Pats are built to be bigger than one player - especially if that player is a possession receiver. They still have obvious issues - defense among them - but it would be a mistake to assume that the loss of Welker means the sure loss of their game.

5. This will be a different Tony Romo - I'm still not convinced that Tony Romo is an elite quarterback for the long term. I do think, though, that he will be a better QB this year in the playoffs than he has been in the past. Back then he looked tentative - like he was carrying the weight of Dallas' legacy on his shoulders. He's played carefree football over the last few weeks and it has showed, and I truly believe that Romo is poised to carry that strong play into the playoffs. The Cowboys can't afford for him to mess up again, and I don't think that they will have to.

6. The Colts' receivers are in for a shock - For weeks now we have been hearing about how seamlessly Austin Collie and Pierre Garcon have been able to take over from Marvin Harrison and Anthony Gonzalez this year. They have been impressive, no doubt, but now things get different. The NFL playoffs are very different from the regular season, and it's far from a certainty that they will be able to continue to do what they have done in the regular season.

7. Brett Favre is going to be possessed - This one is obvious and borders on pop culture obsession, but it is still worth a mention. Favre knows at some level that this is his last best shot to get another title. He has the talent on both sides of the ball to make a real impact, and he will do everything in his power to take advantage of that. That's a cliche, but we know what Favre can do when he is backed into a corner, and that's where he is now.

8. Donovan McNabb won't stand up - For all the talk that McNabb gets, and for all the numbers he has put up at times this year, I just don't buy into him as a serious playoff QB right now. The best quarterbacks rise to the biggest occasions, and McNabb too often doesn't. He is masterful at coming up with excuses when he doesn't, though. To do anything significant this year the Eagles need top level QB play. I'm not willing to bet that they will get it.