NFL Betting: Big Underdogs Still Barking Late in Season
by Nicholas Tolomeo - 12/24/2009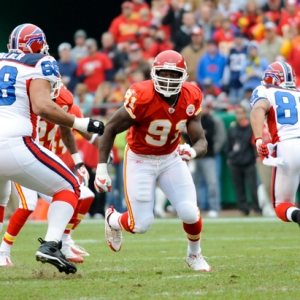 The dreaded two-touchdown NFL underdog; there always seems to be a few of them here and there early in the season but as the NFL regular season winds down, the point spreads begin to wind up in a lot of these scenarios.
It takes a lot of courage to bet on a team you know has no prayer of winning just because the spread is 14 points and that is a lot for any NFL team, because after all, they're getting paid too. Just as scary is taking a team you can trust, but walking into the game down 14-0 is never a fun thing to do in the world of betting.
This weekend we have four such scenarios, an extremely high number for the NFL. All four games involve a team with its postseason fate secured against a team with its late winter golf tee times secured.
Heading into Week 16 in the NFL there are nine teams eliminated from the postseason from the NFC alone. Not only are those teams talent in question but also their motivation. In the AFC there are more teams in the hunt, but the conference also has its share of awful teams warranting a two-touchdown line.
Of course the easy thing to say would be just stay away from these games for now, but this is gambling and these games mean plenty to the bettors who can find the value in them, even if the games mean nothing to the players on the field.
Last week 14-point underdog Detroit mounted a furious third quarter rally to give the Cardinals everything they could handle before losing 31-24, but still easily covering. Also in Week 15, St. Louis, another two-touchdown home underdog came close to winning outright, before dropping a 16-13 game to the heavily favored Texans. And then there was the big dog who actually pulled it out. The Oakland Raiders playing for nothing went into Mile High Denver who was playing for everything, and stunned the 13.5-point favorite Broncos, 20-19.
Who amongst the two-touchdown underdogs have value this week? Let's take a look:
Kansas City Chiefs +13.5 at Cincinnati Bengals
Sunday 1 p.m.
This is a perfect situation for the Chiefs and a tough spot for the Bengals. On the rare occasions when the Chiefs choose to actually play football, it always happens to be against teams with winning records. This is a team that has won at Washington and defeated the Steelers at home. It hung with Baltimore, the New York Giants, the Dallas Cowboys and Jacksonville. When they play bad competition, they bring their game down to that level. They have lost to the Browns, Bills and the Raiders. But when the spreads are high, the Chiefs keep things close. They are 9-2 ATS in their last 11 games as a double-digit underdog. On the road against a team with a winning home record they are 4-1 ATS.
The Bengals, on the other hand, suffer in this situation when the points are on their side. They are 0-4 ATS in their last four games as a home favorite and 0-5 ATS against a team with a losing record. When they have been favored by double digits, they are 1-4 ATS in their last five games in that situation.
Tampa Bay Buccaneers +14 at New Orleans Saints
Sunday 1 p.m.
Yes, the Buccaneers are 2-12. Yes, the Saints are 13-1 and spitting mad after losing their perfect season last week to Dallas. Yes, the Saints throttled the Buccaneers, 38-7, in their first meeting this season on Nov. 22 at Tampa Bay.
But there is even more working in the Buccaneers favor.
The Saints technically need a win here to lock up home field advantage but the only way they could lose it is with two losses and two wins from the dysfunctional Vikings who have to go on the road at Chicago this week and then host the Giants the last week. The Saints have 6-8 Carolina in the final week of the season.
So basically this is not a must win and the Saints will not have all guns a blazing late in the game if they do not absolutely need to.
As bad as Tampa has looked at times this season, one thing that gets overlooked is its pass defense, ranked No. 8 in the NFL. That pass defense had one of its best games in the first meeting against Brees, limiting him to 187 yards on 30 pass attempts. The game ended up being a blowout but the Buccaneers actually led 7-0 and were tied 7-7 in the first quarter. Three Josh Freeman interceptions were the difference in the game. Since then Freeman has improved drastically, now with seven NFL games under his belt he is 4-3 ATS and 2-5 SU, not bad for taking over a team who was 1-6 ATS and 0-7 SU.
And do not forget about their opponent. The Saints have looked like anything but a 13-1 team. They lost last week against Dallas at home, 24-17, and before that struggled mightily at Atlanta and at Washington, needing last second stops in both situations to squeak out three-point wins.