Cowboys Need Big Game Against Giants on Sunday
by Larry Fiske - 9/14/2009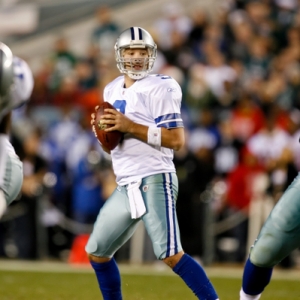 Here's the good news for the Dallas Cowboys - they dodged a bullet in Florida and won a game that they should have won, keeping pace, at least temporarily, with Philly and the Giants in the NFC East. They open their brand-new stadium Sunday night against the Giants (Dallas gives three points on the NFL line with an over/under of 44) in a game in which television ratings will be through the roof, or at least as high as the new scoreboard.
Better yet, the loss of Terrell Owens appears to matter not a whit. Tony Romo, operating with a subpar group of receivers, scorched the Bucs for 344 yards, three TDs and zero interceptions on Sunday. If this keeps up it will take residents' minds off Tea Parties, health care for illegals and any talk of seceding from the union.
Fast starts are nothing new for the Cowboys. Last season they reeled off three in a row (Cleveland, Philadelphia, Green Bay) and vaulted to the top of everyone's NFL power rankings. Even factoring in a head-scratching, crap-happens loss to St. Louis in mid-season, on Dec. 1, the Boys were 8-4 and a lock to make the playoffs.
What followed wasn't pretty, but it was pretty predictable. Jerry Jones suffered his own version of Groundhog Day as Dallas went into yearly December swoon, losing three of four - including the season-ending, 44-6, clunker to the Eagles - and missed the playoffs. Should anyone have been surprised? The last time Dallas actually had a winning record in the month of December was 1999.
Dallas covered the number only once in the last going, but the Cowboys were a bad cover team all season, going 7-9 ATS. They were OK against the 'over,' beating the number nine times.
It's not likely the Boys are too concerned right now about their post-Thanksgiving schedule (Giants, Chargers, Saints, Redskins and Eagles). A victory over the Giants Sunday night would go a long way toward taking control in the East, especially since no one really knows when/if Donovan McNabb returns.
Wade Philips has a few days to answer a few questions about his team:
--Will Romo's receivers have time to create separation the way they did against Tampa Bay, or will New York's dominant pass rushers collapse the pocket the way they did against Washington in the opener?
--Can Dallas' defense step it up after giving up 450 total yards (and 5.6 yards per carry) to a Bucs team that will be fortunate to win four games this season?
The Cowboy defense, perhaps concerned about letting Cadillac Williams go off, put
zero pressure on the TB pocket, and while Eli Manning is no Tom Brady, if you give him enough time he's capable of inflicting death by a thousand cuts.
New York, meanwhile, has to be salivating. If the Giants can get past Dallas, on the horizon are Tampa Bay, Kansas City and Oakland, and they could be double-digit favorites in all three games. Yes, we know about "any given Sunday," but we all know that a victory over the Cowboys means that the Giants will head into New Orleans on Oct. 18 at 5-0.
While's that a comforting thought for NY coach Tom Coughlin, Philips may be operating on a game-to-game contractual basis. Jerry Jones's face gets a bit tighter with each Cowboy loss. Plus, December is right around the corner, and that's not his favorite month.