Free NFL Prop Predictions - Week 9
by Jay Horne - 11/6/2009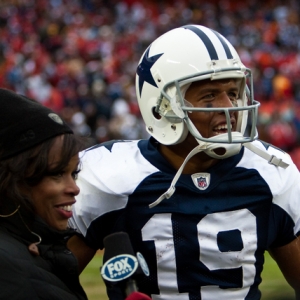 Brett Farve led the Vikings over his former Packers last week for the second time this year as the Vikings took a stranglehold on the NFC North. Farve had yet another great game, throwing for 244 yards and four touchdowns. One of the lines we chose to play on last week included the under 250 yards passing from Farve and with just six yards of cushion that play helped us get back above the .500 mark at 11-10 on the year in our props predictions. However, to stay above the equilibrium we face a tough NFL schedule of games this week. Possibly the most interesting will be the Cowboys return to Philadelphia where they were blown out to end the 2008 regular season, 44-6, preventing any chances at earning a postseason berth. The Cowboys and Eagles are in a deadlock at 5-2 in the NFC East and the winner will take the early advantage in the division. Not only do we have side action for this heavily-anticipated game, but also other betting lines that can be taken advantage of in Week 9 of the NFL regular season.

Get up to $1000 in sign-up bonus!
at Mybookie
CLICK HERE

These early betting lines can be found at Sportsbook.com

Prop Bet No. 1 Will Tony Romo throw a touchdown in the 1st half?

Yes -120
No -110

Unless the Dallas Cowboys are to get blown out yet again this week, they will need the offense to have a great game. The Eagles posted 40 on the Giants last week and most would expect the Cowboys to have to score at least 20 points or more to win. The Eagles have a strong defense that should be able to keep the Cowboys running backs maintained. However, Romo has been playing very well in recent weeks averaging 300 yards per game over the last three contests with eight total touchdowns in that stretch. WR Miles Austin has stepped up as the go-to man and is averaging more than 21.7 points per game. Dallas, in some scenarios, may come out trying to establish the running game in such a meaningful game. However, the play calling will be rather aggressive early as they will try to avoid the Eagles jumping out front again. Expect Romo to come out firing and the Cowboys should put one in the endzone early through the air and at least give the hope they can defeat the Eagles early on. Also, in both instances the Eagles faced a Top 10 passing offense they have given up a first half passing touchdowns. (Dallas ranks seventh)

Pick - Yes (-120)

Prop Bet No. 2 - Steelers vs. Broncos - First score of the game will be?

Touchdown -150
Any other +120

The Denver Broncos meeting with the defending Super Bowl Champions is another game that will highlight Week 9. Denver suffered their fist loss of the season last week and will be slight favorites to bounce back as they hold a 6-1 mark. The over/under for the contest is rather low at the 40 mark considering the high-caliber defenses that will take the field. Denver is holding opponents to just 13.7 points, which is second best in the NFL and the Steelers defense is known for dominating offenses. The Broncos defense should be eager to get back on the field after allowing a season-high 30 points last week and they should play well, especially early. The same can be said for the Steelers defense. Despite the Broncos offensive success with Orton this season, they are averaging just 20 points per game, which ranks 20th in the NFL. This should cause a scenario for the defenses to control the early part of the game. The line heavily favors a touchdown as the first score, but the defenses could easily keep the first score to a field goal. Consider the 'other' here with some extra juice for motivation.

Pick - Any other +120

Prop Bet No. 3 Who will have the most receiving yards? Cowboys vs. Eagles

Miles Austin - Even
DeSean Jackson - -130

The offenses will definitely be in the spotlight this Sunday for the Cowboys/Eagles meeting. Miles Austin is the emerging superstar in Dallas and DeSean Jackson is having a big season as well. However, for the most part Austin's big plays have come against rather weak defenses outside of Atlanta. Most of the Cowboys highlight reels have been from Austin slipping tackles and then making something big happen after the catch. However, the Eagles defenses will not miss those same tackles this week and allow Austin to run wild as he has quite often in recent weeks. Philadelphia is allowing just 194 yards per game through the air and that should be evened out between the Cowboys receiving group. Plus, Jackson has been much more consistent over the course of the season. The Cowboys secondary has become the weak link on defense, ranking 22nd in the league defending the pass. Jackson has lost some weight and, as a result, has gained a lot of speed. The Cowboys have been giving up big plays in the passing game and Jackson will add to the troubles again this Sunday.

Pick - Jackson