NFL Handicapping: Most Inconsistent Teams
by Trevor Whenham - 10/23/2009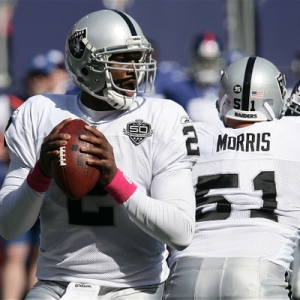 There is nothing more frustrating for bettors than a team that can't decide how good they are. It's easy to bet on a team like the Rams who are consistently terrible, or one like the Saints which keeps winning and covering spreads thanks to solid defense and explosive offense. The teams that really raise the blood pressure as they deplete the bankroll, though, are the ones that win one week, and look brilliant doing it, and then lose the next week while looking like a bad high school team. Inconsistency kills, so let's identify the most serious violators of our trust. In this hall of shame are, in no particular order, the five most frustratingly inconsistent teams in the NFL this season:

Seattle Seahawks - This team just makes my head hurt. They were coming off a poor season last year, but a healthy QB and a needed coaching change had people thinking that they were ready to reclaim their familiar position atop the NFC West this year. They came into the season with an easy test - at home against the Rams. They passed it with flying colors, winning 28-0 in a tour de force performance on both sides of the ball. Just when maybe you thought this was their year, they went out and lost three in a row with mostly underwhelming performances.
That stretch was marked by an injury to Matt Hasselbeck - pretty much a given over the last few seasons. Hasselbeck returned, the team was pumped, and they beat Jacksonville 41-0 in another impressive tour de force. Time to trust them, right - especially if Hasselbeck was playing and healthy? Not so fast. They followed up that big win with an equally convincing loss. Arizona beat them 27-3 at home, and you would have to work very hard to find a single positive thing to say about Seattle's performance in that game. You can pick any stat from the game to define how bad they were - like the fact that they ran 11 times for 14 yards, for example. Seattle has a bye week now to lick their wounds. If you honestly believe that you have a sense of how they are going to play after the rest then you are either lying, delusional, or you're a far better man than me.

Houston Texans - You could almost make the argument that the Texans are actually a consistent team. After all, they have followed up every loss this year with a win. Further, they have covered every time they have won, and failed to do so with each loss. This isn't the first year that it has been very hard to know what to expect from this team. You could even have pretended that you had them figured out over the first five weeks. In those games they had beaten bad teams - Oakland and Tennessee - and lost to three teams with at least a shot at the playoffs. But then they came out in Week 6 and beat Cincinnati - a team that was gaining all sorts of respect, and which was playing at home. Every game is an adventure with these guys.

Philadelphia Eagles - Going into last week the Eagles had won their last two games by a combined 67-28 score. They seemed to be firing on all cylinders offensively, and playing pretty solid defense. Donovan McNabb was healthy again, and was clearly confident based on how he had returned. It seemed like they were in a very good place. And then they went out and lost to the Raiders, and didn't manage to score a single touchdown in the process. That's a loss against a team that was defining terrible in recent weeks, and which has a thoroughly porous defense. This isn't the only example of Jekyll and Hyde play - they followed up a 28 point Week 1 win with a 26 point loss in Week 2. Andy Reid has never been the king of sustained momentum, and this year is no exception.

Oakland Raiders - Philly wasn't the only team in that game last week that deserves on this dubious list. We know that Oakland is a bad team with incomprehensibly bad quarterbacking, but it is very tough to assess just how bad they are going to be from week to week. In Week 1 they were very tough and almost pulled off a big upset of the Chargers. They followed that up with an ugly win at Kansas City. Maybe they were going to be markedly improved over last year. Or maybe not. They lost their next three games very badly, showed new levels of offensive incompetence in each game, and capped that streak with a laughable 44-7 loss at the Giants that saw them manage just 124 total yards. Just when you got ready to pick against them for every game of the JaMarcus Russell era came the Eagles win. Tom Cable is more of a ringmaster than a coach, and, like any good circus, you never know what you are going to see next.

New England Patriots - The Pats are especially dangerous because they are a very public team that can't seem to find their inconsistency. They are capable of the 59-0 shellacking of Tennessee that couldn't possibly have been more impressive, but they can also lose to the Jets and their rookie QB without managing to score a touchdown. They have covered three times, and failed to do so three times. They have gone over the total three times, and stayed under three times. They haven't yet shown that they are the powerful Pats of old, but they aren't a team you can count out, either. Until they go one way or the other they will continue to frustrate.