Monday Night Football Picks: Titans at Texans
by Matt Severance - 11/21/2009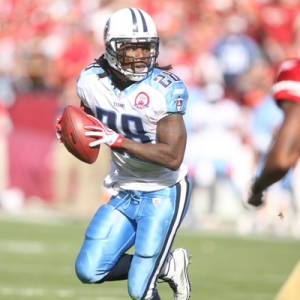 Vince Young for NFL Comeback Player of the Year?
Three games does not a season make, but the Titans have completely turned it around since Young replaced Kerry Collins as the starting QB. Tennessee has won three straight (by a combined 105-57) and covered in all three. However, they are a 4.5-point underdog on Bookmaker for Monday's game at Houston.
But has it been Young or a fortunate schedule that has keyed the team's surge? None of the three teams the Titans have beaten - Jacksonville, San Francisco, Buffalo - had a winning record at the time of the game; only the Jags are currently above .500. But what Young has done is manage the game (no rating below 90.4 in three starts), display accuracy (44-for 62 passing) and not turn the ball over (one pick). Of course, Houston is Young's hometown, but he hasn't played in a game there since 2006. He is 3-0 as a starter against the Texans.
The real reason for the Titans' turnaround is the guy whom Young hands off to: running back Chris Johnson. The NFL's leading rusher has 495 yards and six TDs in the three games Young has started, compared to 596 in the first six games with Collins under center. In the Titans' 34-31 home loss to Houston in Week 2, Johnson carried the ball 16 times for 197 yards and two touchdowns and had nine catches for 87 yards and a touchdown - all told, he had scoring plays of 57, 69 and 91 yards in the first meeting. Johnson hasn't gained less than 128 yards in a game since Week 5. Houston's defense has held the past six opponents to an average of 60.5 rushing yards, the fewest in the NFL in that span.
Tennessee's defense, which was the worst in the league the first few weeks, also has gotten steadily better. In the win streak, that unit has eight takeaways, seven on interceptions, with 10 sacks. A return to health of top cover corner Cortland Finnegan has been a big reason why.
Finnegan got torched by Texans WR Andre Johnson (10 catches, 149 yards, two TDs) in the first game this year, and in fact Johnson has killed the Titans in the past two meetings - both Houston wins, not coincidentally. Last December in Houston's 13-12 victory, Johnson had 11 catches for a franchise-record 201 yards and the game's lone touchdown.
Texans QB Matt Schaub loves playing AFC South rivals, as he has three consecutive 300-yard-plus games against them (all this year). He threw for 357 and four TDs back in Week 2. Schaub has surpassed 300 yards passing five times this season, but the Texans are just 2-3 in those games. It's not clear who Houston's featured back is any longer. It used to be Steve Slaton, who was held in check in Week 2, but he has gotten a case of the fumbles and was replaced as the starter by Ryan Moats the past two games. Coach Gary Kubiak now only says that Moats, Slaton, Chris Brown and Arian Foster will all see action.
Houston had its three-game winning streak snapped two weeks ago in Indianapolis, although kicker Kris Brown could have tied it at the gun but missed a 42-yard field goal. The Texans are just 1-3 in the past four seasons coming off a bye. One of those losses was 31-12 to Tennessee in Week 3 last year, the Titans' last win in the series.
Monday Night Football Picks: This line has been inching toward Houston since it opened at 3.5 at most books. And that's fine by me, as anything over 3.5 is gravy in my book. About 55 percent of the public lean is on the Titans, and I agree with the public. Houston may well win the game, but it will be a field goal difference either way. I rate that four stars out of five in terms of confidence. As for the total of 48 … the Titans have been averaging 35 points per game under Young, and the Texans can score with anyone. Take the over at three stars (out of five possible).