Monday Night Football Picks: Ravens at Packers
by Matt Severance - 12/4/2009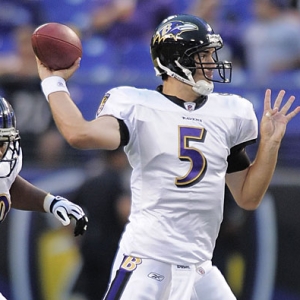 Well, last week's Monday Night Football game between the Pats and Saints, which was highly anticipated as a shootout, turned into a dud with New Orleans dominating. I missed on the Patriots but did hit on the under. That makes me 2-2 through two weeks of making these selections.
As for this week's game between the Ravens and Packers, who are three-point favorites on Bodog, Baltimore is back on MNF for the second time in three weeks - the Ravens beat Cleveland 16-0 on Nov. 16 to end a five-game losing streak in Monday night games. I'm not sure beating the Browns should qualify as ending any sort of negative streak, frankly.
The Baltimore offense hasn't looked very good since a 30-7 win over Denver in Week 8 -- the Ravens have alternated wins and losses since their Week 7 bye. In four games since the Broncos victory, the Ravens have totaled 58 points. In that stretch, QB Joe Flacco has just one TD and three picks, although his yardage totals have climbed the past three games, and he had a 100.8 rating in Sunday night's OT win against Pittsburgh.
The Ravens' top offensive weapon has become Ray Rice, who leads the team in rushing and receptions and is No. 2 in the NFL in yards from scrimmage. He seems to thrive in away games, averaging 5.8 yards per carry in those. Green Bay has allowed only 74.3 yards rushing on 3.4 yards per carry in the past eight games.
Baltimore's defense was typically good last month, allowing 11.6 points per game in five November games and not letting one opponent surpass 17 -- and that was against four potential playoff teams (Denver, Cincinnati, Indy, Pittsburgh).
While Drew Brees, Tom Brady, Peyton Manning and Brett Favre get all the publicity, Green Bay's Aaron Rodgers is quietly third in the NFL in QB rating, fourth in TD passes and second in interceptions thrown. Green Bay has won three in a row as Rodgers has thrown six TDs and no picks in those games (completing 70.1 percent of his passes). The Packers rank No. 6 in yards and points, but their schedule has been fairly soft as they have had five games against teams ranked in the bottom six in scoring defense.
Rodgers' blind side could be protected by a rookie this week. Rookie left tackle T.J. Lang seems likely to make his third NFL start because of starter Chad Clifton's pulled hamstring. Clifton was hurt in the rout of the Lions on Thanksgiving and has been very limited in practices so far. The Packer O-Line, much maligned earlier in the year, seems to be getting better. Rodgers has been sacked an average of 2.3 times in the past three games compared to 4.6 times per game in the first eight.
The Packers defense doesn't get much credit, either, but it is No. 1 in the league in yards allowed and No. 2 in the NFL in takeaways, led by Charles Woodson's seven picks. Of course, that unit no longer has Aaron Kampman or Al Harris, so that could start to be felt.
Monday Night Football Picks: The weather shouldn't be a giant factor in this one, as the tundra won't be frozen with temps expected to be in the low 30s but no snow likely on Sunday. Still, I love 'under' Bodog's total of 43.5 here. I don't expect Rodgers to continue to put up the numbers he has against what should be a very aggressive Ravens' defense, especially against a rookie left tackle if that's the case. And Green Bay's defense should be able to limit Baltimore to about 17 points. Take the 'under' on a four-star rating out of five. As for the side, I actually would lean toward taking the Ravens on the money line (+155) than the points here. I believe this game has every possibility of ending on a push, but if pressed on the points I would go with the Ravens at just two stars out of five. I would wait to see if this moves to 3.5.