NFL Betting: Saints Soaring And Scoring
by Trevor Whenham - 9/24/2009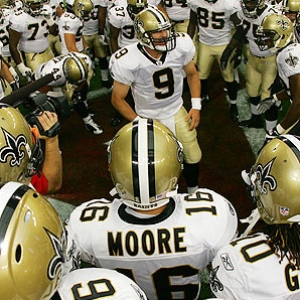 The most offensively impressive and dominant team in the NFL so far this year has clearly been the New Orleans Saints. We knew that they were going to be offensively strong, but they have so far been even better than expected, and they have been competent on defense as well. The bandwagon for this team is quickly getting crowded, and that means that the betting public is going to start throwing the full weight of their wallets behind them as long as they keep winning. The public loves nothing more than high scoring squads, so they won't be able to help themselves.

You don't have to dig very hard to find impressive statistics to show the strength of the New Orleans offense. The team has become the first since 2001 to open the season with 40 or more points in their first two games. No team has scored more than the 93 they have tallied in their first two games since 1968. It goes on and on.

Though this is obviously a premature and very likely inappropriate comparison, the team that comes to mind when you think of the offensive explosion by the Saints is the 2007 Patriots. That team scored pretty much at will. The public heavily backed the team that wound up going undefeated, and it took the books a long time to catch up. The team covered their first eight games and nine of their first ten, but then only covered one of their final six as opposing defenses slowed them down slightly and the books were able to inflate the lines. I'm not suggesting for a second that this team will go undefeated as well, but the public's attention and the book's struggles to set a line that is high enough could be similar. If, that is, the Saints can remain a legitimately explosive offense throughout the season.
So, can they? Here's a look:

Drew Brees - There is little doubt that Brees has the potential to lead an explosive aerial assault - he did it just last year. He came close to breaking Dan Marino's single season passing record last year, and he's off to a good start in the pursuit of breaking it this year. Brees has now played 50 games for the Saints, and he has thrown for 715 more yards than any other player in their first 50 (Kurt Warner comes in second in his time with the Rams). Brees is as healthy as a veteran QB can be, and he has the tools around him to succeed. As importantly for the betting public, Brees has a back story that can't help but draw attention - the undersized QB does good after getting rejected by his first team. People love good stories, and he is one. That means that Brees brings two things to the table - he's good enough to fuel a powerful offense, and he'll draw disproportionate amounts of betting money. That means that handicapping his games will be a particular challenge.

Brees is helped out by an impressive amount of offensive talent. He's found nine different receivers this year, and has obvious chemistry with several of them. He may not have one marquee receiver in his stable, but there are several who are more than just useful - Colston, Meachem, Henderson, and the newly reawakened Jeremy Shockey among them. Really, the lack of one offensive centerpiece is part of Brees' formula for success - it's hard to shut down an offense when another head grows whenever you chop one off.

Schedule - Sean Payton is in his fourth year with the Saints as head coach. The team hasn't won consecutive road games since the beginning of his first season. Teams that want to be legitimate contenders need to be better on the road than that. Starting this week when they play in Buffalo after playing in Philadelphia last week, the Saints have three different two-game road trips this season. This Buffalo game, then, will serve as a good indicator of where this team is at, and if they are going to be a stronger team than they have been in recent years.

Gregg Williams - Perhaps no one holds a more important role in the success of this team than the new defensive coordinator. We know that this team will be able to score, but too often in recent years they have allowed their opponents to score even more and that has made it hard to win. The team was 23rd in yards allowed and 26th in points allowed last year. Williams is a very capable defensive coordinator, and he should be hungry to show what he can do again after bouncing between bad situations the last couple of years. It won't be an instant transformation by any means, but Williams is already showing clear signs of progress. The defensive intensity is much better than it has been, and that has been especially evident on the run - they have the fifth best run defense in the league through two games, allowing less than 60 yards per game. They still need to improve significantly, but what we have seen so far gives us every reason to believe that they will. If the defense can starting pulling their weight then this team is going to win more games, and it is going to be easier for them to cover the big spreads they will likely face.