NFL Playoff Scenarios
by Trevor Whenham - 12/1/2009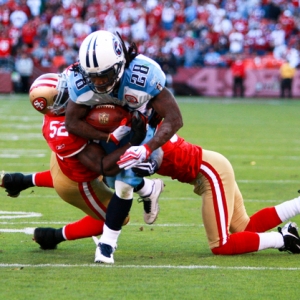 I have watched enough sports on TV that I rarely get upset by anything that the commentators say. Many commentators are idiots, and even those that are good have to fill hours of time, so inevitably they are going to say things that don't make much sense.
Once in a while, though, I hear something that just drives me crazy. A good example of that was during and leading to the AFC North showdown between Pittsburgh and Baltimore last weekend. If I heard it once, I heard it a thousand times - the loser of this game is in trouble when it comes to the playoffs. That is, of course, totally stupid. There are still five games left, so the possibilities for the playoffs are still wide open - especially this year when the wild card races in both leagues are so uncertain. Here's a look at the playoff races in both conferences and how they really shape up.

AFC

Division leaders

Indianapolis - They are already the winners of the AFC South. All they have left to play for is home field advantage throughout the playoffs, and with a three-game lead on that front it's all but a sure thing as well.

New England - They have a two-game lead in their division, a soft remaining schedule, and at least one win against each team in their division. They are safe, and have a shot at a bye. More likely, though, they will play at home on the wild card weekend.

Cincinnati - They have a two-game lead on Baltimore and Pittsburgh, and they have beaten each team twice. Their remaining schedule contains at least three wins. The Bengals would have to play like the Bengals of old to blow this one.

San Diego - The Chargers look as good as almost any team in the league after winning six in a row. They have a one-game lead over the Broncos and a slight advantage in tiebreakers, so they definitely control their own fate. There isn't room for any real missteps, though.

Wild Card

Denver - Denver has a one-game lead, and three very winnable games remaining - the Raiders and two against the Chiefs. That means they will have at least 10 wins, and that should be enough to get a wild card spot. The biggest concern that they have is that they lost to both Baltimore and Pittsburgh, so they have to have a better record than at least one of those teams or they will lose the tiebreaker.

Baltimore - The magic number to be sure they are in is probably 10 wins, though nine might be enough. They will beat the Lions and the Raiders. They will either need to win this week at Green Bay, or at home against the Bears. They play the Steelers on Dec. 27 in a game that could loom large. If the Ravens win that one I expect them to have 10 wins and get in.

Pittsburgh - The Steelers will be 8-5 after playing Cleveland and Oakland. That means that they need to win at least one of their two remaining and beat Baltimore to be very secure. Those two are against Green Bay and Miami, so Pittsburgh has the real opportunity to run the table if they can rediscover lost form. Losing to the Ravens certainly didn't end their playoff hopes.

Jacksonville - I've heard someone count out the Jaguars pretty much every week of the season, but they still have plenty of life. Games against Houston, Miami and Cleveland are certainly winnable. That leaves two very tough games - New England and Indianapolis. A win over either probably isn't that likely, but if they take care of business in the other games then a win over one of the two would probably be enough for the playoffs. Jacksonville's biggest problem is that they have beaten mostly lousy teams, so their strength of victory won't hold up.

Tennessee - There are four teams at 5-6, but the one getting the most talk is the Titans. They have three games left that they will win if they can play like the have recently - Miami, St. Louis and Seattle. That's eight wins, and we know that they will need at least nine. That means that they would need at least one miraculous upset over Indianapolis or San Diego. That's not likely, but neither was them winning five in a row up to this point. They lost to Pittsburgh in the opening week, so they have a tiebreaker issue there.

NFC

Division Leaders

New Orleans - It's over. They haven't technically clinched yet, but it's all but done. They have just a one-game lead over Minnesota in the race for home field advantage, though, so that race will be on for a while yet. Given their schedule, though, 16-0 isn't out of the question.

Minnesota - They have a three-game lead on the Packers, and they have beaten them twice. Meet your NFC North champs. They have a tougher remaining schedule than the Saints, but they will win at least 13 and are all but certain to host at least on playoff game and to have a bye.

Dallas - They have a one-game lead over the Eagles and they have beaten them once, so they control their destiny. With the Giants, Chargers, and Saints in the next three weeks, though, there is the potential for disaster. The game against Philly in the final week looms as a potentially monstrous one.

Arizona - The next two weeks are crucially important. They are currently two games ahead of the Niners, but San Francisco should beat Seattle this week, while Arizona is in tough against Minnesota. The next week the two teams meet. If Arizona wins at least one of those two games then they should be secure. They probably should be anyway - they have Detroit and St. Louis left to play.

Wild Card

Philadelphia - The Eagles have a tough month ahead of them - they play Atlanta, the Giants, Denver, San Francisco and Dallas. There are no gifts in there, and they would need to win three to be sure of a playoff spot - though two could be enough as well.

Green Bay - They have games against Chicago and Seattle that they should be able to win. Nine wins might be enough, but an additional win over Baltimore, Pittsburgh, or Arizona would really help. It won't be easy, but the Packers control their own destiny and have the capability to capitalize on that. The biggest thing the Packers and Eagles have going for them is that the teams behind them aren't particularly strong right now.

N.Y. Giants - They have lost five of six, they likely need to win at least four games to make the playoffs, Eli Manning's foot isn't right, and they have three games remaining against likely playoff teams. It's an uphill battle, and one I don't see them winning. Their biggest advantage is that they beat the Falcons so they have a tiebreaker there that could come in handy.

Atlanta - They will be in tough against the Saints, but they could potentially beat Philadelphia, the Jets, Tampa Bay and Buffalo. This is a good schedule to make a playoff run from where they sit. Or at least it would be if their star quarterback and star running back were healthy. If Ryan and Turner miss significant time then it could be really tough.

San Francisco - The Niners' best shot is to win their division, but they have at least a pulse in the wild card. At 5-6 now they would need to win at least four, and probably all five. Seattle, Detroit, and St. Louis should be wins for them. They have the Cardinals at home in the huge game I already talked about. That leaves a game at Philadelphia that could be massive for both teams. It's not likely, but it's possible. The biggest challenge they have is that they have lost to both the Packers and the Falcons, so they are in all sorts of trouble with tiebreakers.