NFL Power Rankings Week 5
by Robert Ferringo - 10/8/2009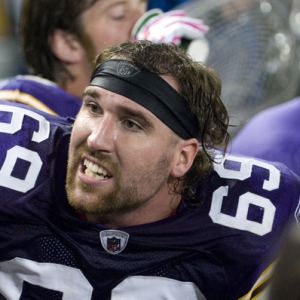 Here is a look at my Doc's Sports NFL Power Rankings for Week 5 of the NFL season:
1. Minnesota Vikings (4-0) - Apparently no one betting the NFL has ever heard of a letdown situation. Despite playing in one of the most hyped up October games of the league's history (and when you think about the disgusting amount of hype, hype and more hype) the Vikings are taking 91 percent of the action in their game in St. Louis. Curious.
2. New Orleans Saints (4-0) - Now do you believe me? Who was the one saying that the Saints defense is legit and is the most underrated unit in the NFL? That would be me. The reasons are simple: their front four was one of the best in football last year until it was reduced by injuries, Jonathan Vilma is a beast that completely settled that linebacking unit, Gregg Williams is a very good coordinator, Darren Sharper was a brilliant addition to settle that secondary, and they stopped trotting out Jason David. Now this team is rolling and I hate to say "I told you so" but when the bobbleheads say that they didn't see this 12-4 season coming I can say that I predicted it in August.
3. New York Giants (4-0) - I'm having a really hard time figuring out just how good they are compared to the other elite teams. They have basically beaten up a bunch of handicapped kids in Washington, Tampa Bay and Kansas City. Now they get Oakland. The Giants also played an easy schedule last year. They do take care of business and blowout bad teams. That's what good teams do: they don't let those teams hang around. And the G-Men don't. But I'm still unsettled here. Eli's injury is going to impact this offense. Look for a lot more rushes this week. Giants are 36-17-2 ATS in their last 55 games overall and 8-2-1 ATS as a favorite. But they are giving up five yards per rush.
4. Baltimore Ravens (3-1) - Ray Rice might be one of the top five or six running backs in football right now. That guy is a stud. The Ravens actually played brilliantly in Foxboro last week. But two turnovers cost them three points and gave the Pats three points. Mix in that just stunningly bad drop by Mark Clayton and that could be a nine-point difference. The Ravens lost by six. Baltimore is 18-6 ATS in their last 24 games and 11-3 ATS in their last 14 conference games. The favorite in their series with Cincinnati is 6-2 ATS.
5. Pittsburgh Steelers (2-2) - If you want to know why this team is 2-2 you don't have to look any further than a -5 turnover differential, which is third-worst in the league. And let's not crown Rashard Mendenhall as the Mini-Bus just yet. If you look around the NFL right now doesn't it seem like all of the biggest player busts are from the Big Ten? Is that just me? Well, like his Big Ten brethren, I would expect plenty more inconsistency out of Mendenhall. And he isn't going to face that soft San Diego defense every week.
6. Indianapolis Colts (4-0) - A healthy 87 percent of the action in the Colts-Titans game is on Manning and the Colts. That makes sense considering you have a 4-0 team against an 0-4 team. However, doesn't something strike you as odd about how low that spread is? Is it simply that the Titans are still getting too much respect after their terrible start? Are the Colts somehow underrated (no chance)? Or is that short line an indicator that something strange is afoot?
7. Philadelphia Eagles (2-1) - This team has definitely regrouped. Donovan McNabb and Brian Westbrook are both back in the fold and I'm sure that this defense has really refocused. Look for Jeremiah Trotter to start in the middle for the Eagles, but I'll be surprised if he plays more than half of the snaps. But none of those things are what have pumped up the spread this week. Andy Reid and the Eagles are an amazing 17-4 straight up and 15-6 ATS after a week of rest.
8. New England Patriots (3-1) - The Patriots don't make mistakes, they make plays. The same cannot be said for their opponents. The Ravens really should have beaten the Pats last week. That coupled with Buffalo's collapse means that the Pats very easily could be 1-3 right now. But they're not. So they are No. 8. What a league. New England is 36-16-1 ATS on the road and 17-6 ATS as a road favorite.
9. Chicago Bears (3-1) - Very quietly this team has worked its way into the Top 10. Now, they have beat up on weaker sisters Seattle and Detroit in the last couple weeks. And they have been outgained in all four outings this year. I'm still not 100 percent sold. But then again, I thought this was the third-best team in the NFC last year and they look improved this season on both sides of the ball.
10. Atlanta Falcons (2-1) - After last year's bye the Falcons went to Philadelphia and got rocked by 13 points as a nine-point underdog. They are also just 2-6 ATS in their last eight trips to San Francisco. However, Atlanta played really well on the road against tough teams last year. They won games at Green Bay, at San Diego and at Minnesota. The Falcons are 13-6 ATS "off surface" and they are 7-1 ATS after a loss.
11. New York Jets (3-1) - Their series with the Dolphins is by far the most one-sided series in the NFL. The Jets are 10-1 ATS in their last 11 trips to Miami and they are an absolutely astounding 20-5-2 ATS in the last 27 meetings over the last 13 years. Jets are second in the NFL in three-and-out drives (19). Braylon Edwards will play this week but I'll be surprised if he makes an impact.
12. Green Bay Packers (2-2) - It's pretty obvious where repairs need to be made on this team. Their offensive line is not only one of the worst in the league but it's on pace to be one of the worst of all-time. This group is on pace to surrender 80 sacks. However, part of it is scheme. Teams like Buffalo and Cincinnati have adjusted to their pathetic offensive lines. But the Packers are still trying to take a bunch of five- and seven-step drops.
13. Cincinnati Bengals (3-1) - I think that it's going to be pretty simple to gauge how to bet this team: they will always be a live dog but this group is going to be a terrible favorite because, well, they are still the Bungles deep down. This team actually has the best defense, in terms of points allowed, in the AFC North. Three of their next five games are against the Ravens and Steelers so we're going to find out everything we need to know about whether or not they are a contender.
14. San Francisco 49ers (3-1) - This club made it through their first cycle through NFC West play with a perfect 3-0 mark. They are now in the driver's seat in that division. However, I'm still not 100 percent sold. Their division is awful and they have played one of the weaker schedules in the NFL. Yes, they were one miracle play away from beating the No. 1 team on this list, on the road. But I'm still wondering if this team is going to wear down as the season slogs on. Shaun Hill is now 10-4 in his career as a starter. They have the most three-and-out drives in the NFL (20).
15. Denver Broncos (4-0) - Kyle Orton just wins. And I'd like to point out that I was firmly on record as saying that Denver got the clear better end of the Cutler deal, mainly because the entire football world was missing the boat on Orton. The guy is GOOD. He struggled early in the year because he was learning a completely different offense. But now that Brandon Marshall is back in action and in the flow and Orton is getting comfortable maybe the neck beard will start to get the credit it deserves. The Broncos are 5-2 ATS in their last seven meetings with New England, but that was under Mike Shanahan. They are only allowing 6.5 points per game on defense, but the Patriots represent by far the best offense they will have seen this year.
16. San Diego Chargers (2-2) - The bottom line with this team is that they just aren't very good. They have had too many of their best players either A) reduced to rubble by injury (LT, Merriman) or B) siphoned off through free agency. They just are not tough, they are not physical, and the loss of Jamal Williams has crippled that defense. That's it. They will still win some games. But this team is worse than last year's unit - and they only went 8-8, and that was with a 3-0 close to the year. So expectations on this group are way, way too high.
17. Dallas Cowboys (2-2) - For all of the blame being tossed at Tony Romo, the pass defense is the real culprit as to why this team is so mediocre. They have the fourth-worst passing defense in the NFL, allowing 256.3 yards per game. Offensively they are doing work, picking up 6.4 yards per play. So they are moving the ball. The issue is the lack of big plays in their own passing game and the big plays that they are allowing against them in the passing game.
18. Arizona Cardinals (1-2) - It's never too early for a must-win game. Arizona has had two weeks to prep and are facing one of the softest defenses in the NFL. They absolutely have to get this game and the Cards are 9-4 ATS as a favorite. However, Houston has been a very live dog and I doubt that Arizona can stop Andre Johnson. The Cardinals never addressed their biggest weakness from last year: one of the worst secondaries in the NFL. The front seven on this team is playing physical and playing strong. But the pass defense is third-worst in the NFL allowing 280.1 yards per game.
19. Jacksonville Jaguars (2-2) - This is really an interesting team and was one of the biggest movers in Doc's Sports Power Rankings this week. They have a critical road game against banged-up Seattle this week and then they get pathetic St. Louis at home. Further, they have a stretch of four home games in five overall games later in the year. So if the Jags can steal a win in the Northwest this week and take care of business at home they could be 4-2 and really become a factor in the AFC South race.
20. Tennessee Titans (0-4) - Is it time for a quarterback change in Tennessee? At this point, it can't hurt. The Titans were never in that game against Jacksonville and it was stunning to watch an 0-3 team with its season on the line completely roll over and get plowed. Tennessee is 5-1 ATS in their last six meetings and the home team is 4-1 ATS in the last five. And Albert Haynesworth has nothing to do with this. The team is No. 2 in the NFL in rush defense at 2.8 yards per carried allowed. The problem is that their secondary - with three 2008 Pro Bowlers - has been shockingly bad. And this week they could have to face Peyton Manning without either of their starting corners. Corland Finnegan definitely won't play. Not good.
21. Seattle Seahawks (1-3) - It's just tough to wager on this team when you don't know who is playing each week. Matt Hasselbeck practiced this week and I expect him to start this Sunday. But can the Seahawks stop anyone on defense? Their secondary has been a mess and their pass rush is nonexistent. They are stopping the run, but not much else. Over the last four years the Seahawks are 7-0-1 ATS at home against AFC opponents. Also, over the last eight years this group is 12-3-1 ATS at home against AFC teams.
22. Houston Texans (2-2) - There has been no in between with this team this season. The wins have looked really good and the losses have been shockingly bad. That goal-line debacle against Jacksonville is the only thing keeping this team from a 3-1 start though, with a lone loss to a pretty good Jets team. But for as good as this offense was supposed to be they are converting only 29 percent on third down. Also, the secondary has been decent. They are No. 9 in pass defense, but they are allowing a shocking 5.5 yards per rush. The Texans are 3-16 SU and ATS when they are .500 or better.
23. Miami Dolphins (1-3) - It had been a frustrating few weeks for this group and they are not nearly as bad as their record indicates. They completely outplayed Indianapolis in a loss and they were knotted at 3-3 on the road at San Diego late in the third quarter in another loss. Miami is just 14-36-1 ATS at home but I do think that the fact that they've already played on Monday Night Football this year is a benefit to them. Converting 54 percent of their third downs. No. 3 in rush defense in yards per carry.
24. Washington Redskins (2-2) - The Redskins are 2-9-1 ATS in their last 12 games. And in the last three weeks they have played St. Louis, Detroit, and Tampa Bay and they are 0-3 ATS in those games. That's amazing. Washington is now 7-15-1 ATS against a team with a losing record so obviously they play down to their competition. Or they, themselves, are just a bad team. You decide. The good news is that even though they can't score they are only giving up 15.5 points per game.
25. Buffalo Bills (1-3) - Buffalo is 25-8-1 ATS against teams with a losing record but they are just 1-6 ATS at home. This Cleveland-Buffalo series is sort of a mini-regional rivalry. And the fact of the matter is: how do you lay points with this Buffalo team? What have they done over the past 10 years that would make you think that the Bills are a strong play as a favorite? Especially with Tricky Dick Jauron "leading" this team. This franchise is 12-12 ATS dating back to 2004 in the role of favorite. And anyone that thinks that Marshawn Lynch is good enough to make an impact hasn't been paying attention. Fred Jackson has been running the ball fine.
26. Carolina Panthers (0-3) - Nearly 80 percent of all of the action on this game with Washington has come down on the Panthers. However, John Fox is just 5-4 ATS with a week of rest and people are underestimating how bad this defense is. Oh, and let's not forget Turnover Delhomme. Carolina is -8 in turnover differential through just three games. They are also allowing 5.4 yards per rush, which is third worst in the NFL. I don't see things getting better any time soon.
28. Tampa Bay Bucs (0-4) - I repeat: Raheem Morris is in WAY over his head. This isn't going well and it isn't going to get any better. Playing tight with the Redskins really doesn't impress me. The Rams covered at Washington and then came home to get rocked by Green Bay. Tampa Bay is just 1-5 ATS in its last six games.
28. Cleveland Browns (0-4) - The Braylon Edwards deal may benefit this club in the long term. But for a team that has scored two touchdowns on offense in nine games, dumping your best receiver is an interesting way to go. I'm not going to defend Awful Eric Mangini or his terrible team. However, I will say that their four opponents are a combined 14-2 so far this season. 3-10 ATS slide. Giving up 5.4 yards per rush.
29. Detroit Lions (1-3) - The Lions are now 9-19 ATS in their last 28 games overall. However, they are actually 13-3 ATS as an underdog of more than 10 points. Of course, they lost as a double-digit dog last week when I bet on them, but I'm not bitter. I am firmly on record as saying that Matt Stafford sucks. He might be good at some point, but going by how he is TODAY he sucks. I think this team will be much, much better off with Daunte Culpepper. But the QB is really incidental when your defense is giving up 33.5 points per game.
30. Oakland Raiders (1-3) - I don't know why I bother. How about this: Oakland is a dead 'under' team. They are 3-9-1 against the total in their last 13 games and they are 15-39-1 against the total when playing against a team with a winning record. Darren McFadden being ruled out for the next 2-4 weeks isn't going to help them score.
31. Kansas City Chiefs (0-4) - Going back through the preseason the Chiefs are a stunning 0-8 ATS so far under Todd Haley. I was firmly on the record as saying that the guy was a bad hire and he had done absolutely nothing to warrant being given a head coaching position. Thus far he's done nothing to prove me wrong. This offense is converting just 18 percent of its third downs. Also, two weeks ago Haley and Co. decided to try to pound the ball on the ground to not get blown out. Then last week, late, they were flinging it all over the field in an attempt to not get embarrassed. This team has absolutely zero sense of itself. Also, Mike Goff might be the biggest free agent bust of the year.
32. St. Louis Rams (0-4) - This team is averaging six points per game. They have been shut out twice. And Kyle Boller is their quarterback. Can it get worse?
Robert Ferringo is a professional handicapper and you can purchase a full season's package of his football selections for just $25 per week! Click here for details.