NFL Handicapping: Potential Turnaround Teams
by Trevor Whenham - 9/10/2009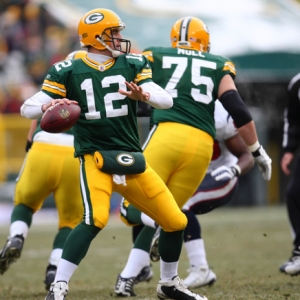 The one thing we can be certain is going to happen every year in the NFL is that one or more teams is going to totally turn their season around - going from the cellar one year to full respectability the next year. Last year was a particularly strong year for the turnaround with Miami, Baltimore, and Atlanta all climbing into the playoffs from the depths of despair. There were signs that all three were going to be better, bu the degree of success had to a surprise to almost everyone. Two of the teams were starting rookies at quarterback, and the third was going with a retread who had been bounced from the Jets after endless injury struggles and declining performance. Here's a look at four teams that could follow in the footsteps of those three teams this year:

Green Bay Packers - It will be a shock if the Packers don't pull off a big turnaround this year. They were just 6-10 last year, but there are all sorts of excuses for that - a new quarterback, injuries, and so on. This year all of those excuses are gone. Aaron Rodgers is a year older and more comfortable with the NFL. The team is as healthy as it has been in a long time, and it has upgraded on both sides of the ball. There is one major risk that will determine how this team will fare - a shift to a 3-4 defense. If they can make that transition well, and there is reason to believe that they can given their personnel, then this team is legitimately among the best in their division. It's dangerous to try to take anything from what happend in the preseason, but if this team can play half as well as they did in the games that don't count then this could be a season for them to remember - the Packers were by far the most complete, well-rounded team of the summer.

Seattle Seahawks - With the obvious exception of last year the Seahawks have long made the NFC West their personal playground. There are lots of reasons to think that they could do it again this year. Among the problems last year was the health, or lack of it, of QB Matt Hasselbeck. He's feeling much better now, and should be able to contribute at a level closer to what we have been used to. As significant as Hasselbeck's status last year was a lack of focus and inspiration coming form the coaching staff. Mike Holmgren was, by his own choosing, a lame duck coach, and the situation just didn't work. He didn't seem to be as dedicated to team as he needed to be, and players didn't seem to know who to listen to. Now a more permanent solution should help put things on the right track. The team drafted well, added some nice key pieces, and generally have taken steps forward.

San Francisco 49ers- NFL teams thrive on stability. The Niners lacked that last year thanks to their coaching drama, but this year they have a staff that seems competent and well-liked, and one that is likely to still be there in January. That will help. The one thing we know about the Niners is that they are going to play stifling defense. They did last year, and they have improved on that side of the ball since then. They've also improved in the running game. Frank Gore is a top-tier back, and this year he's healthy and has more support than he has ever had before. This team has stated that it intends to run well over half the time, and they have the horses to do that and be successful at it. They should also be better passing this year after Shaun Hill comes off a year of experience and a strong summer. I've been waiting for a few years now for a San Francisco turnaround, so I am braced to be disappointed here. Still, I like the looks of what they are offering, and I like their chances.

Detroit Lions - How can you not improve after going 0-16? Because they were so incredibly lousy last year it's probably not reasonable to expect them to pull off a miracle - they don't have the skill for that yet. For this team a massive turnaround would be winning five or six games. They could do that. Matt Stafford is just a rookie, but he's already as promising as anyone they have played since they drafted Joey Harrington. He'll be a boost of confidence to this team, and he's not alone - there are signs that the team has had its first good draft since starting the Matt Millen debacle. They have a nice running game, a solid front seven defensively, and they have rid themselves of Roy Williams - a player who is more trouble than he is worth in my eyes. Most significantly, they have new management, a new coach, and a new attitude around the team. Losing had become a habit in Detroit, and this group might just be able to break it.