Top 10 NFL Quarterbacks in 2014
by Trevor Whenham - 10/15/2009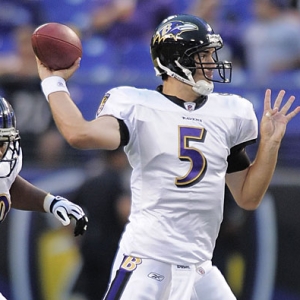 There are an amazing number of good young quarterbacks in the league right now. Joe Flacco and Matt Ryan made a name for themselves last year. Mark Sanchez is off to a fast start this year, and Chad Henne showed him up last week. There are still a few veteran QBs at the top of the heap in the league, but they are being chased by the new guys. Since we still have a couple of days left until the next set of NFL games, I thought that it would be fun to look ahead a bit. Way ahead. Here's one man's guess of what the list of the top 10 quarterbacks in the 2014 season - five years from now - might look like. I'll make a guess at the teams the players are on by then, but I'll just put them in alphabetical order. I'm going to leave Brett Favre off the list, but I wouldn't be surprised if, after seven more retirements, he's still going strong then:

Drew Brees, New Orleans - Brees will be 35 by then. That's getting up there for a mobile QB, but not so much for a gunslinger like Brees. Kurt Warner and Brett Favre are still going strong in their 40s, so there is no reason to count Brees out. As long as he is surrounded by guys who can protect him and others who can get downfield - way downfield - Brees will do wonders.

Jay Cutler, Chicago - The Bears have made a big investment in Cutler, and obviously intend for him to be there for a long time. As we have seen with other teams once they get a franchise QB, I expect the Bears to spend the next few years building a system and a base of talent to allow Cutler to thrive. The only way this one gets screwed up is if Cutler loses his mind and starts pouting again.

Joe Flacco, Baltimore - Flacco started out strong, and he's only getting better. The Ravens' results haven't always been perfect this year, but Flacco's confidence and presence are growing with every game. It's not hard to imagne this guy being among the elite in this league for the next decade. Just imagine what he could do if the Ravens added an elite receiver to the mix.

Chad Henne, Miami - Maybe I'm biased because I'm a Michigan fan, but I have been confident since about the fourth game of his freshman season that this guy had what it takes to be a good pro. He played incredibly impressively in just his second start - and on the big stage of the Monday Night Football game, to boot. For the first time since Marino the Dolphins may finally have found a QB to build around.

Kevin Kolb, Minnesota - Kolb showed that he can throw the ball around - too well for Donovan McNabb to let him stick around in Philadelphia. That means that the Eagles will have to trade him. Minnesota will need someone to replace Favre, they have probably alienated the other guys they have, and Kolb is one of the more promising prospects available - more attractive than a young draft pick.

Peyton Manning, Indianapolis - Manning will be 38 by then, so he will be in the tail end of a career. I just can't imagine Manning doing anything other than play QB for the Colts, though, so I think he'll still be plugging away. Like Brees, he's not a mobile guy, so he's more durable than most. There's one thing you can be sure of - Manning will only play as long he can be elite, so if he plays he'll be good.

Kyle Orton, Denver - It might be premature, but I certainly believe in the Orton experiment so far. He avoids mistakes as well as any player in the league right now, and he's starting to get comfortable with the system and the players around him. Orton will never contend for MVP or anything, but he and Josh McDaniels could have a happy partnership for years to come in Denver. Orton's only 26, so by 2014 he'll just be in his prime.

Aaron Rodgers, Green Bay - The Packers aren't used to changing QBs very often, so Rodgers is going to be given every opportunity to be the guy there for a long time. He has the skill to succeed, and after carrying a clipboard for so long he knows the system as well as a guy can.

Matt Ryan, Atlanta - Ryan is not a guy I am fond of, but there is no denying his skill, the swagger he has, or how quickly he got comfortable in Atlanta. I'm not convinced that he is the football god that some portray him as being, but he's the kind of guy who will maintain a good starting role for a long time.

Matt Schaub, Houston - This is maybe the biggest risk on this list. Schaub has talent, and an arm to envy, but we've been waiting for a long time for him to finally get things totally together. I put him on here because the guy can really fling it around, and because sooner or later the Texans are going to hire someone who can maximize the offensive talent the team has.

Notable guys left off this list:

Tom Brady - Brady will be 37 by then, so he could still physically be playing. Between his knee problem and the tabloid life that he leads I wouldn't at all be surprised to see Brady retire by then.

Ben Roethlisberger - I can't imagine Roethlisberger staying healthy enough to be a top player five years from now given the injuries he has had and the abuse he takes.

Matthew Stafford - I'm not convinced that he would be a top player if he was on a good team. He's not.

Philip Rivers - Rivers has loads of talent, but if he had a killer instinct to match it then he'd have accomplished more by now than he has - both personally and with his team.

Mark Sanchez - Sanchez started off with a bang, but I'm skeptical that he'll keep burning as bright. He'll be a solid pro, but I don't really see him as a top 10 guy for the long term.

Eli Manning - Manning isn't a top 10 QB now, so why would he be then?