NFL Handicapping: Vince Young Spearheading Titans Resurgence
by Trevor Whenham - 11/20/2009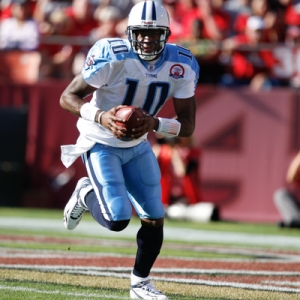 It's too early to declare that Vince Young's career has been kick-started, but he's at least on the right track this time around. He was given the reins of the winless Tennessee Titans after their bye week, and Young has done nothing but win. He's won thee games in a row, and people are definitely taking notice - the Super Bowl future odds have fallen in half to 200/1 because of their play. Young has played reasonably well, but it's not like he is redefining the position - he has just two TDs and an interception in three starts, and is averaging just 170 passing yards per game. Still, the team is playing with a swagger that they decidedly lacked in front of Kerry Collins - they seem to actually believe that they can win now. So, how is he doing it, and, more importantly, can he keep doing it? Here's a look:

Avoiding turnovers - There is no mystery to how to significantly improve quarterback play in the short term - decrease turnovers. On that front Young has been a very significant improvement over Collins. Collins threw eight interceptions in six games - 1.3 per game. Young has thrown just one interception in three games - an improvement of a full turnover per game. Collins also fumbled the ball and lost it twice. Young has fumbled, but none have led to turnovers. More than any other factor, protecting the ball has made the difference. Whether Young can maintain it over the long term is an entirely different issue. Young averaged two interceptions per game as a starter earlier in this career. So this current competence will have to last longer before it becomes a new trend.

Chemistry with Johnson - Chris Johnson is the best offensive player that the Titans have. He's an exceptionally talented running back, and he plays behind a very solid offensive line - they open running lanes as needed, and have only allowed six sacks all year. Johnson has been good all year, but he has had three of his four most productive games, including his best, since Young has taken over. He has also had the most productive receiving game of his career under Young. Young and Johnson have an obvious chemistry, and the better Johnson plays the better the Titans play. The Titans lost just three games last year - Johnson's rookie year. Johnson missed one of those games, and in the other two he had the two fewest carry totals he had all year. As long as Johnson and Young can remain in-sync they can keep wining.

YPA - My favorite single stat when it comes to getting a sense of how a quarterback is playing is yards-per-attempt. To post a good number by that metric you not only have to be passing with efficiency and for some reasonable distance, but your whole offense needs to be working well as a unit - the quarterback needs time to pass, and the running game needs to be functioning well enough to keep the defense guessing. As a general rule, a YPA of better than 7.0 is a sign of decent QB play, while below that isn't ideal. In his two full years as a starter, the YPA was a good sign of why he struggled at times - he averaged 6.2 in the first year, and 6.7 in year two. In his three starts this year he has averaged 8.2 yards per attempt. That number may be somewhat higher than is sustainable for Young, but the improvement from his past is a positive sign of improvement.

Schedule - So far we have painted a pretty positive picture. This is where we will dim that a little bit. Young has played very well so far, but he hasn't exactly done it against a powerhouse group of teams. Jacksonville is playing better recently, but they have struggled to find any consistency, and they have the 23rd-ranked defense in the league - 26th against the pass. The Niners have underachieved this year, struggle to put points on the board, and are 29th against the pass. Buffalo is terrible on both sides of the ball, were in such chaos that their coach was fired after their game at Tennessee, and have the 27th-ranked defense. Whether by coincidence or design Young was given the starting job at a time when his chances of success were fairly high. Now things get harder. Houston has a win over the Titans already this year, and are coming off a bye week. Arizona and Indianapolis are next, and both are all but certain to be playoff bound. San Diego also looms down the road. Young's confidence has never been his strongest characteristic, so it remains to be seen if he can maintain his play when the going gets tougher.