AFC Championship Game Preview: Jets at Colts
by Robert Ferringo - 1/20/2010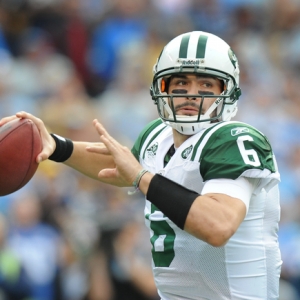 I have to admit, I was losing faith. After watching the opening weekend of the NFL playoffs and seeing scores like 51-45, 34-13 and 33-14 I was convinced that football, at least this year, was drifting away and being replaced by seven-on-seven drills.
Run the ball and play good defense. That's what I'm looking for. That's the tried-and-true method of winning in the NFL playoffs. And as I looked around I didn't see a whole lot of teams subscribing to that theory.
Except one.
The New York Jets have caught fire and have clawed their way onto the doorstep of the Super Bowl. By running the ball and playing great defense they have earned a date for 3 p.m. on Sunday at Indianapolis with Peyton Manning and the Colts. The Colts are set as a 7.5-point favorite and the total in this game is 39.0.
New York is fresh off a pair of road upsets, winning at Cincinnati in the Wild Card game and then stunning No. 2 see San Diego in California last week. In both games they simply played strong, sound, old-fashioned football and waited for a weaker, less disciplined opponent to leave the door open.
(And as I was watching the Jets scratch and claw and fight and hustle and punch their way through the Chargers last week I had a thought: put that New York team in blue and they remind me of some of the Giants teams that have managed to slug their way to some sick playoff runs recently. Whether it was 2008, 2001, or even the Hostetler crew of 1991, the Giants have always been great underdogs in the postseason. Apparently some of that has rubbed off on their little brothers.)
But here is the problem heading into this week's game against Indianapolis: the Colts are the sharpest team in the NFL in terms of executing their systems. They have been for 10 years. There is no secret to their success. The Colts simply play sound football, wait for their opponent to make a mistake, and then watch as Peyton Manning drops the hammer. That's how they've always done it and that's what they'll be looking to do on Sunday.
The Colts and Jets will be facing off for the second time in about a month. The pair lined up on Dec. 27 in what became a 29-15 Jets victory. Now, the first thing that people remember about that game is that the Colts pulled Peyton Manning and most of the other starters in the third quarter. Curtis Painter proceeded to pee down his own leg and the Jets ran away with it by outscoring Indy 26-6 in the second half.
But what people forget is that the Jets actually returned the opening kickoff in the second half to go up 10-9. That means that in about one half of football, starters vs. starters, the Jets were actually beating the Colts. Manning promptly marched down the field on a touchdown drive that put the Colts back up 15-10 before he exited stage right. But the reality is that the Jets actually were trading blows with Indianapolis and there's no saying how that game would have finished off if Manning and his mates had stayed in the game. Again, the Jets had the lead in the second half when both teams were playing their starters. That tells me that they can play with Indy on a good day.
Further, the Jets are exactly the type of team that Indianapolis has struggled with all season long. Indy has had some trouble with big, physical teams. They fluked their way to a win at Miami in Week 2 (27-23). They eked out an 18-14 win over San Francisco in Week 8. The Patriots gift-wrapped a game that was a blowout in Week 10. Indy did just enough to top Baltimore in Week 11. Mix in the loss to the Jets and a late cover against Denver, two other teams that rely on running the ball and playing great defense, and that's five wins by an average of just over four points per game against those "type" of teams.
Indianapolis is 15-2 straight up this year. But nearly half of those wins (seven) have been decided by four points or less. Statistically, that is an anomaly in the NFL. You could say that the Colts were lucky to win all of those games. But it's not luck. That's the Colts. They really aren't a great team. But Manning is one of the best of all time and the reality is that 99 times out of 100 the other team's quarterback is going to make more mistakes than he is. When that happens the Colts are disciplined enough to take advantage.
Once again, the AFC Championship Game is going to be determined by which team – and specifically, which quarterback – makes the most mistakes.
The easy handicap is to say that there is no way that the Jets, with their rookie quarterback and rookie coach, won't make some crippling mistake. But that hasn't been the case for the last two months and it wasn't the case in two road playoff games. The reason is simple: they don't put themselves in high-risk situations. They don't face a lot of third-and-longs. They don't fall behind by double-digits. They don't change up or stray from who they are as a football team.
The easy answer is also to say that Manning will dominate this game. And he very well may. Hell, I know I hate ever having money down against him. But let's look at this from a different angle: Manning hasn't exactly been money in the playoff throughout his career. This guy has had more than one clunker and his outfit has run into trouble in the past against teams that play physical and are able to get pressure on the quarterback.
While the pressure appears to be squarely on the quarterbacks the reverse is also true. The pressure is on both defenses to step up and make a play. For the Colts, their biggest playmakers are their stud defensive ends. If the Colts can get any sort of lead or put the Jets in a catch-up mode then they can unleash their ends to try to either short-circuit drives with sacks, force fumbles, or force bad throws for incompletions or interceptions.
The Jets, with their blitz-heavy defensive scheme, are going to try to force Manning's hand and try to make a play. That's a Russian roulette proposition. Because by bringing extra attackers the Jets will be relying on man-to-man coverage an awful lot in the secondary. That's a welcome site to Manning.
Mistakes, mistakes, mistakes; that's what's going to determine the AFC Title Game. And your money needs to be on the team that you think will make the fewest. The Jets will run the ball. The Jets will play good defense. But in the end they will win or lose based on their ability to make and avoid big plays.