2010 Minnesota Vikings Strength of Schedule, Futures Odds and Predictions
by Alan Matthews - 7/9/2010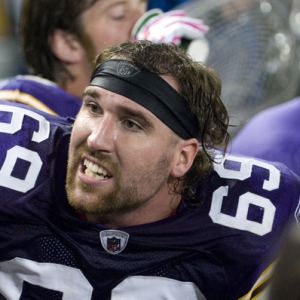 In a perfect world, I wouldn't write an analysis of the 2010 Minnesota Vikings schedule until late August, which is probably when Brett Favre makes his return "official" – with LeBron James finally deciding his NBA future, now it's Favre's "will he or won't he" that probably dominates the sports headlines for a while. But we all know he's playing this year because he already has had ankle surgery that he wouldn't have needed if he wasn't going to play football. And he's also out throwing to high schoolers in Mississippi.
The NFL's schedule-makers obviously believe that Favre will be back because they have put the Vikings on four-prime time telecasts, a number that's likely to grow with the late-season flex scheduling.
Of course, last season the Vikings won the NFC North at 12-4 and advanced to the NFC Championship Game, losing when the Saints picked off Favre in the waning moments of the fourth quarter of a tie game, won the coin toss in overtime and then drove right down for a winning field goal – leading to an overtime rule change for the postseason. Most people would agree that Minnesota outplayed New Orleans in the Saints' house.
Pretty much every key piece will return to Minnesota, as the team got great legal news in June when a Minnesota judge made a ruling in the StarCaps case that essentially assures that Pat and Kevin Williams won't have to serve their four-game suspensions this season. Those two are the biggest reason that the Vikings have been so good against the run in recent years, with the team ranking No. 2 in rush defense in 2009 at 87.1 yards per game.
Minnesota will have to replace Chester Taylor as Adrian Peterson's backup, but it looks like the Vikes are content with Stanford rookie Toby Gerhart handling that job. There is a bit of concern over a lingering hip injury to WR Sidney Rice, who had a breakthrough year with 83 receptions for 1,312 yards and eight touchdowns in 2009. Rice's agent says he doesn't anticipate that his client will need surgery and should be ready for the opener.
The Vikings have won two more games than the previous season each year since 2006. Will it happen again? Let's take a look.
Week 1: Thursday, Sep. 9, at New Orleans, 8:30 PM
Week 2: Sunday, Sep. 19, Miami, 1:00 PM
Week 3: Sunday, Sep. 26, Detroit, 1:00 PM
Week 4: BYE
Week 5: Monday, Oct. 11, at NY Jets, 8:30 PM
Week 6: Sunday, Oct. 17, Dallas, 4:15 PM
Week 7: Sunday, Oct. 24, at Green Bay, 8:20 PM
Week 8: Sunday, Oct. 31, at New England, 4:15 PM
Week 9: Sunday, Nov. 7, Arizona, 1:00 PM
Week 10: Sunday, Nov. 14, at Chicago, 1:00 PM
Week 11: Sunday, Nov. 21, Green Bay, 1:00 PM
Week 12: Sunday, Nov. 28, at Washington, 1:00 PM
Week 13: Sunday, Dec. 5, Buffalo, 1:00 PM
Week 14: Sunday, Dec. 12, NY Giants, 1:00 PM
Week 15: Monday, Dec. 20, Chicago, 8:30 PM
Week 16: Sunday, Dec. 26, at Philadelphia, 1:00 PM
Week 17: Sunday, Jan. 2, at Detroit, 1:00 PM
This schedule ranks 14th in the NFL in terms of opponents' 2009 winning percentage (129-107, .504). There are eight games against seven playoff teams from last year (two vs. Green Bay).
Think Favre will be fired up for that opener back in New Orleans after his mistake in the conference title game? I'd call that game a toss-up, but you have to like the Saints at home as they celebrate the Super Bowl title and raise a banner. New Orleans is a 4-point favorite on BetUS.
Certainly you have to expect Minnesota to be at worst 2-1 heading into a Week 4 bye that no team would want that early. And arguably the crucial stretch of the season starts right out of the bye with five consecutive games against 2009 playoff teams, including the New York Jets, Green Bay and New England on the road. That looks like 2-3 at best.
Then you have the Bears, who certainly could be a playoff team this year. And the Bears beat the Vikings 36-30 in OT in Chicago last season. Minnesota probably can expect a 2-1 stretch before returning home for a rare three-game homestand (although it's the second year in a row team has had one). The Vikes will be favored in each of those. Minnesota has also won its last nine regular season home games since 2008 and has a .719 winning percentage at home in the last 12 seasons.
The weather certainly could be a big factor in Philly before the Vikes get to return to the creature comforts in a dome with what should be a win against Detroit. BetUS has this team's win total set at 9.5. I think the Vikings get to 10-6 as long as they don't lose more than one home game. Minnesota is +650 to win the NFC and while I think it certainly has a shot to get back to the conference title game, I don't expect it. Oh, and if by some miracle Favre doesn't return, then disregard this entire story.