NFL Betting: Running Game and ATS Success
by Trevor Whenham - 7/24/2010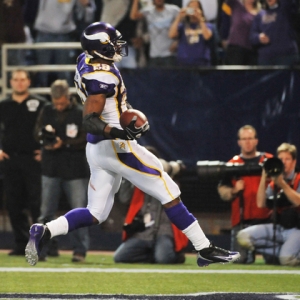 Big time running backs have always been major stars in the NFL, and with guys like Chris Johnson and Adrian Peterson around there certainly isn't a shortage of ridiculous talent in the league right now. As fun as it is to watch a running back have a huge game, though, if you're a sports bettor you unquestionably have to be more concerned about how a good running game translates to betting success for teams. Here's a look back at how top running teams last year performed against the spread:
1. The top team in rushing yards was the Jets. They were a profitable ATS team on the season at 9-7. Tennessee was second in rushing yards, but was an ugly 6-10 ATS. Overall, the top five teams in rushing yards were better than .500 but not profitable - they were a combined 40-39-1 ATS. Three of the five teams - Baltimore, Carolina, and the Jets - were profitable on the season.
2. It actually paid to not have a running game last year. The bottom five teams in total rushing yards combined for an ATS record of 40-36-4. That's only barely profitable, but it's better than the top teams.
3. The top two teams ATS in the league last year were Green Bay and Atlanta. They were in the middle of the pack in rushing yards - Green Bay was 14th, and Atlanta was one spot behind. The third best ATS team, Indianapolis, was the worst rushing team in the league.
4. It wasn't any better to have one big yardage runner. In fact, it was worse. The teams of the top five individual rushers in the league were a combined 36-43-1 ATS, and just two of the five teams were profitable on the season.
Last year it didn't pay off to bet on teams that could run the ball well. So, who is going to run the ball well this year? By looking at those likely strong teams this year we can decide if they are going to struggle against the spread like top runners did last year, or if last year was somehow different than what we can expect this year. Here's a look at four teams that are poised for big things this year:
Minnesota Vikings - Adrian Peterson wasn't quite as special last year as he has been in the past, and he had a terrible tendency to fumble. But he's still an obvious talent. I'm not at all convinced that he was healthy last year, so hopefully the offseason will have allowed him to rebound. He's a special talent with a good line to run behind, so he's poised to be dangerous. What I really like about the running game, though, is the addition of Toby Gerhart. The Stanford runner was just dynamite last year, and he's pretty much the perfect complement to Peterson. Opposing defenses won't be able to relax for a second when they are playing Minnesota.
Tennessee Titans - Chris Johnson was incredible last year, and the offense around him certainly hasn't gotten dramatically more dynamic in the offseason, so he's going to have the opportunity to make a whole lot of plays again this year. He also got his contract situation sorted out this year, so he'll come into the season happy. There are three things that make me a bit nervous about Tennessee's running, though. First, Johnson won't surprise anyone this year like he did at times last year - he'll be a marked man and defenses will be ready. Second, he carried the ball a ridiculous 358 times last year - far more than the other top backs in the league during the regular season - so his durability could be an issue. Finally, the depth chart at running back doesn't give me a lot of confidence if Johnson falters or if he needs a break. Javon Ringer is the best of what they have, but he's not destined to be a star in this league.
Carolina Panthers - Neither DeAngelo Williams nor Jonathan Stewart looked to be at their best last year, and Williams missed three games to injury, yet they still managed to produce at a high level that almost matched the previous year. They should be healthy this year, and they are as good of a two-headed monster as there is in the league. The big advantage they have when it comes to potential production is opportunity. There is a lot of uncertainty at quarterback with the team, and none of the options are particularly inspiring in the short term, so the running game is going to be heavily relied upon to try and create some kind of offense.
Baltimore Ravens - Ray Rice is the most dynamic back in the league. Others run better than him, but no one better combines running skill with the ability to operate like a top receiver. That makes him very dangerous. Add in Willis McGahee, a guy who is still able to pound relentlessly in short yardage, and you have a diverse running game that is very hard to prepare for.