NFL Power Rankings Week 12
by Robert Ferringo - 11/24/2010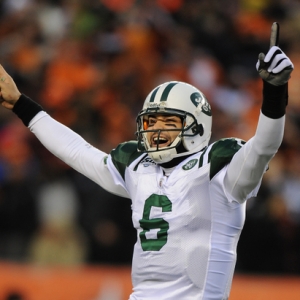 It's Thanksgiving week and things are on overdrive – on the gridiron, at the sportsbooks, at the mall and at the dinner table. But we are also rounding the corner in the NFL season and headed into Money Time, as the cream continues to rise to the top at the window and on the field.
Since I know that dinner with grandma, the kids, and that uncle you can't stand is rapidly approaching I'm going to keep this week's version of our NFL Power Rankings short and sweet.
Here are my Week 12 NFL Power Rankings:
1. New England Patriots (8-2) – Logan Mankins clearly had a positive impact on the Patriots running game last week, and he looks like he's going to e a huge late-season addition. Man, what a brilliant pickup Danny Woodhead has been. All that guy does is positive things and the Jets have to be killing themselves for not holding onto him. The Patriots are just 1-4-1 ATS as a favorite and they are just 2-5 ATS as a road favorite. However, they are also 11-5-1 ATS after failing to cover a spread.
2. New York Jets (8-2) – I am wondering if this team is using up too many of its nine lives during the regular season. They won't have any magic left this postseason. The Jets are just 4-10 ATS as a home favorites, but they did dominate the Bengals in back-to-back weeks to close last year and have the killer instinct to do it again. The Jets have gone 'over' the total in eight of their last 10 games and three straight. Their improved offense and their vulnerable defense are producing big rewards for totals players.
3. Atlanta Falcons (8-2) – That was another methodical victory for this slick team. Matt Ryan's nickname is 'Matty Ice' and the team has definitely adopted some of his personality; they stay real cool in the clutch. The Falcons are 10-4 ATS in their last four games and 8-3 ATS as a home favorite.
4. Pittsburgh Steelers (7-3) – This team continues to be decimated by injuries and it's looking like center Maurkice Pouncey won't play this Sunday. Despite that, the Steelers are the squarest play on the board this week. One tracking site has Pittsburgh catching 90 percent of the action in this game, which is never a good sign. They are just 3-10 ATS after a win by 14 or more points.
5. Baltimore Ravens (7-3) – I hate to keep banging the same drum here, but when people talk about the most devastating home field advantages in football no one every brings up Baltimore. The Ravens are 44-19-1 ATS as a home favorite and they are 14-3 SU on their own turf over the last three years.
6. New Orleans Saints (7-3) – This team definitely has the look of a champion once again. They have outgained seven straight opponents and have won four of five overall. You don't often see "revenge" angles in the NFL outside of divisional play. But the Saints have a legit revenge game this week in Dallas after it was the Cowboys that ended New Orleans' dream of a perfect season last December.
7. Green Bay Packers (7-3) – An excellent piece by Jason Wilde this week pointed out that the Packers have only committed four penalties during their recent four-game winning streak. The Packers are 7-3 ATS in their last 10 road games and they are an exceptional 18-7-1 ATS as an underdog. They (+8) and Atlanta (+10) are two of the best in the league in turnover differential and it is pretty clear that whoever wins that stat this Sunday will earn the cash.
8. Philadelphia Eagles (7-3) – This may not be the best team in football (and in my opinion, it isn't) but they are certainly the hottest. This team tore up Indianapolis' Cover-2 and they should do the same to Chicago's. The road team has won five of six in this series (Philly is 4-1 in Chicago). Much like New England and Indianapolis, who are both on the inside track to yet another postseason berth and shot at the Super Bowl, it's amazing to me the level of success the Eagles are experiencing in a rebuilding year.
9. Indianapolis Colts (6-4) – This is a really tough spot for the Colts. They need to bounce back from a Pats game that was more one-sided than the score suggests. But they have to do so playing against a 5-5 team that probably should be 8-2 or 9-1. The Colts are 11-5-1 ATS against the AFC and they are 5-2 ATS in their last seven home games. They are 6-3-1 ATS this year overall and they always seem to play their best right when people are starting to doubt them.
10. San Diego Chargers (5-5) – Vincent Jackson is back in the fold for San Diego and I do expect him to contribute immediately. However, he's not going to step in and dominate, by any means. San Diego has really dominated the Colts over the last half-decade. They have won four of the last five meetings, regardless of venue, and they are 7-3 ATS in the last 10 games against the Colts. The underdog in this series is 7-0 ATS and the road team is 5-2 ATS. But the Bolts need to avoid an NFL truism: win on Monday, lose on Sunday.
11. New York Giants (6-4) – No one wants to say it, but this year is shaping up an awful lot like last year for the G-Men. They beat up on a bunch of weaker sisters early in the year, have been rolled by any quality team they have played, and now are stuttering their way to another December collapse. Hakeem Nicks is out for three weeks now and I would assume we would see more of a focus on the running game this week out of this team.
12. Kansas City Chiefs (6-4) – These guys have really been missing Dexter McCluster, who missed his fourth straight game last week and is questionable for this week. Rumor has it that he will be in action. The Chiefs are just 1-4 away from home this year, and if they are going to step up and prove that they are legit they absolutely have to win this weekend against a horrid Seattle squad. The Chiefs are just 2-9-1 ATS as a favorite but are 5-1 ATS in the last six meetings with the Seahawks.
13. Chicago Bears (7-3) – This week's game is a horrible matchup for the Bears on a lot of fronts. The Bears Cover-2 usually allows teams to move the ball down the field and then Chicago puts on the clamps in the red zone. However, Mike Vick's playmaking ability should shred them in that area. Also, Philadelphia's exotic and aggressive blitzing should give Chicago's offensive line – which has been better lately – a lot of problems. The Bears have beaten just one team this year (Green Bay) that is currently over .500.
14. Washington Redskins (5-5) – This week's game is only the second time all season that the Redskins have been favored. This team still has a shot to get in the middle of the NFC East race. If they can knock around a sloppy Vikings team, then the Skins' next four games are against the Giants (stumbling), the Bucs (overrated) and the Cowboys (bumbling). Washington could lose all four or could win all four and I don't think I would be stunned either way.
15. Miami Dolphins (5-5) – Wait, so Tyler Thigpen isn't the answer? The Dolphins are 6-1 ATS in their last seven road games and are 4-1 ATS in their last five trips to Oakland. They are 4-1 this year on the road and I'd have to say that Thigpen can't be that much worse under center than whomever the Raiders start.
16. Tennessee Titans (5-5) – I think that anyone siding with Vince Young over Jeff Fisher right now knows very little about winning in the National Football League. Young's play hasn't nearly surpassed the headaches that he has been responsible for since joining the Titans. This team had become one of the easiest in the NFL to wager on: bet them hard when they are an underdog and fade them hard when they are a favorite. But lately they have simply been a bad bet no matter what the role, dumping three straight both SU and ATS. It looks like Rusty Smith is going to get the start for Tennessee and Chris Simms was just signed to e his backup.
17. Tampa Bay Buccaneers (7-3) – The Bucs are 7-0 ATS in their last seven road games and 5-0 ATS away from home this year. I truly think that, like me, people just still aren't taking this team seriously and that has turned them into a cash cow. Tampa Bay is giving up nearly five yards per rush, and I think that a powerful Baltimore rushing attack will toss them around.
18. Houston Texans (4-6) – Tennessee has dominated this series and Houston has lost eight of 10 to the Titans outright. The underdog is 10-3 ATS in this series and the Texans are just 2-6 ATS in the last eight meetings. Three of Houston's last four losses have come by less than a touchdown and they have only been outgained by about 200 yards during their four-game losing streak.
19. Oakland Raiders (5-5) – Jason Campbell will get one more crack at holding onto the Raiders starting job. But Oakland is just delaying the inevitable. What you see is what you get with this guy: he is going to do just enough to convince you that he's a solid, young, improving quarterback. But then he's going to turn around and do something absolutely ridiculous. He just isn't very good. Oakland is 4-1 at home this year and has done a great job of rebuilding an edge in front of their rabid followers.
20. Jacksonville Jaguars (6-4) – The Jaguars have gone 'over' in five straight and six of seven. That is all about their horrendous secondary. But despite that these guys are on a 5-2 ATS run and they have a three-game wining streak. However, this team is just 1-7 ATS against a team with a winning record and has been outgained in seven of their 10 games this season.
21. Cleveland Browns (3-7) – The Browns have gone 'over' in five straight games and six of seven overall. That is all about Colt McCoy and the play of one of the most underrated offensive lines in football. The Browns are 7-3 ATS after a loss and they are 5-0 ATS against a team with a losing record.
22. St. Louis Rams (4-6) – I know that they eventually lost by 17 points, but I still think that last Sunday was a somewhat positive experience for this young team. They are 6-2 ATS in their last eight games overall and four of their six losses this year have come by four points or less. I'm already circling this team as one to get behind in 2011 (if there is a season).
23. Minnesota Vikings (3-7) – I am telling you: if Minnesota had won in New Orleans last year in the NFC Championship Game – and they definitely outplayed the Saints – they would have won the Super Bowl. Now, just 10 months later, Brad Childress is unemployed just in time for Thanksgiving and Christmas. I am definitely expecting a bounce for this team now that Leslie Frazier is calling the shots.
24. Dallas Cowboys (3-7) – That is now seven straight games played 'over' the total for 'America's Team'. Nice defense. It is also hard to believe that it took a November game against the Lions for the Cowboys to get their first win in their new stadium. The underdog has completely dominated their series with the Saints, going 7-0 ATS in the last seven meetings dating back to 1994.
25. Seattle Seahawks (5-5) – The Seahawks are a .500 club this year despite being outscored by nearly 50 points overall on the season. They are 2-9 ATS against a team with a winning record but they actually have a chance this week because they are back home. But they have the No. 29 offense and No. 28 defense in the league and should probably be 2-8 right now.
26. San Francisco 49ers (3-7) – People just don't get it. And hey, even I was suckered in last week when I lost on the Niners. (It was more of a fade on Tampa Bay, but that's neither here nor there.) Somehow, this team is still being favored again this week. And I even bet there is someone out there trying to convince people that the Niners are still in the NFC West race.
27. Denver Broncos (3-7) – There is no doubt that Brian Dawkins' play has a direct correlation to the overall play of the Denver defense. And as we saw pretty clearly on Monday night, Dawkins is beat. It is hard to believe that more than a field goal favors a team that's 1-5 in its last six games this week. Denver is 5-20-1 ATS against a team with a losing record and they are just 5-21-1 ATS as a home favorite.
28. Cincinnati Bengals (2-8) – As the dominoes continue to fall, weeding out one horrendous coach after another in the NFL, you have to wonder how much longer Marvin Lewis can hold onto his job despite his severe and obvious incompetence. Carson Palmer is going to play on Thursday night despite missing practice and having his foot in a walking boot. He is fine.
29. Arizona Cardinals (3-7) – The underdog is 7-1 ATS in the last eight meetings with San Francisco and the road team is 8-1 ATS in the last nine matchups. I am killing myself right now for trying to get tricky with this team. All summer I was dead set to fade them but then, looking at their schedule, I convinced myself that they were a little undervalued. In gambling, as in life: always trust your first instinct.
30. Detroit Lions (2-8) – Time for Detroit's annual Thanksgiving ass kicking. They have lost eight of the last nine years on Thanksgiving Day, and the last two years they have fallen, 34-12 and 47-10, respectively.
31. Buffalo Bills (2-8) – I have to give the Bills tons of credit for their big comeback win over Cincinnati. That right there showed the difference between a team that is willing to fight and one that can't wait to roll over. It's odd to think, but if Buffalo had won those close, three-point games that they booted away last month they could be in the middle of a five-game winning streak. This team is improving.
32. Carolina Panthers (1-9) – If they hadn't beaten San Francisco they wouldn't have won a game this year. This team is a horror show. They play Atlanta twice and Pittsburgh once in the last month of the season. I wouldn't be surprised to see them catching 20 points in one of those games.
Robert Ferringo is a writer and a professional sports handicapper for Doc's Sports. He has banked profit for his clients after five of seven winning football weeks and is rolling out more predictions this week. You can sign up for his college football and NFL picks and get more information here.