NFL Power Rankings Week 5
by Robert Ferringo - 10/6/2010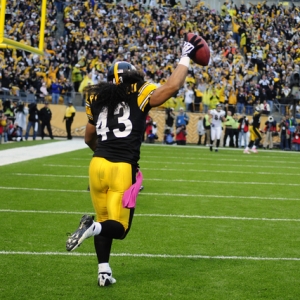 Three years ago a trade of Randy Moss altered the NFL landscape. We will soon find out if history, in many forms, will repeat itself.
New England sent the enigmatic wide receiver to Minnesota this week in a trade that has truly shocked the pro football world. There were rumors as early as Monday night that the Patriots could be shopping Moss, but I think very few people had Minnesota targeted as a landing spot. The Vikings sent just a third-round pick to the Patriots for one of the NFL's all-time great receivers.
Moss, obviously, started his Hall of Fame career in Minnesota and now has seen his career come full circle. But the big question is whether the now-34-but-going-on-12-year-old Moss will be able to approach his former glory.
Now, I don't want to suggest that Moss is somehow washed up. Not even close. But there are always going to be questions about his commitment, his focus and his motivation. And right now he is heading to a 1-2 team that is hanging on by its fingernails. He is going to have to quickly learn a new system and get on the same page with Brett Favre, who hasn't exactly looked, how shall I say, "interested" this year. And on top of it all Moss and the Vikings will renew their vows on Monday Night Football against a New York Jets team that is coming into focus as one of the best in the league.
And that is perhaps the savviest portion of the trade from the Patriots perspective. They dealt Moss and the headaches in the locker room that he was causing (over, what else, his contract) heading into a bye. That gives the Pats two weeks to rally as a team. But they also traded Moss to Minnesota in a week where he'll get to play against New England's competition for the AFC East title. The hope is that a hyped-up Moss can go off on the Jets and, inadvertently, give his former team a big boost while also jumpstarting his relationship with his new team.
My prediction is that Moss's actual impact on the Vikings won't be anywhere even close to the hype and the attention that this story will receive over the next few weeks. The bobblehead media is going to be in a frenzy this week. But in a lot of ways this deal reminds me of the Terrell Owens signing this offseason. Both deals involve questionable character guys with declining skills into offenses with overrated quarterbacks and into locker rooms with weak coaching structure. There will be an impact, but it won't be anywhere near the expectations. And if either Cincinnati or Minnesota falls out of the race early then both the Owens and Moss situations have the potential for catastrophe by Christmas.
Stay tuned.
Here is my Week 5 NFL Power Rankings:
1. Pittsburgh Steelers (3-1) – I'm going to keep the Steelers as the No. 1 team in the NFL right now despite losing, at home, to the No. 2 team last week. The main reason is that without their starting quarterback they were still just a couple minutes away from a big win. The have two weeks to regroup and power up for what will be a gauntlet of a schedule. Their offensive line played its best game of the year last week. They need to keep building.
2. Baltimore Ravens (3-1) – Baltimore's supposedly weak secondary has given up just 119 pass yards per game and has allowed only one passing touchdown on the season. If that is the team's weak spot then the rest of the AFC is in trouble. Especially when they get Ed Reed back. Baltimore is playing just its second home game of the season and I think that their rowdy home crowd will keep Baltimore from having any sort of letdown after last week. The Ravens are 6-1-1 ATS in their last eight games against Denver and beat them 30-7 here last November. The Ravens are 42-18-1 ATS as a home favorite and the home team is 4-1 ATS in this series.
3. New Orleans Saints (3-1) – Scoring is down 16 points per game and the Saints are managing nearly 60 less yards per game this year. They had a ton of drops last week against Carolina and this team looks disinterested for the most part. I think if they feel like they can "flip the switch" they are underestimating exactly what they did last year. New Orleans is now 3-9 ATS in its last 12 games and 2-9 ATS in its last nine conference games. New Orleans is 6-1 ATS in its last seven meetings with the Cardinals, including three straight wins in 2007, 2008 and the 2010 playoffs. Is this the week they break out? Nearly 80 percent of the public thinks so.
4. New York Jets (3-1) – The Jets are finding their flow and could be getting even better. They get Santonio Holmes back this week to help out the passing game and Calvin Pace and Derrelle Revis should be right behind. The Jets are No. 1 in the league in scoring differential at +11.5 points per game and right now they are playing as well as anyone. That said, lighting up the Bills and Dolphins defenses – two of the league's weakest – doesn't impress me. Facing the Vikings this Monday night now that Minnesota has Randy Moss adds yet another interesting layer, and I wonder how that will play into Revis' decision to play or not because of his sore hamstring.
5. Green Bay Packers (3-1) – For all of the bluster about how unstoppable the Green Bay offense is they are currently just No. 19 in total offense. Yes, they are No. five in scoring at 26.5 points per game, but they have played three defenses (Chicago, Detroit and Buffalo) ranked in the bottom half of the league in yards allowed. Until Green Bay can find a consistent running game I wonder how seriously we can take them as a top contender. This team has been brilliant on the road (21-9 ATS in their L30 road games) and they are 9-3-1 ATS in their last 13 overall.
6. Atlanta Falcons (3-1) – It wasn't easy, but that was a more impressive win than it seemed last week against San Francisco. That was a killer letdown spot for the Falcons and San Francisco came to town playing with the desperation of a team trying to save its season. The Falcons have one of the most underrated home field advantages in the league. The Falcons are 12-4 ATS after failing to cover the spread and they are 17-8 ATS in their last 25 games off surface.
7. New England Patriots (3-1) – If you are stunned by New England's trade of Randy Moss you haven't been paying attention to how the Pats operate. What a lot of people don't realize is that this season is another step in New England rebuilding. I know it doesn't seem it because most "rebuilding" franchises don't win 10-plus games per year. But look at the roster, both in age, experience and makeup, in 2007 and look at it now. This team is rebuilding. So while they are a good team I don't consider them a realistic threat for the Super Bowl this year and I expect them to struggle against all of the top-end teams on their schedule. New England has a stellar 0.546 points per play average this year. To put that in perspective, New Orleans was 0.504 last year.
8. Indianapolis Colts (2-2) – Jim Caldwell's horrible decision to call a timeout at the end of the Jacksonville game (and there is no dispute about this, it was an awful call) wasn't the first questionable game management maneuver that he has broken out. And the more I see Caldwell the more I simply see a lackey with little personality and no identity in this franchise. Indianapolis is 7-2 ATS in its last nine meetings with Kansas City and is 6-1-1 ATS against a team with a winning record. They are now down their best two safeties. And if their pass defense starts to slide down to the same level as their run defense this group is going to be in even bigger trouble than it already is.
9. Dallas Cowboys (1-2) – No news is usually good news when we're talking about the Cowboys. And the fact that this team had a quiet bye week – with the exception of that odd Dez Bryant story, which I could go on about for hours – is a good sign that they have regrouped. This team needs to find a way to generate some turnovers and big plays because they are simply working too hard on both sides of the ball. They are No. 29 in offensive yards per point at 21.8, which is even worse than last year when they were No. 25 with 17.7 ypp. The Cowboys are 5-0 SU after a regular season bye week in the last five years.
10. Houston Texans (3-1) – Last week's win definitely showed some maturity out of this team. They posted a road blowout without their best offensive player in what could have been a flat spot. However, until that secondary gets fixed this team is going to be vulnerable to an upset every time it steps on the field. They are allowing a 107.8 opponent's quarterback rating, which is No. 31 in the league. The trendy Texans are 4-1-1 ATS in their last six games, but just 2-7-2 ATS following a win.
11. Cincinnati Bengals (2-2) – Three sacks. The Bengals have managed three sacks in 140 opponents' attempts this year. That is horrendous. Just as bad is that they are managing just 4.5 quarterback hits per game, which is one of the fewest in the league. Their linebacking corps and line are definitely set up better to stop the run, but they need to find some answers, fast. My question is what happened to Michael Johnson? He moved to outside linebacker this year and looked like a beast in the preseason. (Then again, that's the preseason.) Their pass defense has to be aggressive down the field this week against a suspect Tampa Bay secondary.
12. San Diego Chargers (2-2) – The Chargers defense may be one of the most underrated groups in the NFL. They lead the league in opponents passer rating (56.4) and they are No. 4 overall against the pass. And that is impressive considering that two of their games (Jacksonville and Arizona) were blowouts in which the opposition did nothing but throw in the second half. San Diego is No. 1 in total offense and total defense right now. But before you get too hyped up on this group, remember that their opponents went a combined 26-38 last year.
13. Washington Redskins (2-2) – After going 0-6 against divisional opponents last year this team is off to a nice 2-0 start against NFC East foes. They absolutely should be 3-1 right now, if not 4-0. However, Mike Shanahan has done a terrible job of clock management in the fourth quarter of the Houston and Philadelphia games. I have no idea why Shanahan is so averse to running the football, especially when they are gaining 5.5 yards per rush over the last two weeks. Clinton Portis is out this week, but Ryan Torain should be able to handle the load this week.
14. New York Giants (2-2) – The pendulum swings back for the Giants this week after last week's "blowout". The Bears looked like a Pop Warner team and the G-Men still let them hang around way too long. Now the Giants have two blowout wins and two blowout losses, resulting in a -4.0 scoring differential. That is No. 24 in the league. Also, the Giants defense, even after last week's performance, is No. 31 in the NFL at 11.68 yards per point. That is worse than teams like Buffalo, Arizona and Detroit.
15. Minnesota Vikings (1-2) – I suppose there is nothing wrong with getting Randy Moss. Especially when your passing game has been as out of sync as Minnesota's through the first three weeks. But in my opinion it's a Band-Aid on bigger problems that this team has. And the reality is that he doesn't know the offense, he has no rapport with Brett Favre, and that there is no way to know where his head is at. And playing your first game against the Jets defense isn't exactly the best way to get acclimated in your new offense.
16. Tennessee Titans (2-2) – Maybe I was wrong about the Titans. They have a blowout win against awful Oakland, a win over the Giants in which they were outgained by 200 yards, and then two home losses. The Titans are 18-8 ATS in their last 26 games as an underdog and they are probably the most popular upset pick this week. Chris Johnson and Tennessee can't be happy to see another 3-4 defense this week. The Titans have rushed for 366 yards in two games against teams that play a base 4-3 (Oakland, Giants) but just 167 yards against two 3-4 defenses (Pitt, Denver).
17. Philadelphia Eagles (2-2) – I have had the same injury that Donovan McNabb has right now and I will be surprised if he is back before Week 9. That means that it's Kevin Kolb's show. But behind that shoddy offensive line it's imperative that Kolb stay upright or this team is in big, big trouble. The Eagles are 4-0 SU and ATS in their last four meetings against the Niners, including 14-point wins in both 2008 and 2009. The Eagles are just 2-2, and if you look at their schedule they have already been through the "easy" portion. I think things are going to get worse before they get better for this club.
18. Chicago Bears (3-1) – Anyone that was surprised by Chicago's meltdown in the Meadowlands on Sunday obviously doesn't read this Power Rankings. I told you, the Bears could very easily be 0-4 right now and they aren't nearly as strong as they appear. Sunday was a vintage Mike Martz performance, as I blame him for Jay Cutler getting sacked nine times in the first half just as much as I blame Chicago's horrendous offensive line. Martz has no idea about tailoring his system to his players' strength. Chicago is just 3-for-11 in the red zone this year and that will need to improve. The Bears are 3-9 ATS on the road, 1-6 ATS after a loss, and 1-8 ATS as a road favorite of a field goal or less.
19. Kansas City Chiefs (3-0) – Sometimes a bye week can be the wrong thing. And that's what I think the story is in KC's case. They had a ton of momentum and now face an angry Indy team. It is going to be interesting to see how the Chiefs approach their game with the Colts on offense. On one hand they could try to control the clock and the ball by just pounding the ball with Thomas Jones. Or they could put the ball in the hands of Dexter McCluster and Jamal Charles and look for big plays (and a higher scoring affair) against a Colts defense that has a hard time stopping explosive runners. One thing I know is that the more I watch Matt Cassel the less I believe in him. He has a noodle arm and just leaves too many floaters out there.
20. Denver Broncos (2-2) – Peter King is just now catching on to what I have said since Denver dealt Jay Cutler for Kyle Orton: not only did the Bears get raped in that trade, but Orton might be better than Cutler straight up. I am still having a hard time getting a good read on this club. I said last week that the more tape I saw the more I was starting to like them. And I do like them: against middle- and lower-tier teams. But is Denver good enough to compete with the big boys like Baltimore? Dating back to 2003 the Broncos are just 4-8 ATS in the second of back-to-back road games.
21. Miami Dolphins (2-2) – If you've been reading these NFL Power Rankings the last few weeks you'll know that I have expressed serious concerns about Miami's defense, especially their young secondary. Well, after getting lit up for 72 points in two weeks I guess the word is out. And now for even more good news: they come out of the bye with a game at Green Bay against one of the more potent passing games in the league. It doesn't get any easier from there. Miami's four games out of the bye: at Green Bay, Pittsburgh at home, at Cincinnati and at Baltimore. And that right there is why I found all of the talk about Miami as an AFC East sleeper this year was way off base.
22. Tampa Bay Buccaneers (2-1) – I'm very interested to see the Bucs out of their bye week. Josh Freeman has won four of six starts and he has been surprisingly effective on the road in his young career. In his last three road games he has a passer rating of 87.2. The Bucs are really an anomaly at 2-1. They are 20th in defense and 26th in offense, and ranked in the lower third of the league in both rushing offense and defense. Look for more LeGarrette Blount in the running game this week. But if you ask me, the issue hasn't been Cadillac Williams. Tampa's run blocking just isn't very good and their line is substandard in general.
23. San Francisco 49ers (0-4) – People can say that even at 0-4 San Francisco is better than its record, but the numbers all say something much different. Even with two tight two-point losses in back-to-back weeks to two of the best teams in the NFC the Niners are still No. 30 in the NFL at -12.8 scoring differential. They are No. 28 in defensive yards per point and No. 32 in offensive yards per point and they are a mess in the locker room. If you're waiting for these guys to make a run: keep waiting.
24. Oakland Raiders (1-3) – Would you believe me if I told you the Raiders have the No. 9 offense in the NFL? It's true. They are moving the ball but they are averaging 3.5 field goal attempts per game and are just 6-for-16 in red zone scoring (touchdowns). Of course, none of that matters because their defense is atrocious. This team doesn't even threaten to stop the run and the main reason is that their linebackers and safeties are awful, just awful. I want to like Mike Huff, but it seems like at least once a week he misses an easy play that leads to a long touchdown. The Raiders red zone defense has allowed teams to score touchdowns in nine of 11 red zone trips (81.2). Linebackers Quentin Groves and Thomas Howard are banged up, John Henderson and Robert Gallery won't be back this week, and Darren McFadden's groin will limit him this week. Just another vintage season from the Raiders.
25. Arizona Cardinals (2-2) – Wait, the Derek Anderson Experiment didn't work out? I can't believe it! Good luck, Max Hall. Because right now Arizona's offensive line can't block anyone. Even late in the game when San Diego was rushing only three and dropping eight the Chargers still managed pressures and sacks. Blowout losses are nothing new to this team, though, and I actually think that the division title still pretty clearly runs through The Desert. Who in this division do you see going into Arizona and getting a win? There is a heavy reverse line movement on Arizona's game this week, as 80 percent of the public is on New Orleans but the line has dropped from 7.0 to 6.5. The Cards are 10-3 ATS as an underdog and 8-3 ATS against a team over .500.
26. St. Louis Rams (2-2) – The more I see this team the more I like it. The last two weeks they have been much more physical than Washington and Seattle and have dominated the line of scrimmage. They are No. 2 in the league in red zone defense and No. 1 in yards per point at 26.69. Also, Sam Bradford is legit. That guy is going to be big time. He's already one of the more accurate throwers in the league. And even when he misses throws he misses them where only his receiver has a play on them. That may seem like a small deal but it's not. Most young quarterbacks are careless with the ball in the middle of the field and turnover machines. So far, not Bradford. These guys are playing tough and I do think they could be a player out West.
27. Seattle Seahawks (2-2) – I can't take any team seriously that not only can't win on the road, but aren't even close to winning on the road. Why on earth Pete Carroll decided to go with a fake punt, on the road, in a key divisional game, in the first half of a one-score contest, is beyond me. You can get away with that amateur hour stuff at USC when you're playing Utah State. But not in the NFL. I also don't understand any clamoring for Charlie Whitehurst over Matt Hasselbeck. I still think that Hasselbeck is close to a Top 10 quarterback. And without him they'd be staring at four blowouts to start the year. Their line is right there with Chicago's and Buffalo's as far as the worst in the NFL. Until they get that fixed it won't matter how many Marshawn Lynch's they pick up.
28. Jacksonville Jaguars (2-2) – Don't be fooled by Jacksonville's 2-2 record and last week's win over Indianapolis. They always play the Colts tough. But this team is still pretty horrid. They are 4-12 ATS in their last 16 games and they are just 3-13 ATS as a favorite. They have played Buffalo six times in the last seven years and these clubs have met in four straight seasons. The Jags are just 2-6 ATS in the last eight meetings and the underdog has covered seven of 10. Also, the home team has won three of four. For as bad as the Jags offense has been they are 5-for-7 in touchdowns in the red zone, good for No. 4 in the NFL.
29. Cleveland Browns (1-3) – It makes next to no sense but the Browns are actually 9-2 ATS in their last 11 games, which is one of the best marks in the league. And, surprisingly, the Browns have had a fourth quarter lead in all four of their games this season. Their line in the Atlanta game has been one of the biggest movers of the week, dropping from Cleveland +6.0 to +3.0 despite nearly 80 percent of the public pounding the Falcons. It's going to be a warm one in the Dawg Pound this week, as the Sunday high is a balmy 85 degrees. We'll see if that works against the bigger, more plodding home team.
30. Carolina Panthers (0-4) – It's just painful to watch this offense, which is
averaging just over 11 points per game. They are just 2-for-8 in the red zone, dead last in the league – by a lot – at 0.197 points per play, and No. 30 in yards per point (22.46). And the news gets better: they will likely be without Steve Smith this weekend against Chicago. I actually think they can put some points up on the Bears. Chicago lets teams move the ball between the 20s. What Carolina needs to do is really get some push with the running game in the red zone and I think DeAngelo Williams can do some damage.
31. Detroit Lions (0-4) – Before you dismiss this team as the "same old Lions" you need to consider a few things. First, they are playing with their backup quarterback. Besides Pittsburgh, what other teams would hold up without their starter? Next, they lost to Chicago (3-1), Green Bay (3-1) and Philadelphia (2-2) by a combined 10 points. And they were tied with Minnesota at the half in their one "blowout" loss (24-10). The Lions are 3-1 ATS overall this year. Somehow they are favored this week despite being 0-4. But Detroit is 5-13 ATS at home and a horrendous 16-36-1 ATS as a favorite.
32. Buffalo Bills (0-4) – What a complete and utter disaster. Right now the Bills are dead last in scoring differential at -16 points per game. And if you want some more insight into the "direction" of the franchise just look at how they handled the whole Marshawn Lynch deal. First, they definitely aren't trading him. Then they have some interest. Then they have no interest and are going to hang on to him. Then he ends up in Seattle for a fifth round pick (Lynch is a 24-year-old former first rounder). That about tells you everything you need to know. Buffalo is just 3-12 ATS in its last 15 games.
Robert Ferringo is a writer and a professional sports handicapper for Doc's Sports. So far this year he has banked $5,000 in profit for his clients after back-to-back weeks of over $2,000 in profit. He has brought in nearly $10,000 in overall profit in all sports over the last two-plus months. He has a College Football Game of the Year on the card this week and he's looking for more today. You can sign up for his college football and NFL picks and get more information here.