2010-11 NFL Predictions for Every Team
by Trevor Whenham - 9/2/2010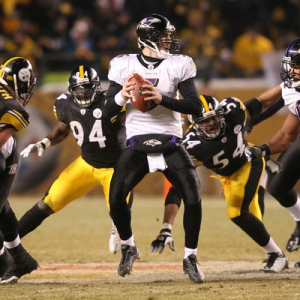 The NFL season is about to get underway. Finally. That means that now is a good time to make NFL predictions - the kind that I will surely come to regret as they become ridiculously inaccurate in short order. Fearlessly, I'm about to set out to make a prediction about every team in the league:
NFC East
Dallas Cowboys - Tony Romo is going to take his game to a new level. He seems to be approaching the game with a new focus and intensity, and I'm buying into it.
New York Giants - Eli Manning is in for a rough year. I have never been anything close to a fan of his, and this year more than others people will see what I am talking about.
Philadelphia Eagles - Donovan who? It won't take long for Kevin Kolb to make people forget that there was anyone before him. The kid can pass.
Washington Redskins - Speaking of Donovan McNabb, I am a long way from optimistic about him and his team this year. Mike Shanahan will get this team in order, but it will take a while, and I am not convinced that McNabb will be the guy who gets him there.
NFC North
Chicago Bears - I like Mike Martz a lot, but I don't think that this offense is going to be close to impressive. The preseason has been terrible, and it seems more and more likely that Jay Cutler is a total dud.
Detroit Lions - It won't be great, but it will be pretty good. This team won't scare a lot of good teams, but they are going to look far more competent than they were, and they will win a solid handful of games.
Green Bay Packers - The offense will be very good, but the defensive line is going to haunt them. I have concerns about depth up front, and that's going to put a lot of pressure on Aaron Rodgers to pick up the slack.
Minnesota Vikings - Brett Favre will miss games this year. More than one. And he'll be a disappointment when he is playing.
NFC South
Atlanta Falcons - Last year Michael Turner looked lazy and disinterested - a serious disappointment before he got injured. This year he seems like he's finally got it figured out, and I expect big things - the big things he was supposed to deliver last year.
Carolina Panthers - Matt Moore will be a pleasant surprise. He won't be the best QB in the league, but he's going to be a pretty solid one.
New Orleans Saints - There will be some rough roads ahead for this team. I love the story, and I love watching the passing game, but I really believe that they are destined to miss the playoffs this year. There's just too much to overcome from last year.
Tampa Bay Bucs - Tampa Bay is going to be - well - just not very good. They are on the right path with their rebuilding, and they will be respectable in a few years, but not now.
NFC West
Arizona Cardinals - Derek Anderson is going to be the answer. He won't necessarily be the best answer possible, but his arm and his aggressiveness will be a better choice ultimately than Matt Leinart's tentative play and lousy attitude.
San Francisco 49ers - Alex Smith is going to be just fine. In fact, I think he'll be better than fine. He gets a lot of grief, but he's a talented guy, and this is the year that he'll come into his own. He's got a lot of tools around him, and the team is going to be good. Really good.
Seattle Seahawks - This is going to get ugly. The Pete Carroll myth took a hit with the USC myth, and it's going to take more of a hit after this team looks common at best and lousy at times.
St. Louis Rams - Sam Bradford is going to be better than expected. He'll still struggle and lose a lot of games, and he's going to get beat up behind that offensive line, but he's going to look better than a lot of guys in his position have in recent years.
AFC East
Buffalo Bills - There is too much hype around C.J. Spiller. I have read some very bold predictions about what he will do this year. I don't buy it. He's going to get battered and beaten up, and he won't stand up to the demands that this brutal offense will be forced to place on him.
Miami Dolphins - The Dolphins will win the AFC East. They have a QB ready for a big year, upgraded talent, a solid defense, and good coaching and management.
New England Patriots - This team is going to struggle to be a playoff team. They may or may not make it, but there are just too many issues to consider them an elite team right now.
New York Jets - Here's my boldest prediction - the Jets are not a playoff team. I keep hearing that they are a Super Bowl favorite, but I just don't buy it. I don't think that Mark Sanchez is nearly as good as he is portrayed as, and there are too many egos and not enough talent in its prime.
AFC North
Baltimore Ravens - The defense - normally the source of strength for this team - is going to let them down this year. They can still make the playoffs, but they won't win it all, or even threaten, because age and injuries will be too much to overcome.
Cincinnati Bengals - Terrell Owens will be back. I loved the signing, I have loved how he has played so far, and I think he is smart enough to know that this is his last chance to show what he can do. He'll lead the team in receiving.
Cleveland Browns - Jake Delhomme will be surprisingly competent. The change of scenery will be good for him, and he'll have a year far better than the nightmare of last year. A second prediction - Eric Mangini will continue to be a total moron.
Pittsburgh Steelers - The Big Ben suspension will hurt badly. I expect them to lose three of their first four games and to be in a big hole by the time the QB returns. It's not just because of the replacements, but because of the turmoil around the team as a result. This is a fragile squad.
AFC South
Houston Texans - This is the year they will make the playoffs. Of course, I have said that the last four years, so take this one with a grain of salt.
Indianapolis Colts - They will not be as good as they are perceived to be, and the defense will be the biggest culprit. I keep hearing that they are better than ever, but this defense just doesn't make me believe that.
Jacksonville Jaguars - They will be much improved from last year. Last season they were my biggest disappointment in the league by far. This year they have no real expectations on them, so I expect them to quietly surprise a few teams.
Tennessee Titans - This is the year that we will finally see that Vince Young is not a true NFL quarterback. He'll get another chance to prove himself this year, and I just don't think he will.
AFC West
Denver Broncos - Kyle Orton will establish himself as a Top 12 QB in the NFL. I believe in the guy, and I think he has the coaching and support around him to take another step forward.
Kansas City Chiefs - The miracle turnaround will not happen. They have made some bold steps, but I don't buy into the Weis hype, and I think it's going to take more than they have done to turn this squad into a team that wins six or more games.
Oakland Raiders - Darrius Heyward-Bey will no longer be the worst receiver in the NFL. I don't think that he'll suddenly turn into a superstar, and the decision to pick him over Michael Crabtree will look terrible when Crabtree explodes this year, but Heyward-Bey will have a competent and sometimes even impressive year. He's not a total flop.
San Diego Chargers - The Chargers will, for a change. have a winning record in the middle of October. A very good record, in fact. Their slow starts have been ridiculous, but I don't expect them to have one this year for two reasons. First, Norv Turner and the team has to know that taking the first month of the season off isn't ultimately helping them. Second and more significantly, their first six games couldn't be much easier. This team could easily be 6-0.
Allen Eastman is back with his 99 System for NFL picks in 2010 and before he even came across this system he was considered one of the best NFL handicappers in the business – now he is just unstoppable. Last season the 99 System was 27-13 ATS and this system not only helped his clients make a boatload of money, but also helped Eastman to third place in the prestigious Las Vegas Hilton NFL Contest.