NFL Predictions: NFC East Odds and Preview with Football Betting Picks
by Robert Ferringo - 8/4/2010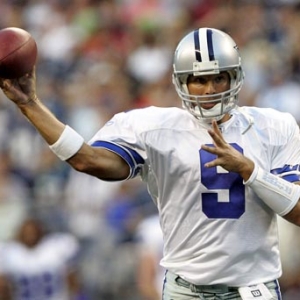 In the last five years there have only been three occasions where a team from the NFC East has finished below .500. That's just three losing records out of a possible 20 for the clubs in this division. That is a testament to just how tough, talented and focused the teams from the NFC East have been over the last half-decade in what is the most competitive division in the sport.
I don't expect it to be any different in 2010. The NFC East hasn't had a repeat division winner in more than five years, the ultimate (symbol) of parity. So while a lot of bobbleheads and prognosticators are penciling in the Dallas Cowboys as the runaway winners of their second straight division crown I would have to say that those same folks are selling short three other talented, physical, hungry teams that are ready to knock the crown off Tony Romo and Jerry Jones's heads.
Here is my NFL predictions and 2010 NFC East preview with odds and betting picks:
Dallas Cowboys Predictions
2009 Record: 11-5 (6-2 home, 5-3 road)
2009 Against the Spread: 9-7 ATS, 6-10 vs. Total
2009 Rankings: 2nd offense (6th pass, 7th rush); 9th defense (20th pass, 4th rush)
2010 Odds: 8/1 to win Super Bowl, 4/1 to win NFC, 1/1 to win NFC East, 10.0 wins O/U
Offense: Last year the Cowboys made a pretty obvious shift in philosophy on this side of the ball. The Cowboys rededicated themselves to the run, posting their most attempts since 2006 and nearly 80 more rushing attempts than they had in 2008. And, as expected, that had a positive impact on the passing game. The Cowboys were No. 4 in the league in yards per attempt, No. 7 in pass plays of more than 20 yards, and No. 2 in completions of more than 40 yards. They were also No. 6 in time of possession, which in turn was a big help for their Top 10 defense. I don't see why they would change that up. All of the talk has been about rookie Dez Bryant – who is already injured and who, I hate to tell you, was always banged up or injured at Oklahoma State – but he's not the player I'm watching this camp. Doug Free takes over at left tackle for Flozell Adams this year and I want to see how Free holds up against elite defenses. Adams was a mess last year, obviously about three steps too slow to continue to play in this offense. Dallas also brought in former top pick Alex Barron and is hoping that they can reinvigorate his career the same way they have with former first round busts Marc Columbo and Leonard Davis. Dallas' mammoth offensive line is the key to everything they do. As long as they are healthy and pushing people around then the skill players will have plenty of opportunities to make plays.
Defense: The Boys have boasted a Top 10 defense for each of the last three years and they brought back 10 of 11 starters. Their front seven is bursting with speed and power and this team holds up exceptionally well against the run. The pass defense still has a lot of work to do but they made some big strides last year. Mike Jenkins had a very solid season in 2009 and his continued improvement is key. If this team has a weakness it is at safety. They brought in Gerald Sensabaugh from Jacksonville and he's really a key to improvement in the back line. He's paired with unproven Alan Ball, who started just four games last year. Jay Ratliff is just a dominator at the nose and they have several impact linebackers. However, while Keith Brooking had a nice season for the Cowboys last year I think he can be exploited at times. And I don't like their linebacker depth at all. Just one or two injuries could send that unit scrambling.
Skinny: They're the most solid team in the East at the moment. They have a ton of cohesion and chemistry since the core of this team has been together for the last three or four years. They just maul smaller, less physical teams and they have plenty of big game experience. However, expectations are sky high – even by Cowboy standards – this season. And as long as Wade Phillips is the coach this team is never going to make it to the next level. They just won't, because he's a loser. Dallas needs to avoid the mental letdowns that they've had the past few seasons and can't give any games away. However, if you look back they didn't take a single "bad" loss last year. They'll need to do that again this year if they want a bye and a home playoff game.
Washington Redskins Predictions
2009 Record: 4-12 (3-5 home, 1-7 road)
2009 Against the Spread: 7-9 ATS; 9-7 vs. Total
2009 Rankings: 22nd offense (16th pass, 27th rush); 10th defense (9th pass, 16th rush)
2010 Odds: 28/1 to win Super Bowl, 14/1 to win NFC, 5/1 to win NFC East, 8.0 wins O/U
Offense: Donovan McNabb has been one of the three or four best quarterbacks in the NFL over the last decade. I'm going to go out on a limb and say he's going to have a big impact on the Redskins this year. Washington's receiving corps has been one of the weakest in the league over the last several years, but McNabb has done more with a lot less than what he has to work with now. But the main thing is that the Redskins have engineered a major overhaul of the offensive line. That line has been a sieve since the end of 2008 and they have significantly upgraded. The big pickup is two-time Pro Bowl tackle Jammal Brown, who the Skins got in a trade with the Saints. That's a big move and he'll be starting on the right side. Brown will also be insurance if first round pick Trent Williams is slow to adjust. New guard Artis Hicks is another just solid veteran presence to add to the mix as the line will open with three new starters and a new scheme. Mike Shanahan was always a magician with offensive lines in Denver, and if that group plays to its potential then it won't matter which past-their-prime runner is toting the rock. I think Larry Johnson still has something left in the tank. You have to remember that he's been working behind the worst lines in the league in Kansas City over the past few years.
Defense: I hate the fact that the Redskins have switched to a 3-4. I hate it. They have had a Top 10 defense in three of the last four years and all of their personnel was geared up for a 4-3 set. So I'm skeptical of the switch. The Redskins made one of what I think is the most underrated moves of the offseason by bringing in mammoth tackle Ma'ake Kemoeatu from Carolina (he was cut). Pair him with Albert Haynesworth (who will eventually make it back) and that's the core of a devastating front line. If Brian Orakpo continues to build on last year's 11-sack rookie campaign he could become a star. The other three backers are just solid, physical professional veterans. Their front seven is really top quality, but I wonder about the depth behind it. I really like the secondary. They are a little young at safety, but I like the upside that Landry and Horton have. And they have three veteran corners that have had good careers and can be relied on.
Skinny: This is a quarterback and a coach league. And the Redskins just picked up two of the best in the business. There's just no way that it won't make a major difference for this team. Washington has had talent the past several years. But whether it was the Jim Zorn debacle or dealing with Jason Campbell's growing pains or unlucky runs of injuries and attrition at key spots, Washington has squandered that talent. This is one of the oldest rosters in the NFL, which should shorten the learning curve as the team tries to pick up new systems on both sides of the ball. These are proven systems and Shanahan has had a ton of success. I think that Washington could be a "surprise" team and they are a group I'll be riding from the start.
New York Giants Predictions
2009 Record: 8-8 (4-4 home, 4-4 road)
2009 Against the Spread: 6-9-1 ATS, 11-4-1 vs. Total
2009 Rankings: 8th offense (11th pass, 17th rush); 14th overall (15th pass, 14th rush)
2010 Odds: 15/1 to win Super Bowl, 8/1 to win NFC, 3/1 to win NFC East, 8.5 wins O/U
Offense: Last year it was almost like the Giants became so fixated on proving that the passing game could survive without Plaxico Burress that they put too much emphasis on that part of the offense and not enough on the bread-and-butter: the running game. The Giants weren't nearly the power running team that they were in 2007 and 2008 and Brandon Jacobs was a major disappointment as a feature back. He looks like he is starting to wear down. The offensive line is still one of the best in football, but last year the unit never really seemed to be on the same page. Eli Manning is who Eli Manning is. He is a very good NFL quarterback but he's never going to be a top tier, "franchise" guy. He'll make the throws, put up numbers, and win games. But his accuracy can go on him at times, and it always seems to disappear at the worst times. He's good. But that's it. Good. Obviously he has found some weapons in the passing game as well, as Steve Smith went bonkers last year and Hakeem Nicks is a guy that I'm expecting a breakout season from. Overall, this is a solid unit. But they have to get better in the red zone, as they were just No. 22 in the league at 48.2 percent. And they need to run the ball to help support the defense. The focus needs to be back on playing "Giants Football."
Defense: I know everyone was surprised by their sack regression, from a league high of 53 in 2007 to 42 in 2008 to a weak 32 (ranked No. 18) last year. Part of that was a new defensive coordinator (who was shown the door). But while all the drama was directed at the defensive line the real issue was the secondary. New York's secondary was beyond pathetic last year. I mean, they couldn't cover anybody. A big part of that had to do with injuries, as Kenny Phillips, Aaron Ross and Corey Webster each missed significant time. They need those guys to produce. The "big" free agent pickup was Antrel Rolle to play safety, but I think that he's trash and a bust. A sleeper is vet Deon Grant, who will start as a backup but could play a key role. The Giants made a tremendous late signing by bringing in Keith Bulluck to play middle linebacker. That was a position in dire need of some talent and experience. But at 33 he needs to stay healthy. Their linebackers are still a weakness though and are another key to the defense. As far as that defensive front, they are deep and talented. But the key isn't how guys like Mathias Kiwanuka, Justin Tuck or grumpy Osi Umenyiora play. The key is how their defensive tackles hold up to the run after an up-and-down 2009. They were getting absolutely rolled in December and gave up about 1,000 points in their last five games. This group was mediocre across the board (14th overall, 15th against the pass, 14th against the run) last year. They need to play like a cohesive unit and they absolutely must stay healthy.
Skinny: The last few years I've had a really hard time getting a grip the Giants. At times they look like one of the best five or six teams in the league. Then other times they are jaw-droppingly bad. But regardless, this team can be pretty easy to handicap. They always set up and play well as an underdog or when they are banging heads with another of the top teams in the league, and they can be prone to letdowns or lackluster efforts against middle or lower-tier teams. This year's team is actually younger than it seems. But the core guys are wearing Super Bowl rings and this proud group should be right there in the mix.
Philadelphia Eagles Predictions
2009 Record: 11-5 (6-2 home, 5-3 road)
2009 Against the Spread: 9-7 ATS, 10-6 vs. Total
2009 Rankings: 11th offense (10th pass, 22nd rush); 12th defense (17th pass, 9th rush)
2010 Odds: 30/1 to win SB, 14/1 to win NFC, 3.5/1 to win NFC East, 8.0 wins O/U
Offense: Kevin Kolb has better receiving weapons to work with than McNabb had for the overwhelming majority of his tenure as Eagles quarterback. DeSean Jackson is about to enter elite status and Jeremy Maclin is almost equally explosive. LeSean McCoy is a back that I'm really a fan of, and he's clearly cut from the Brian Westbrook mold. All of that is going to help take the pressure off of Kolb, who is entering his fourth season. He has studied and learned and now is ready to take the reigns, the way it should be. He's not going to have the same moxie or experience as McNabb, and he'll make some "rookie" mistakes. But if Andy Reid has confidence in him I don't know why I shouldn't. The line still needs some work. They have many very large mammals along the o-line, but the group didn't play all that well together. Jason Peters was a bum, and veteran center Jammal Jackson is out with a knee injury. Philly always manages to cobble something together. But with a first-year guy at the helm that lack of stability could be a problem. Also, both Jackson and Maclin are small receivers that have already gotten banged up this training camp. Can they hold up for a full season? That, along with the line's development, will be critical to even giving Kolb a shot. Also, the Eagles were just No. 23 in third-down percentage, a result of throwing too much and not running the ball enough, forcing a lot of third-and-longs. I don't know if Reid will change his attack strategy. But it would seem like they would want to run more to try to take some pressure off Kolb.
Defense: I'm not a big fan of loading up with the small, fast defenders, but the Eagles always make it work. They do get pushed around by the Cowboys and other bigger, more physical offensive lines. But against "average" or "speed" offenses the Eagles always handle their business. Philly is annually one of the best teams in the league in red zone defense as well. Last year the defense had to overcome the tragic death of DC Jim Johnson, the unfortunate season-ending injury to MLB Steward Bradley, and the inexplicable departure of S Brian Dawkins. Bradley is back and will take over a rebuilt linebacking corps. They brought in Ernie Sims from Detroit and it will be interesting to see how he progresses now that he's surrounded by some actual ballers. Besides Trent Cole, who is hardly a household name, the defensive front lacks the type of impact players that you would expect from a top defense. The secondary never overcame the loss of Dawkins last year either, and the whole defense seemed to stutter as a result. There are some quality young athletes back there, but the Eagles cut six-year starter Sheldon Brown loose and other than Asante Samuel there aren't a lot of notable corners on the roster. Any injuries back there and the Eagles run out of experience in a hurry.
Skinny: I have to say that I'm definitely scared to doubt this team. All Reid does is win. That's it. He's got an amazing system and this has been one of the premier organizations in the sport over the last decade. But this still feels like a rebuilding year. They have the sixth-youngest functional roster in the league. There is talent. There is quality. And there is definitely some high-end athletes on this roster. They dumped most of the older, aging players to make room for the young guys. But those crusty, grizzled veterans are usually the guys that get wins in December. We'll see how this novice core holds up. I don't think that this is necessarily a bad team or a typical "last-place" squad. I could see an 8-8 year out of Philly, but see them still in the basement. Regardless, I don't think that this is a playoff team and I think there will be some pretty clear growing pains. This is going to be a tough team to wager on or against because I have a feeling that they will play up or down to their competition. But no matter what happens, it will be interesting to see how the franchise begins the next chapter now that McNabb has moved on.
Robert Ferringo is a writer and a professional sports and NFL handicapper for Doc's Sports. Last year he brought home +62.5 Units for his football picks clients in the NFL and he is regarded as one of the top totals players in the sport. He guarantees a winning football season this year or he will work for free until you turn a profit. You can sign up for his college football and NFL picks and get more information here.