2010 NFL Predictions: Picks for Breakout Stars
by Trevor Whenham - 8/9/2010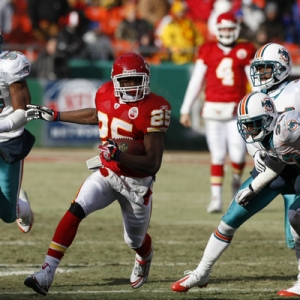 One of the most exciting things to watch every year in the NFL is the inevitable emergence of surprising stars. Despite all of the scouting and the endless coverage there are still players who can come from nowhere to blow the doors off of a season. Two big names jump out as ideal examples from last season. Before last year Dallas receiver Miles Austin had 18 catches for 354 yards. He was finally given a chance to shine last year, and he made the most of it - 81 catches for 1,320 yards, and more than a few jaw-dropping highlights. Tennessee running back Chris Johnson was far less of a surprise because he was coming off of a 1,228 yard rookie season, but he went from a very nice running back to the best runner in the league in one year, and it was hard to see that much improvement coming.
Because these guys are by definition surprises, it's difficult to see them coming. Here, though, are my NFL predictions for seven guys who have what it takes to breakout this year - skill, experience, and opportunity. I've only chosen guys who have played in the league for at least a year:
B.J. Raji, DT, Green Bay - Raji was the ninth overall pick in the NFL Draft last year out of Boston College. After a slow start he played reasonably well, and showed the promise that made hm a high pick. This year, though, Raji is going to have more of an opportunity to shine. Defensive end Johnny Jolly was the best d-lineman that the Packers had coming into this season. He's a moron, though, and he got himself suspended for the whole season. That means that the Packers - a very serious contender for the NFC crown - need a new leader to emerge from their defensive line, and the young nose tackle is the best bet to do so. This defensive line raises some real questions for this team, but Raji has a real chance to ease those concerns quickly.
Devin Thomas, WR, Washington - I'm a huge Michigan fan, so I have seen too much of this Michigan State star as he torched my beloved Wolverines – and it's especially painful because he was born in Ann Arbor. He's the real deal. He's heading into his third season in the pros and he has yet to find his game on the next level. There are all sorts of ready excuses, though - bad coaching and questionable quarterbacking among them. Neither of those should be a concern this year. Thomas had a huge performance against the Saints last year in Week 13 - 100 yards and two TDs - that showed that he can perform in this league. Now he's likely to get his chance to shine - the Redskins are going to be a much improved passing team, and Thomas is the likely second receiver.
Julian Edelman, WR, New England - Edelman was a QB at Kent State, but has moved over to receiver in the pros. He's a shifty possession receiver with great hands - a guy in the mold of Wes Welker. Welker has been a potent tool in the Belichick offense, but he's coming off a knee injury that raises questions about his capabilities this year. That could open opportunities for Edelman. He's also done some work with the running backs in training camp this year and the team could look for creative ways to get him involved and make him dangerous.
Mike Wallace, WR, Pittsburgh - Wallace quietly had a very impressive season as a rookie last year. He amassed 756 receiving yards - and impressive average of 19.4 yards per catch - and scored six touchdowns. He was primarily used to stretch the field, and it obviously worked. Now that Santonio Holmes is gone more is needed from Wallace - he needs to be able to contribute on every down. He's had a very strong offseason and is showing more than enough development to make us think that he can do just that. Holmes is coming off a darned nice season, so Wallace could break out even if he only makes up for a good portion of what Holmes added to the offense.
Justin Forsett, RB, Seattle - Last year Forsett had to share time, but he was clearly the best running back option the team had. He ran for 619 yards and a very solid 5.4 yards per carry. He was even better when he got to start - 219 yards and three TDs in two games. Forsett will have to share time this year again - likely most often with Leon Washington - but he is likely to be the No. 1 back, and he has a chance to make some real noise. It certainly doesn't seem likely that the Seahawks are going to burn things up through the air, so running is going to be crucial for them, and is likely to be heavily relied upon.
Chad Henne, QB, Miami - Henne took over in Week 3 last year and put together a solid season. He had 14 interceptions and only 12 touchdowns, so there is still work to do. His 60.8 percent completion rate is high enough to show real promise, though, and he clearly got more comfortable as the season went along. Henne is a very smart, well-prepared quarterback, and now he has had a full offseason as the top man to get ready for the challenge ahead of him. He also has one of the most potent tools in the league in Brandon Marshall, and some other nice pieces around him as well. Big things are in store for this guy.
Jamaal Charles, RB, Kansas City - Charles already broke out last year for those who were paying attention - he ran for 968 yards and seven TDs in the last eight games of the season. He'll be splitting time with Thomas Jones this year, but Charles is clearly dangerous, and he has an improved offensive line to run behind and a more confident quarterback to take the pressure off, so there is a good chance that Charles could really put up some eye-popping stats if he starts strong and stays healthy.
Allen Eastman is back with his 99 System for NFL picks in 2010 and before he even came across this system he was considered one of the best NFL handicappers in the business – now he is just unstoppable. Last season the 99 System was 27-13 ATS and this system not only helped his clients make a boatload of money, but also helped Eastman to third place in the prestigious Las Vegas Hilton NFL Contest.