2010 Seattle Seahawks Strength of Schedule, Futures Odds and Predictions
by Alan Matthews - 7/30/2010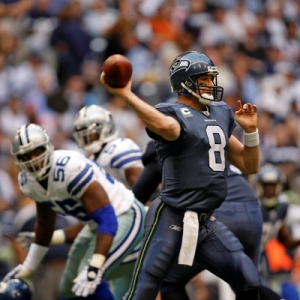 At least in the front office and on the coaching staff, it's hard to argue any team underwent a bigger facelift in the offseason than the Seattle Seahawks.
And it was time for a change, as following a 2007 record of 10-6 and a division title, the Seahawks have won just nine games since, including a 5-11 record last season that was full of injuries all over the field. Of course, the big move this offseason was hiring Pete Carroll from USC, and he was happy to come take Paul Allen's money and full control of the team ahead of those sanctions at Southern Cal.
The problems were many last season, but nowhere more so than the offensive line. Seattle played four different left tackles, three different left guards and centers and six different offensive line combinations in 2009. That unit allowed 14 sacks and QB Matt Hasselbeck couldn't stay healthy yet again. Thus, the Seahawks averaged just 17.5 points per game. To boost the O-Line, Seattle brought in noted line coach Alex Gibbs and drafted Oklahoma State All-American Russell Okung with its first first-round pick in this year's NFL Draft. And Seattle also added a weapon for Hasselbeck in Notre Dame WR Golden Tate in the second round. Receiver has been a problem on this team for a while, and the Seahawks lost their best guy from last year in Nate Burleson.
The Seahawks are going with a new offensive system for the third consecutive season, this time under new coordinator Jeremy Bates. The team wants a strong running game but doesn't seem settled on any one back among Julius Jones, who began last year as the starter, Justin Forsett, who emerged late last year, and Leon Washington, who was acquired from the Jets but is still recovering from a season-ending injury. Thus, Carroll traded for LenDale White but cut him quickly. There is still talk the Seahawks might try to trade for Buffalo RB Marshawn Lynch.
Hasselbeck enters camp as the starter but Carroll also traded for former Chargers backup Charlie Whitehurst to push the veteran, and don't be surprised to see the untested Whitehurst take over early in the season if Seattle starts slow.
The Seattle defense may not look a lot different this season because coordinator Casey Bradley is one of the few coaches that was retained from Jim Mora Jr.'s staff. The return to health of middle linebacker Lofa Tatupu and top cornerback Marcus Trufant will help. Second 2010 first-round pick Earl Thomas could start right away at safety and 2009 first-rounder Aaron Curry will move to the strong side as he played at Wake Forest and then to defensive end to help an anemic pass rush.
This team should at least be more competitive if not necessarily better. WagerWeb lists Seattle's 'over/under' NFL season win total at 7.5. Here is the 2010 Seattle Seahawks schedule (all times Eastern):
Week 1: Sunday, Sep. 12, San Francisco, 4:15 PM
Week 2: Sunday, Sep. 19, at Denver, 4:05 PM
Week 3: Sunday, Sep. 26, San Diego, 4:15 PM
Week 4: Sunday, Oct. 3, at St. Louis, 1:00 PM
Week 5: BYE
Week 6: Sunday, Oct. 17, at Chicago, 1:00 PM
Week 7: Sunday, Oct. 24, Arizona, 4:05 PM
Week 8: Sunday, Oct. 31, at Oakland, 4:15 PM
Week 9: Sunday, Nov. 7, NY Giants, 4:05 PM
Week 10: Sunday, Nov. 14, at Arizona, 4:15 PM
Week 11: Sunday, Nov. 21, at New Orleans, 4:05 PM
Week 12: Sunday, Nov. 28, Kansas City, 4:05 PM
Week 13: Sunday, Dec. 5, Carolina, 4:15 PM
Week 14: Sunday, Dec. 12, at San Francisco, 4:05 PM
Week 15: Sunday, Dec. 19, Atlanta, 4:05 PM
Week 16: Sunday, Dec. 26, at Tampa Bay, 1:00 PM
Week 17: Sunday, Jan. 2, St. Louis, 4:15 PM
This rates as the third-easiest schedule in the NFC West and NFL with an opponents' 2009 winning percentage of .453 (116-140). For the Seahawks to sniff .500 they must be better on the road. They were 1-7 away from home last year and are 10-22 since their run to the Super Bowl in 2005.
And you can tell the TV networks don't expect much because the Seahawks will go without a prime-time game in consecutive seasons for the first time since the early 1980s. Carroll's return to the NFL begins against his hometown team of San Francisco, a club that once tried to lure him. The Seahawks and Niners split last year, with each winning at home.
The schedule is filled with reunions of Carroll and his former USC players, including Weeks 7 and 10 with likely Cards starting QB Matt Leinart, Week 11 with Saints running back Reggie Bush and even Week 12 with Chiefs QB Matt Cassel, who never got on the field while at Southern Cal.
The Seahawks did catch a bit of a break in that they play only one game in the Eastern time zone, Dec. 26 at Tampa Bay (although that means traveling over the holidays). That is one of only three games scheduled to begin at 10 a.m. Pacific. Just like East Coast teams don't fare well going to the West Coast, it usually works the same way vice versa. In 2009, Seattle played six road games that began at 10 a.m. Pacific.
Frankly, I can only see three 'lock' home games in which Seattle will for sure be favored: Arizona, Kansas City and St. Louis. The Seahawks already have opened as two-point dogs on WagerWeb to the Niners in Week 1 and certainly will be an underdog to San Diego while those lines against the Giants, Panthers and Falcons could go either way. As for road wins, St. Louis, Oakland and Arizona would be possibilities. Tampa Bay may be, but that's a lot of travel and you have the holiday distraction. I see no way this team exceeds seven wins, so I would jump all over the 'under'
Allen Eastman is back with his 99 System for NFL picks in 2010 and before he even came across this system he was considered one of the best NFL handicappers in the business – now he is just unstoppable. Last season the 99 System was 27-13 ATS and this system not only helped his clients make a boatload of money, but also helped Eastman to third place in the prestigious Las Vegas Hilton NFL Contest..