Sunday-Monday NFL Preseason Game Odds and Preview
by Trevor Whenham - 8/14/2010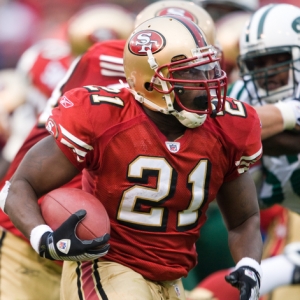 San Francisco 49ers (-3, 33.5) at Indianapolis Colts (Sunday, August 15, 1 pm ET)
Who's In, Who's Out
Most people tune in to Colts games to watch the magic of Peyton Manning. If that's you then you probably don't need to bother with this one. Manning has thrown a total of seven passes combined in the last three years in the first preseason game, and it's highly unlikely he will see more than two series here. The only thing he'll be interested in working on here is his relationship with new centers because stalwart Jeff Saturday is out for up to six weeks with knee surgery. Manning has never cared about the preseason in the past, and he's not going to start now.
The 49ers have indicated that their starting offense will see more time than you might expect - especially rookie linemen Anthony Davis and Mike Iupati. Those two are going to see a lot of playing time this year, so they need the experience. One guy we might not see a lot of is Michael Crabtree - the receiver sprained his neck slightly in practice this week. He's not seriously hurt, but there is no reason not to be careful with him.
Line Movement
The line has been stable at three points - a strong number for a road team in preseason. The total opened at 34.5 and has adjusted downwards gradually.
Trends
The Colts were a notoriously bad preseason team under Tony Dungy, and the tradition continues under Jim Caldwell. They were 1-3 ATS last year, and showed little concern for the scoreboard. Mike Singletary has only one gear and it's a high one, so he doesn't let up in any game. He was 3-1 ATS in his first camp last year. The Niners went 'under' in 3 of 4 games.
Weather
With thunderstorms forecast the roof could be closed.
Denver Broncos (+3.5, 32.5) at Cincinnati Bengals (Sunday, August 15, 7 pm ET)
Who's In, Who's Out
All of the fan-boys will be giddy because Tim Tebow should see a fair bit of playing time. The highly publicized rookie is not at the top of the depth chart, and Kyle Orton is having a very strong camp, but starters won't likely see a lot of action, so Tebow will get his chances here. If he performs well then expect the media coverage to escalate to truly ridiculous levels. Brady Quinn will have ample chances to disappoint as well. The Broncos will likely work on their passing a fair bit in this one because they can't afford to lose yet another running back - their top three will miss this game with injuries. Elvis Dumervil will also miss this game and the season.
Cincinnati has already played a game, but it was so bad that they would probably rather forget about it. Like Denver they are struggling with injuries - Antonio Bryant and Andre Smith are out, and Rey Maualuga and Carlos Dunlap are back but banged up. Tight end Jermaine Gresham will be making his debut for the Bengals amidst a whole lot of hype. He likely won't see a lot of his starting quarterback - Carson Palmer threw just five passes in the last game, and isn't likely to be a whole lot busier here. His little brother Jordan and J.T. O'Sullivan will pick up the slack.
Line Movement
The line is sitting where it opened and doesn't seem particularly vulnerable. The total has dropped from an opening 33.5.
Trends
Marvin Lewis has been a solid preseason performer with the Bengals - he is 15-12-1 ATS over his career. The totals are perfectly balanced - 14 'overs' and 14 'unders'. Josh McDaniels was 2-2 ATS in his first preseason in Denver, and covered his first game.
Weather
Temperatures should be in the mid to upper 80's, and there is a good chance of thunderstorms.
New York Giants (+1.5, 33) at New York Jets (Monday, August 16, 8 pm ET)
Who's In, Who's Out
The star of this game will be the New Meadowlands Stadium, the shiny new building shared by both teams. This is the first football game played in the building, though there has already been a soccer game.
For the Jets the story is the absence of Darrelle Revis. He's holding out, and it's a clear distraction for the team. Barring a last-minute miracle, that distraction will loom over this game. The Jets have added a lot of new faces - and giant egos - this offseason, but given their age in many cases it's not likely that we will see a whole lot of them. Mark Sanchez will start the game, but isn't likely to go much beyond the first quarter. That means that it will be left to the ancient Mark Brunell to knock off the cobwebs, and Kellen Clemens to try to maintain his very tenuous hold on a roster spot.
This game will show us just how poorly the Giants have managed their QB roster. Eli Manning will play the standard opening quarter or so, and then leave it to his backups. The thought of those backups must terrify Giants' fans. Jim Sorgi comes from years of mopping up for one Manning brother to take over the mop -up duty for the others. The best thing you can say about him is that he has lots of experience playing in the preseason because Peyton hates August football. Rhett Bomar is the third choice.
Line Movement
The line has been steady with slight upward pressure since it opened at one point. The total isn't going anywhere.
Trends
Rex Ryan started strong last year - he covered three of four spreads in the preseason. Tom Coughlin has a winning record in the preseason in his six years with the Giants, but is just 4-6-2 ATS in the last three preseasons, and is coming off an ugly 1-3 ATS August last year.
Weather
It should be dry and pleasant for the debut of the new stadium - the forecast is for temperatures in the low 80s, and little chance of rain.